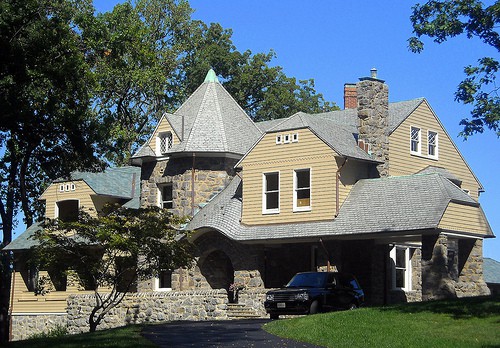 From the description provided by the photographer:
The Owl's Nest, also known as the Crounse House, at 3031 Gates Road NW in the Van Ness neighborhood of Washington, D.C. The house is listed on the National Register of Historic Places.

From the District of Columbia Office of Planning:
"Owl's Nest, a handsome and imposing Shingle-style residence, is a rare artifact from the beginnings of suburban development on the fringe between Washington's earliest inner suburbs and its rural hinterlands. Built as a rural country house for journalist William L. Crounse, Owl's Nest and its exceptional wooded grounds illustrate the gradual transition of the former Washington County from farmsteads to scattered suburban country houses on large lots, to more dense suburbs on a planned system of gridded streets. Designed by Appleton P. Clark, Jr., a significant native architect, it is one of the city's best examples of this style, exhibiting the complex asymmetrical massing, wide sheltering roofs, massive stone walls, and contrasting wood-shingled surfaces that characterize the style. Built in 1897, the house and its hilltop setting above the old Grant Road have been remarkably little changed."
One of the several ideas that have been developing over the last couple of years in this blog is the evolution of suburbs (I'll gather my notes and create a summary page for it). The need for a rural property where one can retreat to recharge, willingly disconnect from the manic urban pace, and perhaps reconnect with the lifestyle of our ancestors to gain some perspective got buried underneath the big engine that suburbs became. An engine that led to the commuter ritual. With it the notion of a rural lifestyle (which was always used as a sales pitch for the suburbs) became a crazy obsession to own a second house, a country house, developed by daring real estate projects. And then the same mistake that got us into a 9 to 5 dance to and from the city, got us into a Friday to Sunday commute to enjoy a few hours of "the country".
What if that commute was not 2 hours but 2 days and instead of enjoying a few hours of quiet retreat to foster much needed creative thinking we could take a full month?
Somehow I'm reminded of the term "slurb", but instead of its negative connotation I'm thinking "slow-urban", a slum of hope attracting urbanites, an inexpensive property characterized by the lack of urban infrastructure but rich on more important aspects of life. The antithesis of our suburbs.