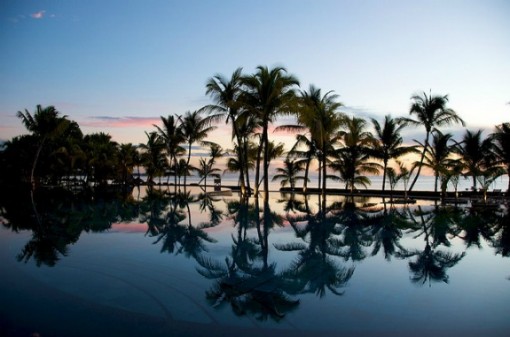 You want a beach vacation, but you just don't know where to go.  With the exception of Antarctica, there are plenty of  beaches on the other six continents and one of them is probably just right for you.  So here are six continents, with my top beach recommendations for each, along with a few runner up choices.  These selections will give you different experiences; which one you think is best will depend on your mood, the time you have to explore, and your personal preferences.
Africa
While you might not first think about a beach when you visit Africa, you might want to think again.  Some of the top beaches here are located on the little islands off the mainland.  For example, Mauritius, just north of the Tropic of Capricorn in the Indian Ocean, consists of four inhabited islands and 22 that are more or less uninhabited.
One of the top beaches in Africa is Trou aux Biches in Mauritius (in photo at top). It's a mile long with the kind of sand you want to run through your toes.  The water is calm most of the time and another plus, Trou aux Biches is not only family-friendly, but diver friendly too.  Located on the west coast of the island, this beach gets almost no rain and wind.  There are other things to do here within walking distance, and you will find restaurants and accommodations nearby.
Runners up:  Kendwa Beach, Zanzibar, Tanzania and Anse Source D'Argent, La Digue, Seychelles
Australia
For Australia lovers looking for the perfect beach setting, Wineglass Bay comes as close as you will find with adventure and isolation in one package.  Wineglass Bay is located in Freycinet National Park in Tasmania and is shaped just like a smile.  A part of the national park system, the beach is easy to get to by road or path.  Do come prepared with essentials, as there are no shops to be found only the tranquil water and the sand.  Did I mention not many people either?  Freycinet has been a National Park since 1918 and in addition to the beach there are animals and birds to enjoy while you are lounging on the shore or splashing in the aqua water.   The water is always exceptionally clear, and the night sky is just as clear.  It feels like you can see the stars forever, so opt to stay out past sunset for another beach treat.
Runners up:  Cable Beach, Broome, Western Australia and Whitehaven, Queensland, Australia
North America
Let's face it, there are some amazing beaches to choose from on North America.  That's why when trying to decide on the best beach here, I had to add in the fact that personality was also important.  For me, it is Malibu, California – which actually consists of a number of beaches one after the other.  Just 30 minutes from Hollywood, Malibu might as well be as far away as the moon from the hubbub of the sprawling metropolis.  It offers a 27 mile stretch of sandy beach, views of multi-million dollar beach houses, and maybe even a glimpse of a celebrity.  Some of the more popular beaches in Malibu's 27-mile stretch are Zuma Beach, Malibu State Beach, Surfrider Beach, Dan Blocker Beach, Topanga State Beach, and Point Dume State Beach with turquoise waters, great restaurants nearby, and even high-end shopping.
Runners up:  Waianapanapa Beach, Maui, Hawaii and Ocracoke Island, Outer Banks, North Carolina
South America
If you have ever been to South America then you know there is no shortage of beaches waiting for you to discover.  Many of those beaches are secluded, with plenty of reasons to be chosen as the best on the continent.  But who can argue with naming Ipanema Beach in Rio de Janeria the best beach on this continent?  With personality plus, Ipanema Beach really is one of the most beautiful in the world – and with a song named after it,  "The Girl from Ipanema." Sitting on the Atlantic Ocean, Ipanema Beach offers aqua marine water and views of Rio de Janiera sites like Corcovado and Sugarloaf Mountain.  The beach is also packed with activities and loads of locals (called cariocas) enjoying water or sand sports and, in general, taking the time to enjoy the day in true Brazilian style.
Runners up:  Parque Nacional Tayrona, Santa Marta, Colombia and Praia do Forte, Salvador da Bahia, Brazil
Asia
When in Asia, it definitely is Thailand that comes to mind for those not-to-be-missed beaches. Phuket's Mai Khao Beach is one of those deserted beaches that is reminiscent of paradise.  With no one seemingly around for miles, the beach is 11 miles long (the longest in Phuket) and offers a deserted beachfront with only one very high-end resort nearby.  During April the beach is also home to baby sea turtles being released into the ocean, and that's about the only time there will be more than you and your friends hanging out and enjoying the sand and sun at Mai Khao Beach.
Runners up:  Mui Ne Beach, Phan Thiet, Vietnam and Lombok, off the coast of Bali, Indonesia
Europe
When in Europe, think beyond the South of France when it's time for a beach vacation.  Instead, think of an unusual destination that offers culture in addition to the sun.  The best European beach is Patara, on the Turquoise Coast of Turkey.   About a 15-mile stretch of beach, it's soft Mediterranean sand with a background of the Taurus Mountains rising above.  Patara Beach is also a nesting area for the endangered loggerhead turtle. Its national park status keeps development at bay, and you'll find the dunes here stretch for miles, with no buildings are restaurants anywhere in sight to spoil the moment.
Runners up:  Cala Tarida, Ibiza, Spain and Navagio Beach, Zakynthos, Greece
Any "Best of" list is a matter of opinion, and this list represents mine based on years of travel and experience.  Feel free to share your bests in the comments below.
Photo credits:  All via flickr.  Winkelbohrer (Trou aux Biches); Andrea Schaffer (Wineglass Bay); tesaibuta (Malibu); Mike Vondran (Ipanema); Greg Strosaker (Mai Khao); SLR Jester (Patara)
Rita Cook is a writer/editor with over 1000 articles. She can be heard on Insider Mag Radio at KPRO 1570 am and she also reviews cars for the Washington Times Communities (Behind the Wheel). Her most recent published books include "A Brief History of Fort Worth" as well as two haunted books on Dallas and Fort Worth to be published in the fall 2011. Rita's favorite travel destinations are Italy, India and Kenya.