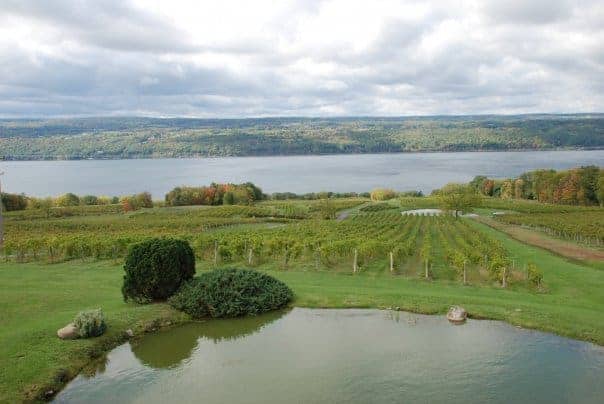 In Upstate New York, south of the Thruway between Buffalo and Syracuse, lies the wine region known as the Finger Lakes. The Finger Lakes is the largest wine-producing region in New York State, and it is a must-visit destination for any wine lover.
The Finger Lakes themselves are a series of eleven long, skinny lakes which are oriented from north to south. When viewed on a map, the lakes resemble the fingers on a hand, laid out one after the other from east to west. The eleven lakes are: Otisco Lake, Skaneateles (skin-ee-AT-less) Lake, Owasco Lake, Cayuga Lake, Seneca Lake, Keuka (cay-YOU-kuh) Lake, Canandaigua Lake, Honeoye (HUN-ee-oye) Lake, Canadice (can-uh-DEES) Lake, Hemlock Lake, and Conesus (ku-KNEE-shus) Lake. I grew up in Seneca Falls, a small town on the northeastern shore of Cayuga Lake, and spent the first thirty years of my life working, playing, and – eventually – drinking wine in the Finger Lakes.
About Finger Lakes Wine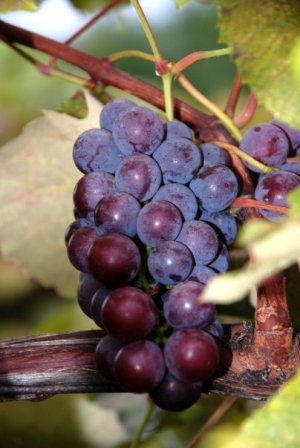 You will find just about every varietal growing in the Finger Lakes. Many wineries grow their own grapes, although they purchase grapes from farmers as well. Among the best that are grown and produced in the region are the Rieslings and Gewurtztraminers. These grapes do well in the Finger Lakes, where a combination of geology and climate produce grapes with the traditional stone fruit flavors and mineral-y finish associated with these German varietals. Other varietals are growing in popularity in the region, including Pinot Noir, Chardonnay, Cabernet Franc, and sparkling and ice wines.
There are 90 bonded wineries in the Finger Lakes region, with more than 41,000 tons of grapes being grown each year on over 9000 acres of vineyard. The growing season is relatively short at between 190-205 days.
Summer is the most popular time to visit for wine tourists, but don't hesitate to visit during the off-season. In addition to enjoying off-season travel prices, the trails have many organized events surrounding the holidays – New Year's Eve, Valentine's Day, Christmas – that include limo bus transportation. Winter in the Finger Lakes is beautiful, with plenty of snow for you cross-country skiers to enjoy!
What is a wine trail?
The term "wine trail" makes it sound like a hike with wine, doesn't it? Don't worry – you needn't bring your hiking boots. (At least not to taste the wine!) The wine trails are mainly centered around four lakes: Cayuga, Seneca, Keuka, and Canandaigua. Wineries and vineyards are scattered along or just off major highways, and each lake has organized its wineries into a list that we generally call "wine trails": Seneca Lake wine trail, Cayuga Lake wine trail, Keuka Lake wine trail and Canandaigua Lake wine trail.
How does a tasting work?
A wine tasting will be run differently at each winery, depending on how they set up their tastings. There are a few general rules of thumb:
You must be over 21 to taste. Most wineries will let you listen to a tasting if you are not of drinking age, but you cannot participate in the tasting.
There is a fee to taste. Fee tastings range from $1-$10 per winery. A winery may have a set number of wines you are allowed to taste, or they may give you a sheet to check off a certain number (ex. $5 for 6 of 10). Each pour is small, usually about 1-2 oz. of wine.
You will taste wines in a certain order, from white to red, dry to sweet. Generally you start with dry whites, then move into dry reds, and then dessert wines; wineries sometimes position rosés or blush wines in the middle, or before dessert wine. Feel free to turn down any wine you don't want to taste – they won't be offended.
Wine tasting tips
I've been wine tasting on the trails in the Finger Lakes for almost 15 years and while it is pretty straightforward, here are a few things to keep in mind before you have the time of your life!
Designate a driver: Make sure you have a sober driver who is willing to sip on water all day long. Buy him or her a nice bottle of wine, and dinner at one of the many wonderful winery restaurants as a thank you!
Bring cash: Some wineries refund your tasting fee if you buy a bottle, but they usually collect the cash fee up front so make sure you have cash, especially singles.
Buying in bulk means discounts: Buying six bottles is usually a 5-10% discount, a case or more 10-15% discount. Depending on the state you live in, the wineries can sometimes ship your wine for you, too.
Never buy wine after the third winery! Okay, this rule is a little tongue-in-cheek among Finger Lakes trail regulars, but it is kind of true. The more wine you drink, the better all the wine starts to taste. No matter how much I like something, I usually stop buying bottles after the third or fourth winery.
Big groups should call ahead, especially on weekends: If you are traveling with a large group – 8 or more – call ahead to each winery. Most of the time they can accommodate your group if you give them some notice.
Use social media: Follow the ongoing Finger Lakes wine conversations on Twitter using the #FLX and #flxwine hashtags.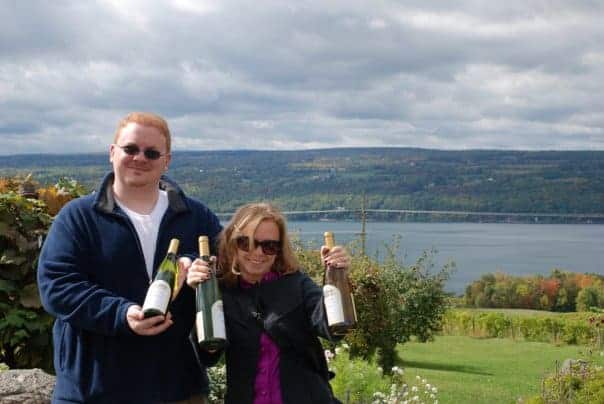 Why choose the Finger Lakes?
So, why should you choose a trip to the Finger Lakes? Besides the fantastic wine at excellent prices? Other than the beautiful, glacially-carved lakes, and the picturesque vistas that surround them? The Finger Lakes region of Upstate New York is also full of historical interest points:
Auburn, NY: Auburn, NY was the home of diplomat William Seward, Secretary of State to Abraham Lincoln, and the man responsible for the purchase of the great state of Alaska. A visit to the Seward House will give you an exciting glimpse into the life of a true statesman. You can also visit the Harriet Tubman home and learn about Auburn's place in history as part of the Underground Railroad.
Seneca Falls, NY: My hometown is known for being the birthplace of the women's rights movement in America, and the first women's rights convention was held there in 1848. Neighboring Waterloo, NY is the birthplace of Memorial Day.
Rochester, NY: Just north of the Canandaigua Wine Trail, Rochester offers much by way of food, music, and entertainment. History buffs will enjoy visiting the George Eastman House to learn more about the history of photography and film, and its founder George Eastman, of Eastman Kodak fame. Women's rights and abolitionist leader Susan B. Anthony lived in Rochester and her house is now a museum.
If you are the outdoorsy type like me, you can hike the many state parks that are scattered throughout the region. One of my favorites is Taughannock Falls State Park, where easy to moderate hikes include beautiful views of the waterfall – beautiful in spring and summer, and spectacular in fall when the leaves are changing.
Photo Credit:  Courtesy of the author.
Christina loves travel writing, and she has a particular interest in writing about adventure travel, food and drink. In addition to writing Christina works as a social media manager and consultant, helping people tell their stories online. In her spare time Christina enjoys reading, yoga, and spending time outdoors. Christina lives in Houston with her husband Josh and their dog, Sandy. You can follow her on Twitter @snowcones. Her top three travel spots are Alaska, Paris, and Western Canada.