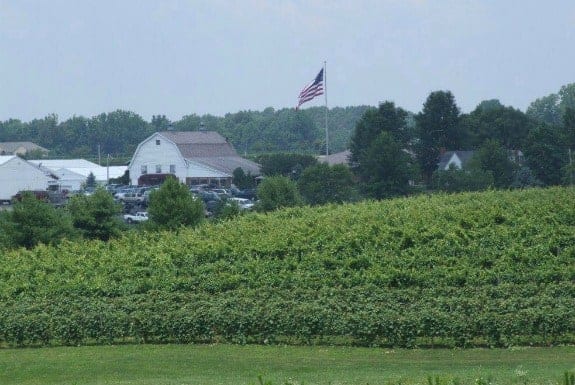 Southern Indiana is blessed with lush, rolling hills and seemingly endless acres of peaceful forestry that subtly conceal some of the state's best kept secrets.  One such gem that wine enthusiasts should seek out is Huber's Orchard & Winery, located in tiny Starlight, Indiana.  Thanks to Interstate 65, Starlight, still an unincorporated town today, is certainly not as isolated as it once was – it's a mere 30-minute drive from downtown Louisville, Kentucky and less than a two-hour drive from Indianapolis.
Undoubtedly, Huber's has helped put Starlight on the map.
When Simon Huber first settled on his modest 80-acre farm there in 1843 – the area was actually named Starlight in 1892 – the Baden-Baden, Germany native brought years of fruit-growing and wine-making experience with him that he ultimately passed along to other family members.  Today, seventh-generation Hubers are still living and working on that farm, which has expanded to more than 600 acres.  Approximately 60 of those acres are dedicated to growing 18 different varieties of grapes for the production of varietals and blended wines.  Huber's Orchard & Winery is Indiana's largest wine-grape producer, with vineyards producing nearly 400,000 pounds of grapes per year under normal weather conditions.
Some of the choices include:
Huber's semi-sweet wines, including Sparkling Starlight, Catawba Rose, Starlight White and Niagara. I recommend the Harvest Blush; a semi-sweet alternative to White Zinfandel that is composed of a blend of Chancellor and Chelois.
Sweet wines:  Strawberry, Blackberry, Spiced Apple and my personal favorite, Peach.
Raspberry, strawberry and peach nectar infusions are also available.
Ports:  Ruby, Blueberry, or the Knobstone Reserve, a sweet variety aged in oak barrels for more than four years.
If you like semi-dry, you might favor the Lakeside White or the 2010 Traminette; a hybrid of Gewurztraminer, which was relesed by Cornell University in 1996.
Dry wine options are plentiful, too.  Try the 2009 Chambourcin, a French-American hybrid and the Stella di Luce with hints of cherry and strawberry. Spices, plum and cherry can be found in the medium-bodied dry red 2009 Generations.
Huber's has other alcoholic beverage offerings too.  Opting for diversification, the Huber family opened Indiana's first distillery – The Starlight Distillery – in 2000. Some of the options include Brandy, Private Reserve Brandy, Apple Jack Brandy, Apple Brandy and Grappa.
Wine tasting takes place in a restored 1938 barn, and if you find something you like you can purchase by the bottle or case.
Aside from the Loft Wine Tasting Bar, guests can browse the gift shop or stop by the Starlight Cafe for a bite to eat.  The cafe offers a variety of sandwich options with indoor and outdoor seating that gives onlookers a relaxing view of nearby lakes, fruit orchards, vineyards and the family farmland itself.  I'd also recommend stopping for a look at the plaques and trophies on display.  These represent some of the nearly 1,000 gold, silver and bronze awards the winery has won in competitions from all regions of the United States.
Next door to the barn is an ice cream and cheese shop offering a large selection of imported cheeses can be found along with sausages, crackers and candies. Additionally, more than 30 different flavors of Huber's Homemade Ice Creme are offered, many of which are made from fresh fruits grown on the family farmlands.  Ask for a sample if you're not sure what you like.
If you're still hungry, step inside the nearby Farm Market where you'll find the smells of fresh-baked breads, pies, cookies, apple butter and popcorn to be almost intoxicating.
After a morning filled with tours and wine sampling, we stopped off for dinner at Joe Huber Family Farm Restaurant. The menu is filled with soups, salads and sandwiches as well as some old-fashioned country favorites. With four adults in our party, we opted for Huber's Country Platter Dinner, a "family style" meal with country fried chicken, Huber honey ham, friend biscuits and apple butter, country slaw, mashed potatoes and gravy, green beans, corn and chicken and dumplings.
Huber's has much to offer but in order to gain an appreciation for the winery itself, I suggest you take a tour. There are many to choose from.
Daily Wine Tour
Learn about the harvesting of more than 500,000 pounds of grapes and fruit. See where the wine rests quietly in a stainless steel or oak barrel. Discover the facility's bottling line which bottles more than 2,000 bottles of wine per hour.  No reservation is required but tour size is limited.
Price:  complimentary, includes complimentary tasting of four of Huber's seasonal favorites.
Duration:  30 minutes
The following tours must be requested by telephone in advance of visiting the facility. The minimum number of required participants listed for each specific tour must be secured when the initial reservation is made. Phone numbers can be found on the Huber's Orchard & Winery Web site.
Wine 101
A Huber tour guide will walk you through the art of Huber wine making.  Requires a minimum reservation of 20 people. As you walk among the stainless tanks and oak barrels, you will learn about the grapes, harvesting, turning juice into wine, how wine is aged, and more.
Price:  $10 per person.  Includes a Huber souvenir wine glass along with complimentary tasting of some of Huber's more popular selections (Starlight White & Red, Catawba Rose, an d Sweet Marcella).
Duration:  90 minutes
Wine & More
See the sights of the wine making facility including the distillery, production area and bottling line. Sample cheeses then learn the basic tasting techniques of swirl, smell and sip as you taste among eight of Huber's favorite wines. Requires a minimum reservation of 10 people.
Price:  $15 per person
Duration:  90 minutes
The Wine Enthusiast
A Huber guide will greet you with a glass of Huber's Sparkling Starlight, a champagne-style wine. You'll be guided through the Starlight Distillery and learn about the process of changing wine into brandy. You'll learn some of the specifics of how brandy is made. You'll also learn about grape harvest, various production processes and how wine ages. Then, you'll sample several selections representing all categories at Huber's – wines, ports, brandies and infusions. You'll also enjoy wines and a sample selection of Huber's specialty cheeses. Requires a minimum reservation of eight people.
Price:  $20 per person
Duration:  two hours
Vintner's Favorite
Perfect for the stereotypical "wine geek." Enjoy sampling among multiple vintages of the same wine (red & white) as you learn how Huber wines age and how the wine complexity changes.  This tour is the only tour led by the winemakers at Huber Winery so if your group is thirsting for detail and knowledge about wine making, this is the one for you. Requires a minimum reservation of 15 people.
Price:  $30 per person
Duration:  two hours
Huber's Orchard & Winery is located at 19816 Huber Road in Starlight, Indiana. The winery, ice creme shop and farm market are open year round, Monday through Saturday from 10 a.m. to 6 p.m. and Sunday from noon to 6 p.m.
Photo Credit:  Courtesy of Huber's Orchard & Winery
Indianapolis-based Greg Seiter is a 22-year freelance veteran who specializes in family travel. While embracing a background in athletics, the travel enthusiast has written for the Associated Press and various NCAA Championships publications in addition to AAA and Resort Condominiums International. Greg's top three travel destinations are Orlando, Fla., Pigeon Forge, Tenn. and Myrtle Beach, S.C.