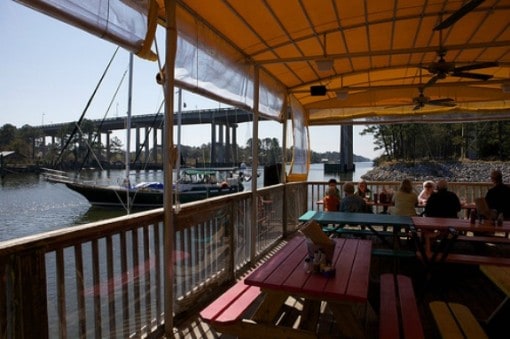 When you are the sister of Jimmy Buffett you have quite a reputation to live up to as far as entertaining goes.  As a restaurateur,  Lucy Buffett opened the friendly LuLu's Sunset Grill on the edge of Week's Bay, Alabama, in the spot where she and her brother used to fish when they were children.
Located adjacent to a nationally protected bird estuary, the state denied her lease renewal.  Faced with closure of her popular burger joint, Lucy did what any Buffett would do – she loaded up the entire establishment on a barge, palm trees and all,  threw a huge party, and headed south through the Bay to a new location on the Intracoastal Waterway in the town of Gulf Shores, Alabama.
No longer just a burger joint, Lulu's at Homeport Marina, or best known as simply LuLu's, is popular for serving local food and providing live entertainment nightly. Driving through a small residential area, then into vast parking lot, I was surprised at the enormity of the restaurant.  So popular is this place, that there is signage for additional parking several blocks away.
Borrowing from themes of her brother's songs, the establishment has an island feel to its decor.  Numerous tiki style huts provide a place to purchase merchandise, beverages and food items from a smaller version of the menu, while throngs of guests wait to be seated. The actual dining area is located within a brightly painted large metal building with concrete floors and industrial garage doors that roll up or down depending upon the weather.  Tables with wicker seats fill the interior area, while larger groups are seated at brightly painted picnic tables that line the exterior of the dining hall.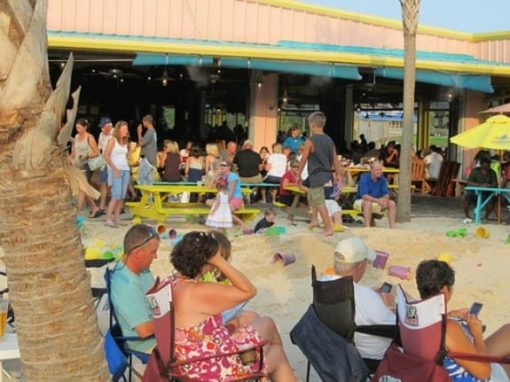 Since no reservations are taken here, wait time for a table has been known to take hours.  Adults will be easily entertained by the shop, live entertainment, beverage offerings, and sand volleyball.  Younger guests can enjoy a large sandy area supplied with shovels, pails and sand toys as well as a newly opened three story safe rope climbing area known as the Mountain of Youth.  Creating their own fun, a group of teenagers held a hula-hoop contest among themselves as tables of strangers cheered them on.  I enjoyed exploring the Buffet family photos that hung on the interior walls – Jim as an altar boy, a long-haired singer early in his career, and a young Lucy vacationing at a nearby beach.
Several stages are set up to provide live entertainment:  a small stage in the interior, a large outdoor tiki stage known as Crazy Sista Stage set close to the sand pit, and scattered beverage huts offers views of the waterway.  A monthly calendar lists the scheduled entertainment of regional bands and, while rare, it is not unheard of for Jimmy to appear here as well.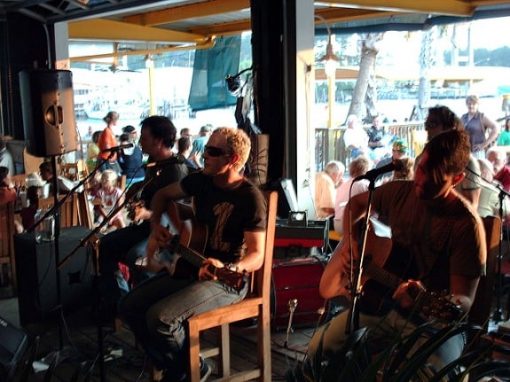 While it cannot be denied that a big draw to this establishment is the Buffett family connection, the food is tasty with some original recipes like the L.A. Caviar.  Far from what you might imagine, the  L.A. in the appetizer stands for Lower Alabama, not the city on the West Coast, and the caviar is actually black eyed peas.   The appetizer is a fresh combination of balsamic vinegar, red onion, sweet bell peppers and cherry tomatoes mixed with the peas.  It's served with saltine crackers, but I much preferred it scooped with crispy tortilla chips.  Add in an ice cold beverage, and it's a tasty starter or snack.
Speaking of beverages, LuLu's has a lengthy menu of frozen concoctions.  Even if that's not typically your beverage of choice, there's something about a frozen drink that screams "beach vacation."  I enjoyed the Marina Mama, similar to a Bahama Mama at other establishments, but this version added banana puree.
For dessert, the Krispy Kreme bread pudding, made from the name brand doughnut, is deliciously rich. I hate to think of the calories I ingested.  Equally sinful, was the chocolate laden brownie served with ice cream, and while I can be quite finicky about my Key Lime Pie, LuLu's offering was deliciously fresh tasting with its thick graham cracker crust and creamy tart lime filling.  It would be difficult for my to distinguish which dessert was truly my favorite.
Other notable menu items include burgers from locally grown grass-fed beef, and fresh local seafood including shrimp, oysters, and red snapper.
For guests on a limited schedule or wishing to avoid crowds, I would recommending visiting LuLu's for an early lunch.  For those with the luxury of time or who love to be in the thick of things, evenings are a great time to head to LuLu's to truly experience it all.
Location:  200 E 25th Avenue, Gulf Shores, Alabama.  Boaters can access LuLu's at Mile marker 155 on the ICW
Hours:  Sunday-Thursday, 11 am-9 pm, Friday-Saturday till 10pm
Prices: A typical meal will run you $25, which includes appetizer, entree, and non-alcoholic beverage.
Photo Credits: Musicians from PatriciaH via flickr; other used with permission, LuLu's – Homeport Marina
Having been transplanted numerous times, I have learned to explore the sites around our new found hometown, uncovering hidden gems and attractions. When vacation time rolls around, I enjoy traveling with my family and the occasional weekend escape with my husband, coming home to share our travel experiences with others. You can follow me on Twitter @JAIngersoll. My top three destinations are Walt Disney World Resort, the Midwest and any beach I can walk along.