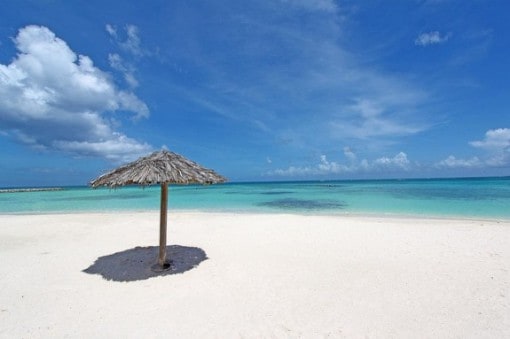 Instead of all the regular cooking and cleaning of the holidays, how about an island getaway instead? A destination like Aruba will not only deliver lovely temperatures and that signature ocean breeze, but also some great places to eat that are worthy of a holiday celebration. A celebration abroad can be just as special as one spent home — if you find the right places to gather around the table with your family. With a little research in advance to find the best places on the island to eat, a holiday spent in Aruba might just change your family traditions for good.
While some islands don't offer much in the way of upscale, thoughtful cuisine, this isn't the case in Aruba. Here are a few of my favorite places to eat on the island, ranging from romantic restaurants on the ocean to group-friendly steak spots. Looking for interesting gifts this year? Treat your loved ones to a meal at one of these special Aruba restaurants.
Flying Fishbone
There are a few restaurants that are so special, they are worth traveling out of the way to reach. This is the case with the Flying Fishbone, a romantic restaurant with tables right in the sand. Named after the fish that leap in the water just steps from your table, this restaurant might just embody the spirit of the island. It is relaxed, beautiful, and refined. It's also out of the way. From the main Palm Beach area, a taxi will take about 30 – 40 minutes to reach this remote location. Once you arrive, both the views and the food are worth it.
This is a lovely place on the island to watch the sunset, but many people also choose to arrive for candlelit dining instead. The fresh menu is full of fish dishes and all are artfully presented. In all the times I've visited Aruba, this continues to be one of the most special places to share a meal with loved ones.
Details: Flying Fishbone, Savaneta #344, open daily at 5 pm. Appetizers $9.50 – $29.50, entrees $$24 – $39.50
El Gaucho
Some nights you're looking for a romantic spot on the beach, and others you're looking for a bustling spot in the middle of the city. Preferably one that serves a good steak. That's where El Gaucho comes in. This Argentine grill is located in a colonial townhouse in Oranjestad. Many travelers combine a meal here with a night out in the nearby casinos. Or at least that's the intention before a juicy, tender, chargrilled steak arrives at the table. This is the place in Aruba to eat meat, to pair your meal with delicious Argentine wines, and take a night off seafood. It isn't fine dining, but it's a lively place to enjoy a steak.
Details: El Gaucho, Wilhelminastraat 80, Oranjestad. Open daily 11 am – 11:30 pm. Appetizers $8.50 – $14, Entrees $22 – $40
Madame Janette
Part of the fun of dining in Aruba is the chance to check out different parts of the island. Once you've dined with your toes in the sand and the middle of the city, another option is to head to the interior of the island to Madame Janette. This spot offers fine dining and service in a casual atmosphere. You know you're in the Caribbean when you arrive at Madame Janette, with its palm trees, twinkling lights, and plenty of lounge areas to relax over a cocktail while waiting for your table. The restaurant is relaxed and cozy, but also elegant. Try the excellent fish dishes here.
Details: Madame Janette, Cunucu Abou 37, Open daily 5:30 pm. Appetizers $8.50 – $16, Entrees $26 – $39
Amuse Bistro
During a trip to Aruba, you might be drawn to restaurants that offer outdoor seating. One great restaurant that offers the chance to dine outside is Amuse Bistro. This restaurant serves French classic dishes with an Aruban flair. Expect Caribbean flavors and preparations to sneak in at this bistro that has earned a reputation for its unique dishes. At this Aruba restaurant, all the cuisine is beautifully presented as well as delicious. In true Aruba fashion, although the restaurant serves gourmet food, it isn't stuffy or formal at all.
Details: Amuse Bistro, at Hotel Playa Linda, J.E. Irausquin Boulevard 87, Open daily at 5:30 pm. Appetizers $6.50 – $14.50, Entrees $19.50 – $28.50
Pinchos Grill and Bar
Sometimes all the members of your group might be craving something different for dinner. While some restaurants specialize in fish and others focus on meat, you can have either at Pinchos Grill and Bar. This restaurant features outdoor dining that is perfect for watching the colorful sunset. Take a closer look at the menu and you will realize that many of the dishes here feature fragrant Asian spices and seasonings. Try the fish cakes with pineapple curry mayo or the grilled tenderloin with a dark rum sauce to see a variety of cultural influences on the food at Pinchos Grill. If you're looking to spice up your trip to Aruba, this restaurant offers many unusual choices you won't find on menus across the island.
Details: Pinchos Grill and Bar, LG Smith Boulevard 7, Open daily at 5 pm. Appetizers $6 – $11, Entrees $19 – $45.
Few Caribbean islands successfully cater to couples, families, and groups of friends at the same time. All of these Aruba restaurants can satisfy a craving — no matter who you're traveling with — during an upcoming holiday getaway.
Photo Credit: Aruba from Nestor on Flickr
Jessica Colley is a freelance travel and food writer based in New York City. She proudly called Dublin home from 2008 – 2010 and writes frequently about the city and Ireland. Three of Jessica's favorite travel destinations are Ireland, Italy, and Berlin. Find her online at www.thegreatamericantraveldream.com and on Twitter @jessicacolley.