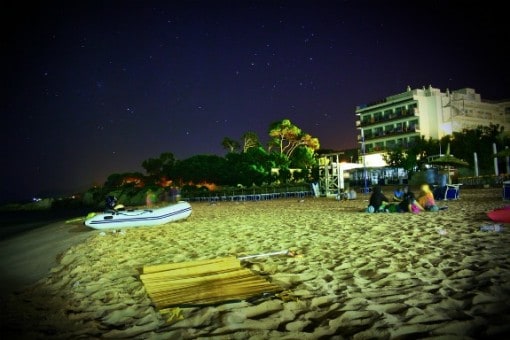 The island of Majorca offers hundreds of beaches making it a one-stop destination for beach-loving vacationers.  Majorca (also spelled Mallorca) has long been popular with European beach lovers, and it's starting to be discovered by North Americans looking for an island that provides a little slice of heaven.
The island has hundreds of beaches, so no matter the type of sand and surf you may be looking for, you're guaranteed to find it here.  If not – you just aren't trying hard enough to be happy is this beach paradise.  Here are a few beaches, representing a variety of interests, that are worth checking out.
Family Friendly Beaches
Sa Coma Beach has been evolving over the years, and despite the bars and restaurants is still very family friendly.
Portals Vells Beach is quite small, more of a nature sanctuary than a surf and sand beach, and is a nesting spot for a number of sea birds. There are a couple of restaurants along the beach.
Santa Ponca Beach is a historic area and remains relatively unspoiled.  There are summer homes and hotels around the area, along with the usual beach amenities, but it has a bit of a slower pace.
Paguera Beaches represent three beaches very close to another.  The smallest beach, Paguera Roman has all the typical amenities along with splash pools for the kids.
Quiet Beaches
When you want some quiet relaxation, a romantic rendezvous, or maybe just some simple privacy, some of these beaches that are a bit more secluded and quiet may appeal to you.
Pollenca is a relatively new beach and although it offers some basic beach amenities and water sports, it's still remains pretty quiet and undiscovered.
Es Trenc Beach is a popular beach spot, but the lack of development around the area means you can still get a spot on its beautiful white sand.
Es Carbo Beach is as perfectly unspoiled as you get.  It is accessible by hiking in from Colonia de Sant Jordi or ses Salines, making it a bit of an effort to get to.  The soft white sand makes it worth the walk.
Portals Nous Beach is for the yachting set, which means that the beaches stay pretty quiet.  When you're ready for a little more activity and socializing, head to the nearby yacht club for food, beverages, and shopping.
Party Beaches
If your time at the beach is dedicated to meeting people, partying, and whooping it up, you'll want to check out some of these beaches full of people and activity.
Formentor Beach offers about a mile of sand, all of it full of perfect spots for sunning and celebrity gazing (the Formentor Hotel is a celeb favorite).  There are plenty of traditional beach amenities and with all the bars you won't go thirsty.  There's a surf school for those interested in giving the waves a try.
Cala Agulla Beach attracts the young and hip crowd with its white sand, but the neighboring pine forest gives it a bit of the wild and untamed feel.  This dichotomy provides a nice backdrop for the usual water sports and beach attractions.
Cala Millor Beach is about two miles long and is well populated with hotels, bars, restaurants, clubs, and shops.  There's always plenty to do and plenty of people to do it with.
S´Arenal Beach is located on the bay of Palma, and is surrounded by scores of hotels and resorts.  It's heavily visited by tourists, but the locals hang out there as well – part of the reason why it's become so popular.
It can take a lifetime to find your perfect beach – or maybe just a vacations on Majorca, an island with hundreds of beaches waiting for you to discover them.
Photo:  Justin van Creij via flickr
Mary Jo Manzanares is a founder and the editor-in-chief of The Traveler's Way, an online travel magazine proving informational and inspirational travel recommendations for curious Baby Boomer travelers. She has been a speaker at various industry events and has a personal travel blog at Traveling with MJ. When she's not traveling, Mary Jo likes lingering over a cup of coffee, wandering in a museum, sipping wine at a cafe, and sharing it all with friends and readers. Mary Jo's top travel destinations are Italy, Portugal, and the Caribbean.