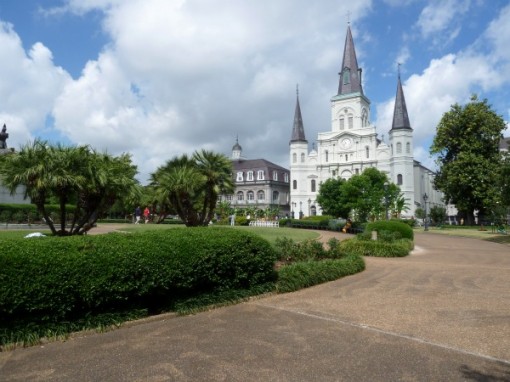 New Orleans. Say the name and it still, nearly six years after Katrina, conjures up images of floods and people being rescued from their rooftops. Visitors to the Crescent City these days can see signs of the damage if they look closely, even if they don't leave the French Quarter (which didn't flood in the first place) – but it's doubtful that the revelers on Bourbon Street are looking that closely.
When I first visited New Orleans in 1998, I stayed in the French Quarter and Garden District for my entire stay. The city captured my heart, but it still took me 13 years to get back – and this time, I wanted to make sure I got outside the usual tourist areas. I'm extremely glad I did, and yet I was unprepared for how moving my excursion would be.
Dr. Wagner's Honey Island Swamp Tours sent a van to pick me up at my French Quarter hotel just after lunch on a Monday afternoon for a trip into the Louisiana bayou. A colleague who had lived in the city years ago had recommended I get into the swamp if at all possible, but I was car-less. Thankfully, most of the swamp tours have hotel pick-up service all over the city. This van service turned out to be only one of the unexpected perks of the day.
After a few more hotel stops, the van was full and Gene, our driver, headed for the highway. He put on a headset wired into the van's speaker system, thus beginning our tour of Those Parts of New Orleans Visitors Don't See. We drove through the Ninth Ward and into New Orleans East, and since we were ahead of schedule Gene pulled off the highway for a tour of one of the neighborhoods, all the while rattling off disturbing statistics of life before and after the 2005 storms.
I wasn't prepared for this. I'd been trepidatious about the idea of taking a "Katrina tour" for fear that it would be exploitative, and yet here I was on one. This unexpected tour of a huge swath of the city still not recovered from the storms was not exploitative, however. Gene was born in New Orleans and has lived in the city all of his 71 years, and at one point when he paused it became clear why he was taking us on this little detour.
"I'll bet y'all didn't realize it was still like this here, did you?"
We all acknowledged that no, we had no idea.
"Yeah, everyone's forgotten about New Orleans," Gene said, before continuing his tour. I arrived at the boat launch with tears in my eyes.
The swamp tour was everything I had wanted it to be and more – Captain Gary told stories of enormous alligators, threw marshmallows near the alligators we saw in order to tempt them closer to the boat, showed us a homemade crawfish trap, and sped along the open waters in the Honey Island Swamp creating the most refreshing breeze in the muggy late spring air.
We were having a glorious time. We'd put the Katrina tour in the back of our minds for the moment. And then Captain Gary pulled it to the front again.
"People ask if this area was impacted by Katrina, and it really wasn't too bad," he said. Yes, some people's homes were damaged – the makeshift fishing shacks got the worst of it, some of which were still in their 2005 state of disrepair as we floated past – but we were far enough inland that it wasn't like the swamp had risen 18 feet. Captain Gary's house had flooded a bit, like so many others in the region, he said, "But when I think about how bad those people in Japan got hit with that earthquake and Tsunami – they had no warning, at least we had warning. Yeah, we didn't have it nearly so bad as some people."
And when he said that, my heart broke a little bit more.
Captain Gary and Gene and every other person in the tourism business that I met during this trip to New Orleans echoed a similar refrain. Thank you so much, they said, for visiting our city and our region and for spending money here. You, they said, you are helping us rebuild our communities, our schools, and our hospitals, helping us restore our historic landmarks, and we thank you for coming.
I recall telling everyone I knew to go to New Orleans back in 2006 as the city was just beginning to recover, and I now regret that I ever stopped repeating that. Visitors to the French Quarter and the Garden District will be charmed by the sights, sounds, smells, and tastes of New Orleans – there's no denying the city's appeal. What I will now add to my 2006 admonition to visit New Orleans is that people get out of the French Quarter and Garden District. If you have a desire to volunteer, seek out a good organization through the Volunteer Louisiana site. But the good news is that even if you don't have the time or inclination to volunteer, you can make a difference in New Orleans simply by going, getting beyond the karaoke bars on Bourbon Street, spending money that stays in the community by staying in independent hotels and eating in small restaurants – and then, when you get home, telling your friends to do the same.
Can taking a swamp tour to look at some alligators change the world? No. But Gene and Gary made us feel like we were contributing, they gave us a glimpse of their world and – by extension – a story to tell, and I don't think I was the only person who ended the day thinking about what a difference one person can make.
Visitor's Information for New Orleans Swamp Tours
There are several companies that run swamp tours around New Orleans – Dr. Wagner's Honey Island Swamp Tours are the original, and they're fantastic. Tours are $23 per person ($15 for kids) and run about two hours. If you need a hotel pick-up, you'll pay another $22 ($17 for kids) – so driving yourself to the launch spot saves you quite a bit.
At the time of this writing, there's a coupon for Dr. Wagner's available on the New Orleans Convention and Visitors Bureau site (it's in the official visitor's guide, which you can order or view online) that will get you $8 off a tour that includes a hotel pick-up, $5 off if you drive yourself to the launch site.
The boats hold roughly 20 people, and most of them have canopies so you're not exposed to the Louisiana sun for two hours. You might think – as I did – that the swamp would be mosquito central, but there aren't any mosquitoes out there because the water is moving. In fact, Gene told us the alligators like the taste of mosquito spray. I'm sure he was kidding, right?
Photo credit:  ©Jessica Spiegel, 2011.  Used with permission.
This is a guest post from Jessica Spiegel,a Portland-based writer with BootsnAll Travel. She's BootsnAll's resident Italy expert and the person behind the WhyGo Italy travel guide – but you won't be surprised to learn that she'd be overjoyed if you started hunting for airfare to New Orleans and browsing your New Orleans hotel options now. Jessica's top three travel spots – so far – are Italy (yes, it's too hard to choose just one city, please don't make her), Haida Gwaii (hauntingly beautiful islands off the northern coast of British Columbia), and New Orleans (duh).
Mary Jo Manzanares is a founder and the editor-in-chief of The Traveler's Way, an online travel magazine proving informational and inspirational travel recommendations for curious Baby Boomer travelers. She has been a speaker at various industry events and has a personal travel blog at Traveling with MJ. When she's not traveling, Mary Jo likes lingering over a cup of coffee, wandering in a museum, sipping wine at a cafe, and sharing it all with friends and readers. Mary Jo's top travel destinations are Italy, Portugal, and the Caribbean.