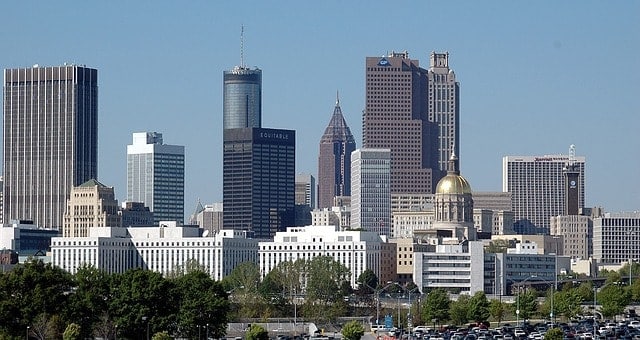 Look beyond the city's gleaming high rises to discover Atlanta's soul. Interstate 285 forms a perimeter around the city, and just inside (known to locals as "inside the perimeter" or "ITP") visitors will find several distinct Atlanta neighborhoods. Each neighborhood brings a unique flavor to the residential streets, gotta-find-it boutiques, and chef-owned eateries of its community.
Downtown – In the middle of it all, Downtown's core pulses with energy. It's a livable center, populated with city dwellers, business people, and tourists. Downtown is home to a walkable tourism corridor with hotels and more than 300 restaurants. Visitors will find world-class attractions that surround Centennial Olympic Park including Georgia Aquarium, World of Coca-Cola, CNN Headquarters, The Children's Museum of Atlanta, Center for Civil and Human Rights, and the College Football Hall of Fame within steps of each other. Sure, downtown may be Atlanta's tourist hub, but it's the ideal place to start an exploration of the city.
Castleberry Hill – Just southwest of downtown, Castleberry Hill etches out a space among former warehouses. Today, the community is made up of local artists and entrepreneurs, including the successful Atlanta Movie Tours, which offers tours of locales from The Walking Dead, Hunger Games, and other popular films. Here, Art galleries mix with organic garden spas, wine bars, and tapas lounges. Locals and visitors enjoy lively Second Friday Art Walks where local businesses open their doors for wine, music, and fun.
Midtown – Style and substance take center stage in Midtown along Peachtree Street. The famed boulevard connects three major neighborhoods while cutting a swath of culture through the district that's known as Atlanta's "heart of the arts." Midtown boasts the largest concentration of arts facilities and organizations in the Southeast with 25 different arts and cultural venues, more than 30 permanent performing arts groups, and 22 various entertainment facilities. Locals thrive on the tree-lined streets just beyond Peachtree Street and congregate to play at Piedmont Park.
Buckhead – Bold and brazen Buckhead cradles the bedroom communities of the up-and-coming as well as the city's Fortune 500 families. A shopping mecca for fashionistas across the South, this upscale neighborhood is the "Beverly Hills of the East." The new, ultra-luxe shopping district of Buckhead Atlanta combines the walkable, tree-lined streets of Paris with the haute couture shops of Rodeo Drive. From just about any point in Buckhead, you're within shouting distance of a memorable four-star restaurant where foodies get their best eats.
Westside – On the Westside, a blending of Georgia Tech culture with nearby loft communities has sprung into a focal point for a new design district in old industrial spaces. It's the go-to-place for interior design lovers looking for lighting, textiles, fabric, and furniture. Like other Atlanta neighborhoods, the dining scene is thriving here. Long-time homesteaders Anne Quatrano and Clifford Harrison's famous Bacchanalia restaurant begat the city's best kitchen shop, Star Provisions, plus two other restaurants, Quinones and Abattoir. Nearby top-rated JCT. Kitchen & Bar, The Optimist, Miller Union, and Antico Pizza Napoletana join the throngs of eateries catering to the city's sophisticated palate.
Eastside – The Atlanta BeltLine Eastside Trail, a multi-use trail and greenspace, runs 2.25 miles from Piedmont Park to Irwin Street, connecting neighborhoods on Atlanta's Eastside. Tattooed locals, creative street art and historic homes come together on this side of town.
Virginia-Highland – Locals stop for a pastry at Alon's in Virginia-Highland, dawdle in Highland Woodworking, or try on the latest fashion statements in Bill Hallman.
Poncey-Highland –  This corridor is a bridge between Midtown and Virginia-Highland and provides a perfect blend of these distinct neighborhoods. Off Ponce de Leon Avenue, the historic Sears, Roebuck & Co. is now Ponce City Market (PCM), which rivals New York City's Chelsea Market. PCM will house various shops, flats and offices. Its food hall showcases a renewed energy trending though Atlanta's dining scene. Head down North Highland Avenue to Manuel's Tavern, a presidential favorite and Atlanta's quintessential neighborhood bar. End your exploration of the neighborhood with a movie at the Plaza Theatre, Atlanta's oldest operating cinema.
Inman Park – Combining small urban green spaces with winding boulevards lined with colorful Queen Annes and Victorians, this is Atlanta's first planned suburb. The classic architecture and landscape designs jut up against the skyscraper backdrop.
Little Five Points – The scene edges into a Bohemian style in Little Five Points, where vintage dress matches the creativity of tattoos. While spots like Junkman's Daughter have become de rigueur for the young, others can't resist the kitschy places like Star Community Bar and Vinyl Lounge, with a shrine to Elvis. But all is not grunge here. Performing arts venues such as 7 Stages, Dad's Garage, and Variety Playhouse lend artistic authenticity to Little Five.
Old Fourth Ward – What's old is new again in Old Fourth Ward, where this neighborhood continues to redefine itself. Edgewood Avenue has experienced a resurgence, transforming into a hotspot for nightlife. This street has several options for enjoying the night, including Joystick Gamebar, Sister Louisa's Church of the Living Room and Ping Pong Emporium and The Sound Table.
Sweet Auburn District – Once an epicenter of African-American commerce, the Sweet Auburn District continues to flourish on the city's southeast side. Auburn Avenue, known in the 1950s as the nation's most affluent African-American street, houses a curb market, bakeries, and clubs near the Martin Luther King Jr. National Historic Site, and Ebenezer Baptist Church.
Explore Atlanta through the city's neighborhoods, each with its own distinctive character. What's your favorite?
Pin this to your favorite Pinterest boards.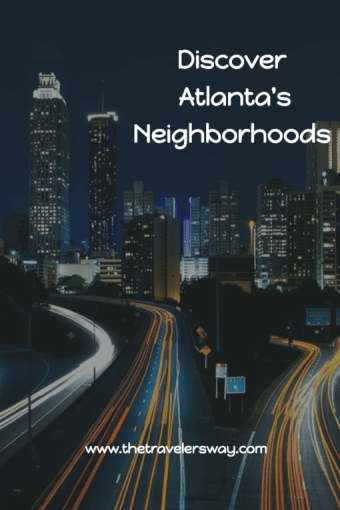 Anthony has found travel provides a healthy balance to his day job as a criminal defense attorney. Living on the periphery of blogging for years, he's now decided to flex his creative muscles with a little writing and photography of his own. Anthony's favorite travel destinations are the Caribbean, Italy, and Ireland.