West Hollywood has once again been ranked the most walkable city in the state of California by Walk Score. Walk Score's walkability ranking rates any address based on its proximity to nearby amenities, such as grocery stores, restaurants, schools, parks and public transit. With a score of 89, West Hollywood's walkability is ranked higher than San Francisco (with a score of 84), Los Angeles (64), and San Diego (49).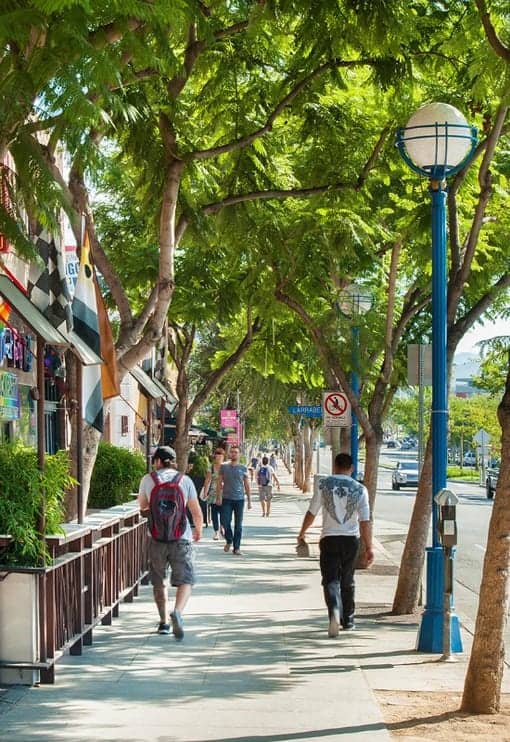 With its central location and compact size, West Hollywood is the ideal destination for visitors who want to experience the greater Los Angeles area without a car. West Hollywood visitors appreciate the safe atmosphere, pedestrian-friendly streetscaping and close proximity of our world-class hotels to dining, shopping and entertainment.
West Hollywood's Best Walking Districts
At just 1.9 square miles in size, West Hollywood is one of the most densely populated cities in California, an urban village where people frequently utilize the most efficient transportation mode possible  – their feet. To help visitors hit their stride, Visit West Hollywood has compiled a series of curated and themed "Walkable WeHo" walking tours on its blog, as well as a thorough guide to a car-free West Hollywood and Los Angeles experience.
Consider these:
Some of West Hollywood's most popular walking districts include The Sunset Strip, a 1.6-mile stretch of Sunset Boulevard that is home to many of the city's premier hotels, shopping and restaurants, as well as legendary music and nightlife venues.
Just a few blocks to the south, Santa Monica Boulevard – part of the historic Route 66 – is home to Southern California's most vibrant LGBT district, with dozens of gay-friendly restaurants, stores, bars and clubs.
Another pedestrian-friendly destination in West Hollywood is the West Hollywood Design District, consisting of Melrose Ave., Robertson Blvd. and Beverly Blvd. The district, which surrounds the landmark Pacific Design Center, is home to nearly 300 interior design showrooms, fashion retailers, restaurants and art galleries. In 2013, the district launched a streetscaping program that will further enhance the pedestrian experience.
Photo credit:  Courtesy of Visit West Hollywood via TravMedia
Mary Jo Manzanares is a founder and the editor-in-chief of The Traveler's Way, an online travel magazine proving informational and inspirational travel recommendations for curious Baby Boomer travelers. She has been a speaker at various industry events and has a personal travel blog at Traveling with MJ. When she's not traveling, Mary Jo likes lingering over a cup of coffee, wandering in a museum, sipping wine at a cafe, and sharing it all with friends and readers. Mary Jo's top travel destinations are Italy, Portugal, and the Caribbean.