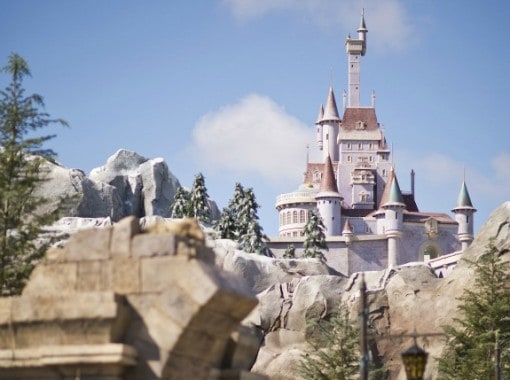 When Walt Disney shared his concepts for a theme park in Florida, the results became Magic Kingdom at Walt Disney World.  Themed areas within Magic Kingdom pay tribute to the adventurous wild west, colonial America, exotic ports of call, outer space travel and beloved fairy tales.  One section, known as Fantasyland, was every princess lovers dream destination as it is here that  the most cherished stories and characters we have grown to love through Disney films live. Having undergone the largest expansion in Magic Kingdom history, the New Fantasyland allows guests to  explore two new areas of classic Disney tales within the Enchanted Forest and  Storybook Circus. As the construction walls came down recently, guests have been allowed their first opportunity to experience the new attractions.
It is nothing less than magical as guests round the corner of Prince Charming Regal Carousel to see not the iconic elephant cars of Dumbo the Flying Elephant, but instead the fortress walls surrounding the Enchanted Forest.  Entering through breaks in the wall, guests walk over a bridge guarded by gargoyles crossing to enter the massive doors of Beast's Castle and Be Our Guest Restaurant. For fans of the Disney film, Beauty and the Beast, the rooms are so familiar, you will swear you have been here before.
The Restaurant provides two dining experiences – a lunchtime quick service restaurant where guests place orders and make payments at self-serve computer stations as well as  full service  table dining in the evening.  Guests can dine in the ballroom where Beast and Belle shared their first dance and view a magical winter "snow" falling on the French countryside through the massive windows.  Other rooms within the restaurant include the dark and mysterious West Wing where guests will witness a transformation of the portrait on the wall as the last rose petal falls, The Rose Gallery with a twirling statue of Beast and Belle and the hallway lined with enchanted suits of armor (be sure to listen carefully as sounds of life can be heard within the armor).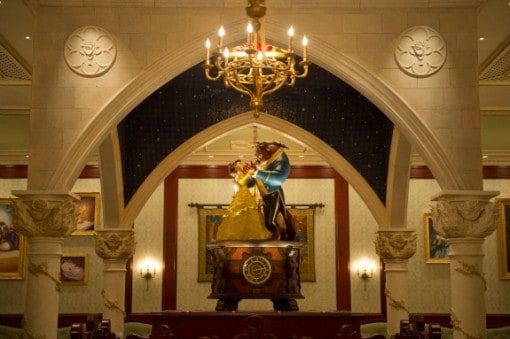 Be Our Guest serves food inspired not only by French cuisine but the film as well including the lyrical "Grey Stuff " dessert.  While the song states that it is delicious, I found it to be more of a pleasant cross between a vanilla mousse and whipped cream. I did however, truly enjoy the triple chocolate cupcake which made the perfect ending to my meal of creamy potato leek soup, trio of salads and sauteed shrimp and scallops entree.
Guests not up for a full meal should visit Gaston's Tavern to share a snack of roasted pork or croissants as well as a sip or two of LeFou's Brew – a refreshing blend of frozen apple juice topped with a whip of passion fruit-mango foam.  Whether guests purchase the Brew in a souvenir cup or on its own, take it from me, drink cautiously as this sweet icy concoction produces a walloping brain-freeze.
Join in the re-telling of the "tale as old as time" through the use of props and costumes at Enchanted Tales with Belle.  By entering through the enchanted mirror in Maurice's workshop, guests join Belle and Lumiere in the inter-active story of Beauty and the Beast. Guests  can also become a part of Ariel's world through Under the Sea – Journey of the Little Mermaid by hopping aboard a clam shell for an "underwater" experience or visit with her in person at Ariel's Grotto.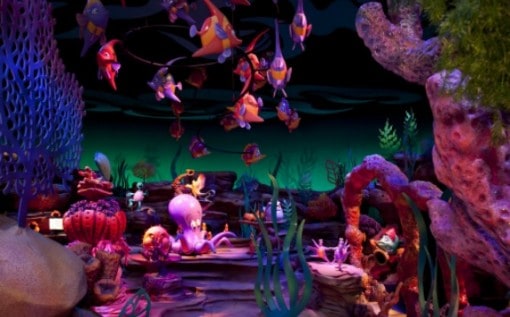 Storybook Circus allows guests to experience life under the Big Top with many of Disney's non-fairytale characters. It is here that guests may think they are seeing double as they will find not one, but two of the beloved Dumbo the Flying Elephant attractions.  Redesigned in bright red and gold and a new water feature at its base, the new Dumbo rides are connected to an air-conditioned "big top" area.  Gone are the long waits in the scorching sun as it is here guests will receive a pager that will alert them to their turn for the ride.  In the meantime, young guests can cool off or blow off a little steam while they climb and slide through a maze of circus fun.  Guests not wishing to take part in the interactive adventure can also opt for a FASTPASS return.
Next to Dumbo is The Barnstormer Featuring the Great Goofini a family-style roller coaster featuring Goofy as a daredevil circus stuntman.  Disney fans can meet the Great Goofini in person at Pete's Silly Sideshow along with some of his other pals, Minnie, Daisy and Donald all dressed for their role as circus performers.  Another spot for kid size fun is the Casey Jr. Splash 'N' Soak Station.  Junior guests can frolick among circus train cars loaded with charming elephants and that playfully squirt and splash water offering cooling relief from the Florida sun.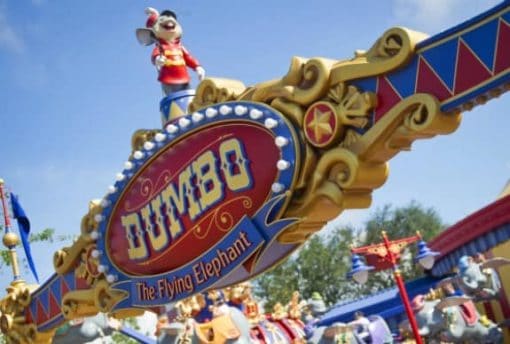 This multi-year expansion of New Fantasyland will result in more than doubling the size of the former Fantasyland and looks to include a new Princess Fairytale Hall where Disney princesses will meet their fans when opened in 2013, and an unpresidented experience when guests climb aboard The Seven Dwarfs Mine Train opening in 2014.
Magic Kingdom has long been my favorite Walt Disney World theme park for sentimental reasons, but with the new expansion and attractions will remain so for other reasons as well.
Photo Credits: wdw news
While the author was the guest of Walt Disney World Resort for the purpose of a review, the opinions expressed are her own.
Having been transplanted numerous times, I have learned to explore the sites around our new found hometown, uncovering hidden gems and attractions. When vacation time rolls around, I enjoy traveling with my family and the occasional weekend escape with my husband, coming home to share our travel experiences with others. You can follow me on Twitter @JAIngersoll. My top three destinations are Walt Disney World Resort, the Midwest and any beach I can walk along.