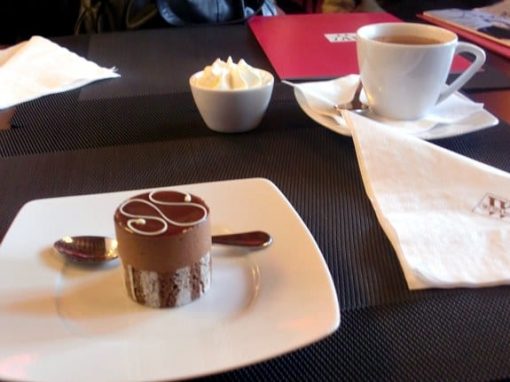 Is Belgium the chocolate capital of the world?  Many say yes!  Last month on a trip to Brussels, Belgium I set out to find if that was true.  After all, every time I head to Belgium someone reminds me that I must bring back chocolate of some kind.
Belgium actually got its reputation for chocolate back in 1912 when Jean Neuhaus founder of the well-known Neuhaus Chocolatier created the first praline. In Belgium, even today, pralines are still made by hand and I have to say are highly recommended.  Ever since that praline invention too, folks in Belgium have taken pride in their chocolate-making using only natural products.  The varieties of flavors are created by adding or subtracting sugar and cocoa used in the ingredients.
Just how many chocolate shops there are in Brussels is hard to say. You can find shops on a number of corners around the city and all will definitely feed your chocolate lover's diet. While I was there I visited two of the best, Wittamer and Chocalatier Gerbaud.
Royal Wittamer
My tour to Wittamer was on a cold, sunny morning on my second day in Brussels.  Wittamer, located on the Place du Sablon not only has a chocolate shop, but also a little café upstairs that opened in the 1950s. The colors are all in the Wittamer's well-known pinks and browns, and I felt a warm, toasty feeling as I sat down to browse the menu with prices beginning around $10.
The first stone for what is now the House of Wittamer was laid in 1910 by Henri Wittamer, today his son Paul and daughter Myriam are in charge of the famous patissier's chocolates and they have certainly kept the taste fresh and the atmosphere classy.  Paul actually went to school in Switzerland and Myriam is a fashion junkie.  As I sat down to a steaming, thick cup of hot chocolate (in photo above), Myriam told us that each day Wittamer's Master Pâtissiers are creating new blends.
The macaron I was served is actually Wittamer's pride and joy and it was every bit as good as the macarons I have tried in Paris.  After all, while France might be known for its macaron as a rule, Wittamer has little round biscuits with almonds and a soft center (different from the ones in France with gingerbread) down to perfection.
Wittamer can also boast about the fact that they are the Official Supplier to the Court of Belgium – so I'd say I was in pretty good company having chocolate and macarons there on my second day.
An Asian Spin for Gerbaud
At Chocalatier Gerbaud, located in the center of Brussels and easy walking from anywhere in the City Centre, I took part in a class to learn about the different flavors of chocolate, Laurent Gerbaud-style.  I discovered that I lean heavily toward the darker chocolate flavors, but many chocolates nowadays have a variety of flavors added in like peppers and fruits and a variety of gooey inside fillings.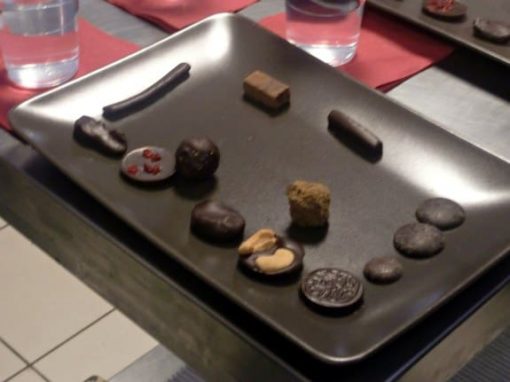 The Chocolatier at Gerbaud adds a number of fruits and spices to his tasty morsels with an emphasis on China where he opened one of his first chocolate shops.  While chocolate and China didn't exactly go over too well for him (that's why he's back in Brussels), some of the recipes he creates comes from that Asian experience – think kumquats coated with dark chocolate.
"I only do what I like," is his motto.  To that list he has recently added a new range of the Laurent Gerbaud 70 percent dark chocolate, made from an exclusive recipe created by Domori, one of the best luxury chocolate makers in Europe.  Using some of the best cocoa beans found in the world, the manufacturing process Gerbaud told us about during the class allows for the actual flavors of the chocolate to come through.
Using an exclusive mix of Trinitario beans from Madagascar and Nacional beans grown in Ecuador, the Trinitario beans give the chocolate the richness and aromatic intensity and the Nacional beans its exceptional length.  Gerbaud also taught us that for ultimate perfection he sets the beans at low temperatures during the chocolate making process and he uses the darkest chocolates he can to blend with the unique fruits he uses.  For milk chocolate lovers, Gerbaud blends a mix of the Nacional beans with a touch of Guérande salt and only a very small bit of soy lecithin.
A tiny taste of a few of his samples and it was easy to tell the difference.
To add even more flavor, the chocolatier's packages are little jewels with the Laurent Gerbaud logo on the box, a red seal and the word chocolate in Chinese characters.  Prices start at $15 for a small box or you can buy them individually for about $2 a piece.
Still More Chocolate
Still just can't get enough of all those chocolate shops and tours in Brussels?  Here are a few more recommendations.
Chocolatier Jean Philippe Darcis in Liège, Namur, Lasne, Heusy, Verviers and in Brussels (Petite rue au Beurre,14). 
Chocolatier Marcolini in Brussels, with the flagship store at Place du Grand Sablon.  
Corne Port Royal stores are in Brussels, Liège, Charleroi, Louvain La Neuve, Arlon (Galerie de la Reine).
Mary Chocolatier in Brussels ( Rue Royale 73). 
Chocolatier Manon in Brussels (Rue Tilmont, 64)
Corne 1932 in Brussels (Galeries du Roi 24-26).
Passion Chocolat in Brussels (Rue Bodenbroek 2/4).
La Maison des Maitres Chocolatiers Belges with 10 chocolate masters displaying traditional Belgium creations, the store is open for tours, tastings and workshops; in Brussels (Grand Place 4).
Chocolaterie Duval offers workshops and tastings for groups of five or more (Rue des Chardons 19).
Planete Chocolat in Brussels is a modern chocolate factory in the heart of the city, presentations offered on weekends (Rue du Lombard 24). 
Zaabar is a factory and chocolate shop in Brussels offering hands-on classes and tastings (Chaussée de Charleroi 125).  
Chocolatier Manon in Brussels offers tours highlighting the crafting of the country's handmade chocolates (Rue du Congrès 24).
NOTE:  The writer was a guest of Visit Flanders for her chocolate excursion, the opinions expressed here are her own.
Rita Cook is a writer/editor with over 1000 articles. She can be heard on Insider Mag Radio at KPRO 1570 am and she also reviews cars for the Washington Times Communities (Behind the Wheel). Her most recent published books include "A Brief History of Fort Worth" as well as two haunted books on Dallas and Fort Worth to be published in the fall 2011. Rita's favorite travel destinations are Italy, India and Kenya.