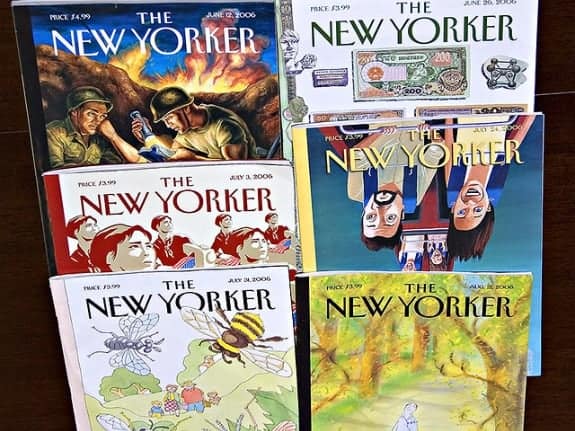 After summer winds down in the Big Apple there are plenty of events for New Yorkers to look forward to. The autumn is packed with festivals in a variety of categories that remind locals and visitors alike that New York is an incredibly vibrant, cultural city. From September through November, some of the most famous names in comedy, food, theater, and literature find their way to the stages in New York. Beyond offering a long list of events, the autumn months are also home to some of the most beautiful weather of the year. Subways are no longer broiling hot, the parks are alive with the colors of fall, and comfortable temperatures make exploring on foot a pleasure.
As if you could need other reasons to plan a trip to New York City this fall, here are five of the top events coming to Manhattan throughout September, October, and November.
1. The New Yorker Festival
Sept 30, Oct 1, Oct 2.
Both subscribers to the magazine and the general public pack the events of The New Yorker Festival. It should be no surprise that the festival covers the same varied topics as the magazine, including fiction, poetry, politics, architecture, film, music, and more. This three-day weekend festival is chock full of events, and affordable tickets are sold per event, not for the entire festival. Some people will be drawn to talks with actors like Edie Falco and William H. Macy while others will love the opportunity to see their favorite authors, such as Malcolm Gladwell or Junot Diaz. Purchase your tickets in advance online, or arrive early on the day to purchase tickets that can only be bought at the door (cash only at the door). Purchase tickets early as many popular events will sell out.
2. New York City Wine and Food Festival
September 29 – October 2
If events of The New Yorker Festival strike your fancy, you can squeeze two festivals into one weekend at the end of September. The same weekend is home to the New York City Wine and Food Festival, presented by Food & Wine Magazine and the Food Network. In addition to the Grand Tasting, where you will have the opportunity to taste a variety of food and wine on one of Manhattan's scenic piers jetting out into the Hudson River, there are also many classes, seminars, and workshops offered throughout the weekend for those with a serious interest in food. Your favorite food personalities will be present as well. A range of different events (all priced individually) include a class on Charcuterie 101, a food cart event with Andrew Zimmern, and even a competition called Meatball Madness with Giada De Laurentiis.
3. The New York Film Festival
September 30 – October 16
The New York Film Festival is in its 49th year in 2011, attracting film fans from across the country to Lincoln Center for a variety of exciting events in film. This festival has something for every type of film lover. If you adore the classics, don't miss out on a special tribute to Ben Hur. If you prefer to see the hottest films of the season instead, be sure to check out My Week With Marilyn, starring Michelle Williams as Marilyn Monroe. Other highly anticipated films having their premiere at the New York Film Festival include Melancholia starring Kirsten Dunst and The Skin I Live In starring Antonio Banderas (a film by acclaimed filmmaker Pedro Almodovar). Films are screened several times throughout the festival, so if you miss the premiere, you can still see one of these films before general audiences. Tickets are available for purchase in advance online, or you can buy at the box office (to avoid a service charge paid online).
4. Spa Week – New York
October 10 – 16
While Spa Week is available across the country, it offers extraordinary value in New York City. From October 10 through 16, spa treatments at a variety of spas throughout the city will cost just $50. This means that you can pound the pavement, explore neighborhoods on foot, even go for that jog in colorful Central Park, and at the end of it all enjoy a relaxing (and affordable) spa treatment. Participating spas can be found on the Spa Week website, and range from day spas to upscale spas in luxury hotels.
5. The New York Comedy Festival
November 9 – 13
One of the most hotly anticipated events of the season is the New York Comedy Festival. Over the course of one extended weekend, the hottest names in comedy will take the stage and engage in conversation about their craft throughout New York City. If you've never had the chance to see your favorite comedian up close and personal, be sure to snag tickets to see Ricky Gervais, Sarah Silverman, Kathy Griffin, Bill Maher, Tracy Morgan, Louis C.K. and more. Venues range from classic comedy clubs like Caroline's on Broadway to historic theaters like the Beacon Theatre. Tickets vary and are available for individual performances; no festival tickets are available.
Photo Credit: New Yorker covers by swanksalot on Flickr.
Jessica Colley is a freelance travel and food writer based in New York City. She proudly called Dublin home from 2008 – 2010 and writes frequently about the city and Ireland. Three of Jessica's favorite travel destinations are Ireland, Italy, and Berlin. Find her online at www.thegreatamericantraveldream.com and on Twitter @jessicacolley.