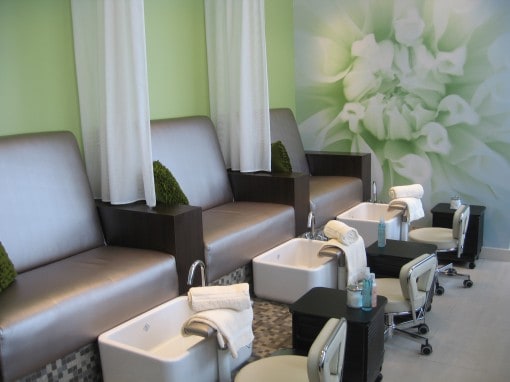 It's been nearly two years since the Elizabeth Arden Red Door Spa at the Bravern, and this signature spa has been wowing guests with their unsurpassed spa expertise, signature treatments, and state-of-the-art facilities ever since.
Elizabeth Arden has long been a leader in the industry when it comes to beauty, health, and personal pampering.  Her Red Door Spas were founded on the principles that the essential glow of beauty must come from within and that every guest who visits should leave physically refreshed and mentally rejuvenated.  Every attention to detail in this 6,000 square foot spa encourages guests to find beauty, harmony, and well-being in their lives, and to indulge in the moment.  Enjoy quiet time in the relaxation lounge before or after your treatment, browse the premium beauty and personal care products, and whether you're having a simple one hour treatment or enjoy a full day of service, bask in the knowledge that for this period of time it's all about YOU.
Location:  The Red Door Spa at The Bravern is located at 700 110th Ave. NE at The Shops at The Bravern in Bellevue, Washington.
Hours:  Monday 9 am-6pm; Tuesday & Wednesday 9 am-7 pm; Thursday & Friday 9 am-8 pm; Saturday 8 am-7 pm and Sunday 10 am-6 pm.  Reservations required.
Prices:  Spa treatments range from $120 for a signature facial or massage to $70 for a pedicure (pedicure stations in photo above).  Packages of services start at $99.   Complimentary three hour parking will be available with validation.
Tips:  Arrive early to allow time to enjoy all the amenities at the spa.  If you want to make a girls getaway out of it, plan for a half day of spa services and then head off for lunch and an afternoon of upscale shopping.
Photo credit:  Courtesy of the author.
Mary Jo Manzanares is a founder and the editor-in-chief of The Traveler's Way, an online travel magazine proving informational and inspirational travel recommendations for curious Baby Boomer travelers. She has been a speaker at various industry events and has a personal travel blog at Traveling with MJ. When she's not traveling, Mary Jo likes lingering over a cup of coffee, wandering in a museum, sipping wine at a cafe, and sharing it all with friends and readers. Mary Jo's top travel destinations are Italy, Portugal, and the Caribbean.