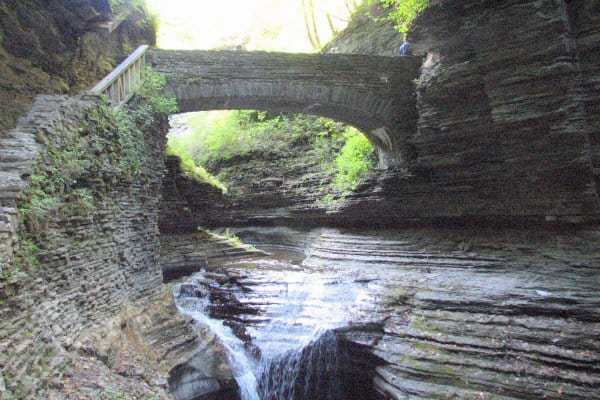 Located in Upstate New York, the Finger Lakes are linear shaped lakes that look just like. . . well, the fingers of a hand. There are 11 lakes, so that would be two hands plus an extra finger, and they all combine to provide an attractive recreation area for anyone trying to escape the craziness of the city. The Finger Lakes are easily accessed from most of the large eastern cities — the area is about a five and a half hour drive from Manhattan or Philadelphia, three and a half hours from Toronto, Canada, and an hour and a half from Buffalo.
So why head there? There's plenty to enjoy, whether you're looking for a frenzy or activity or just a little rest and relaxation.  Here are just some of the ways you can enjoy a weekend getaway to the Finger Lakes:
Wine. You know I had to put this first on the list since the topic is near and dear to my heart! The Finger Lakes is home to the New York Wine & Culinary Center and more wineries than you can shake a stick at. You can spend a weekend tasting, pair it up with some great food, and still leave yourself plenty to taste on a return visit.
Corning Museum of Glass. The museum gives visitors an opportunity to explore glass from all angles – through hot glass making demonstrations, hands-on exhibits, and the world's largest collection of contemporary and historical glass.
National Soaring Museum. Claiming to have the world's largest collection of gliders and sailplanes, this 400 acre site offers hiking, go-karting, golfing, swimming, and picnic spots.  For a real treat, take in some spectacular views of the area from a sailplane.
Watkins Glen State Park. Probably the most famous park in the area, this recreational area contains a stream that descends 400 feet past 200 foot cliffs, generating 19 waterfalls as it goes along its course. Watkins Glen was named one of the top 100 campgrounds in the country (in photo above).
Erie Canal. This man-made wonder was opened in 1825 and served as the first transportation system between the Atlantic Ocean and the Great Lakes. When it was opened it was called the "8th Wonder of the World."  Today it is primarily used for recreation.
Fishing and Hunting. The many natural water sources make this a popular fishing spot for trout, salmon, bass, walleye, pike, carp, and catfish. There are over a quarter million miles of public hunting lands in 118 locations, so this is a popular spot with hunters.
Snow sports. Hey, this is upstate New York, of course there's snow! You can make this a downhill or cross country ski weekend, with plenty of apres ski choices as well.
Colleges and university visits. Whether it's a sporting event, an alumni gathering, or simply partaking in one of the many campus activities, a number of institutions of higher learning are located in the area: Cornell University, Elmira College, Ithaca College, SUNY (Cortland and Oswego), and Wells College, among others.
Festivals. Depending on the weekend you choose, you'll find local events ranging from the Maple Festival to the Renaissance Festival, along with music, arts, and antique events.
Spa visit. Whether you just need a little extra pampering or want to plan a girls getaway, the peaceful, natural setting of the Finger Lakes is prefect for some internal focus. You'll find a variety of options to leave your worries behind and focus on your own wellness.
Photo credit: via flickr
Mary Jo Manzanares is a founder and the editor-in-chief of The Traveler's Way, an online travel magazine proving informational and inspirational travel recommendations for curious Baby Boomer travelers. She has been a speaker at various industry events and has a personal travel blog at Traveling with MJ. When she's not traveling, Mary Jo likes lingering over a cup of coffee, wandering in a museum, sipping wine at a cafe, and sharing it all with friends and readers. Mary Jo's top travel destinations are Italy, Portugal, and the Caribbean.