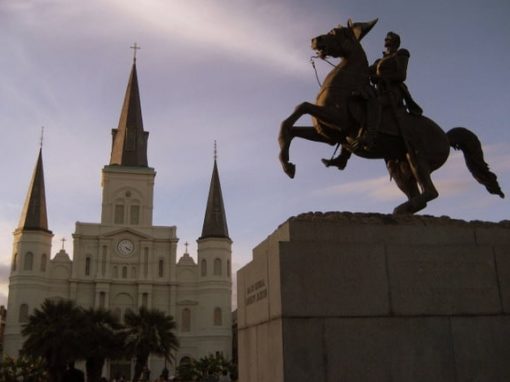 Some of the best things in New Orleans are free – or nearly so.   I recently visited at the end of a long trip, when finances were getting low, and discovered a few tips that kept my budget in check while allowing me to experience the city to its fullest.
Lose Yourself in the French Quarter
I arrived in New Orleans on a cruise ship full of locals, so I had plenty of chances to glean insider tips. By the time we docked, I had several pages of notes. As my husband can testify, I love researching places in advance, making lists, routes and plans. That's why one bit of advice – which kept cropping up over and over – puzzled me. Folks kept suggesting that to truly enjoy New Orleans, I needed to "get lost," or as one lifelong resident advised, "Get yourself over to the French Quarter, wander around aimlessly, and you will have a ball."
After a day in New Orleans, I realized what everyone meant. Part of New Orleans' charm comes from the fact that the city itself is as much of a tourist attraction as any of its specific sites. Not only is it free to admire the wrought iron balconies, gas lit street lamps, and laid-back ambiance of the French Quarter, but a simple stroll there leads to unexpected experiences – the type of fun you can't plan. Each time I passed Jackson Square, for instance, I saw different performers: singers, dancers, jugglers, and, of course, jazz bands.
Ride the St. Charles Street Car
A 90-minute tour for $1.25? It's not narrated, but a round trip on the St. Charles street car gives you an eyeful of the opulent historic homes and huge trees (many with Mardi Gras beads dangling from their branches) that define the Garden District.
Here's a tip: if you hop on at the corner of Carondelet and Canal you are more likely to find an empty seat than if you get on a stop or two later. Also, the street cars are not air-conditioned, so an early morning ride is best in hot weather. If you plan to hop on and off several times, consider buying a Visitour Pass, available in either 1-day or 3-day increments. This pass is a great deal and gives you unlimited ridership on all streetcars and buses throughout the city.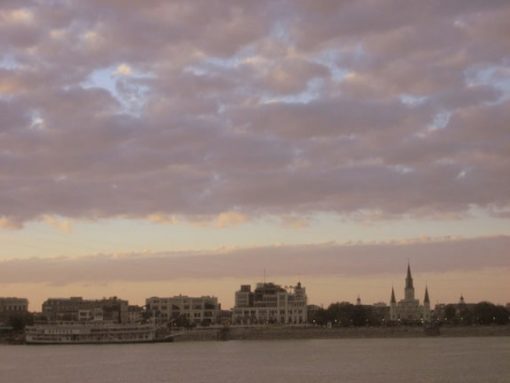 Canal Street Ferry
Fans of Mark Twain will yearn to get out onto the Mississippi River. While several different steamboat tours are available, the Canal Street Ferry will take you across the river and back for free. Shutterbugs can get great shots of the city skyline from the rooftop deck. And, this being New Orleans, you can even grab a Hurricane at the dock before boarding and have yourself a floating cocktail party.
Beignets at Cafe du Monde
Sitting down for a plate of fresh beignets and cafe au lait at Caffe du Monde is a must when visiting New Orleans, and at less than $10 for two people it's an easily justifiable treat. To me, beignets are like the French American version of Italy's zeppole, although these deceptively simple little fried dough balls have a flavor and texture all their own.
Don't let the long line at Cafe du Monde scare you off. The place is run with the precision of a SWAT team and you will be seated before you know it. (Of course, a wedding parade led by a Dixieland band passed while we were waiting, so that made our brief wait all the more entertaining.)
Swing By the Roosevelt Hotel
You don't have to stay at the Roosevelt Hotel to enjoy its swanky atmosphere. The interior is like a movie set from a bygone era. I wandered in for a quick a peek and discovered an elegant cafe serving espresso, ice cream and snacks at prices on par with Starbucks. The fancy bathroom (complete with an attendant) and air-conditioning created the perfect afternoon pick-me-up.
Planning your trip
As I mentioned earlier, I enjoy planning trips in advance. Here's a quick list of places I mentioned in this article so you can plan your visit to New Orleans:
St. Charles Street Car – St. Charles Avenue
Cafe du Monde – 800 Decatur Street (And it's open 24/7)
Roosevelt Hotel – 123 Baronne Street
Canal Street Ferry – 1 Canal Street.  Visit the Friends of the Ferry for more information.
Visitour Pass – For details, check out the New Orleans Regional Transit Authority website.
Photo credits: Courtesy of author
Tui Snider is passionate about exploring the world, and loves sharing what she finds at home and beyond in her travel writing and photos. You can find her online at Discovering-Dallas-Fort-Worth.com, mentalmosaic.com/blog and on Twitter @mentalmosaic. Her top three travel destinations are Italy, London and anywhere a cruise ship will take her.