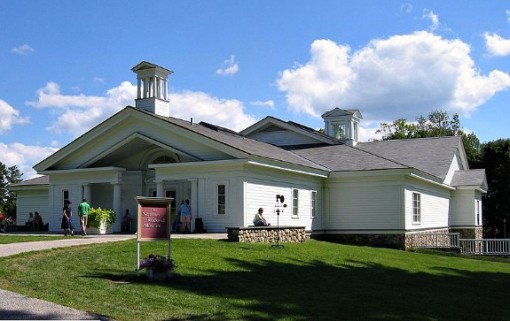 He created picture perfect art representing picture perfect American lives, but Norman Rockwell's own life was anything but perfect.  He went through three marriages, suffered from depression, was under fairly regularly psychiatric care, and was told that he wasn't a "serious" artist.  Yet, at his death at the age of 84, he had amassed a body of work so large that he is likely the best-known illustrator in history.
Norman Rockwell is probably best known for his 321 Saturday Evening Post covers depicting scenes of every day life.  He also did covers for Boys' Life (the magazine of the Boy Scouts of America).  After leaving the Saturday Evening Post, he went to Look magazine where his work became representative of the changing world and current events. .  Rockwell was also commissioned to paint portraits for four U.S. presidents along with a number of notable celebrities and foreign dignitaries.
Not a bad career for someone not considered a serious artist.
Just a couple hour's drive west of Boston, almost all the way to New York, is the town of Stockbridge, where Norman Rockwell lived for the last 25 years of his life.  Stockbridge is home to the Norman Rockwell Museum, a housing of over 700 of Rockwell's paintings and drawings – the largest collection in the world.  The museum also houses a sizable collection (over 100,000 items) of the artist's personal artifacts.
Visiting the museum is a bit like a history class, with the evolution of Rockwell's themes from simple Americana through the complicated war years, from themes of kindness and freedom through the era of civil rights and poverty, from themes of small town USA through the era of space exploration.  As you tour the museum, you'll be surprised at how many painting you recognize, and you may find yourself saying, "I forgot that he did that one.  Or that one.  And he did that one, too?"
Also on the grounds is Norman Rockwell's most recent studio, the one he used up until his death and the one he called his best.  Originally located in the backyard of the Rockwell home, the studio was bequeathed to the museum and they cut the studio in two to move in to the current museum grounds.  The studio is available for touring  May through November 13, everyday 10:30 a.m. to 5:00 p.m.
Note:  Non-flash photography is permitted in most areas of the museum.
Location:  9 Glendale Road, Route 183, Stockridge, Massachusetts
Hours:  10 am-4 pm November through April, till 5 pm on weekends and holidays and from May through October.  Guided tours are offers at 11 am, 12:30 pm, and 2 pm, with guides provided an in depth look at the artist's life and special highlights of the collection.  The studio is available for touring  May through November, check for specific hours.
Admission:  $16 adults, $14.50 seniors (65+), $10 college students, $5 youth (ages 6-18), FREE for children 5 and under.  Active military personnel receive complimentary admission.  An audio tour is available for an additional fee.
Parking:  On site parking is free.
Photo credit:  wikimedia commons
Mary Jo Manzanares is a founder and the editor-in-chief of The Traveler's Way, an online travel magazine proving informational and inspirational travel recommendations for curious Baby Boomer travelers. She has been a speaker at various industry events and has a personal travel blog at Traveling with MJ. When she's not traveling, Mary Jo likes lingering over a cup of coffee, wandering in a museum, sipping wine at a cafe, and sharing it all with friends and readers. Mary Jo's top travel destinations are Italy, Portugal, and the Caribbean.