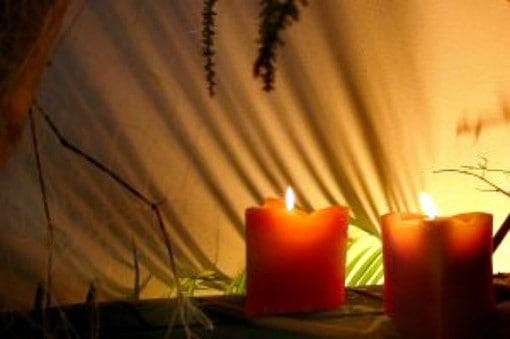 People come from all around, particularly escaping from the fast-paced Los Angeles area to the little town north of LA off Highway 101 called Ojai .  Located in the Ojai Valley, the word Ojai comes from a Chumash Indian word that means "moon." The town is embraced by mountains and is a great destination for a tranquil diversion where spas, healthy food and fresh air is the norm.  It's not only the perfect place to unwind for southern California natives, but for any traveler looking for a step back in time and a little spiritual rest and relaxation.
Oaks at Ojai
Visitors flock to the Oaks at Ojai, a retreat offering both a spa and accommodations. Founded by fitness guru Sheila Cluff, in its heyday in the 1970s The Oaks at Ojai was the original "fat farm."  These days it has grown from that into a health facility featuring spa treatments and classes for the mind and body.  The goal here is to unwind, learn to eat healthy and exercise while taking in the beautiful southern California sunshine.
In my opinion this place is more of a haven for women than men, but you'll find both, along with couples who have been visiting at the same time every year for decades.  If you're looking for a decadently luxurious experience The Oaks at Ojai won't be your cup of tea, but it does offer the kind of laid back atmosphere that Southern California embodies.  The signature treatment is the olive oil body soufflé treatment a 75-minute session that uses olive oil grown locally and is sold at the Ojai Olive Oil Company. Prices begin at $90 for massages as well as body treatments and $80 for facials.
The Oaks at Ojai is located right in the middle of town and is walking distance to the nearby mountains for hiking,  bookstores for enriching the soul and healthy restaurants in case you aren't up for the healthy portions served at the hotel's restaurant at every meal.  If you choose to stay at the Oaks, your rate will include a 1,000 calorie a day food plan that includes three meals, snacks, and beverages.
Location:  122 East Ojai Avenue, Ojai
Day Spa of Ojai
The Day Spa of Ojai is as different a place from the Oaks at Ojai as you're going to find.  It's a bit more luxury and there are no overnight accommodations, but the Day Spa at Ojai promotes overall health and relaxation with the intention of mind, body and soul. The spa is located in an old stone house that is also home to the Shangri-La Paradise, a private retreat area tucked into tropical gardens surrounded with bamboo and jasmine.  Keeping its roots in the local culture, The Day Spa of Ojai is owned by the original founder's daughter who has a Chumash Native American heritage local to the area.
The massage therapists here go the extra mile during treatments.  My therapist was particularly interested in the way I breathed (too shallow). She said that breathing incorrectly can lead to loads of additional problems, and that did caused me to take notice of my breathing for days after my treatment.  If you want to spend an hour sleeping on the massage table this won't be the place for you.  If you want to hear about ways to create a healthier mind and body as the therapist works to make that happen, then this day spa will be a hit.  Prices at The Day Spa of Ojai range from $85 for a 60-minute massage to $150 for an anti-aging facial to body treatments like the Ojai Salt Glow for $99.
1434 East Ojai Avenue, Ojai
Ojai Valley Inn & Spa
As high-end as you'll find in Ojai, the Ojai Valley Inn and Spa has a storied history beginning in 1923 as a private country club and golf course.  By 1930 there had been a number of guest rooms added too. There are children and teen programs at this resort, but the art classes and the spa are the real draw for most visitors.
The Artist's Cottage and Apothecary allows guests to learn from local artists everything from oils to pastels to watercolor to silk scarf painting.   Guided art sessions are $75 per person and private art classes $150.  The Personal Mandala class is a "Signature Ojai Experience" at $200 per person. The class is recommended for times of transition or when seeking clarity; along with quiet introspection, the instructor also offers feedback.   The Apothecary provides a perfect setting to create your own personal scent composed of essential therapeutic oils and then named after you upon completion.
The spa offers a wide range of treatments from massages to facials to body polishes.  The best way to enjoy the experience is with one of the signature packages.  Try the Topa Topa Package for $260 including two treatments, or the Shangri-La Package for $550 including a choice of three treatments, a manicure and pedicure and lunch.
Location:  905 Country Club Road, Ojai
Many people believe that the entire Ojai Valley has a special aura and that is sits atop a spiritual vortex.  It was one of the United States' first new age destinations and even today, in addition to the spas, you can also find a number of other mystical things to do.  The city is home to renowned Indian philosopher Jiddu Krishnamurti and his teachings endure at Ojai's Krishnamurti Library.  There is also Meditation Mount, a place where visitors take part in full-moon meditations. The Krotona Institute offers an exploration of 10,000 books of esoteric wisdom, religion, philosophy and occult knowledge running the gamut from A (astrology) to Z (zen).  And at the very least, take the time to explore Ojai on foot and visit the downtown shops, galleries.  And stop in at a couple of my favorites, Bart's Books and a shop called Soul Centered featuring crystals, jewelry and local art.
In Ojai you come for a spa weekend and leave with a feeling of peace and harmony.
Photo Credit:  SXC

Disclosure Notice: The author was the guest of the Ojai CVB for the purpose of a review; all opinions are strictly her own.
Rita Cook is a writer/editor with over 1000 articles. She can be heard on Insider Mag Radio at KPRO 1570 am and she also reviews cars for the Washington Times Communities (Behind the Wheel). Her most recent published books include "A Brief History of Fort Worth" as well as two haunted books on Dallas and Fort Worth to be published in the fall 2011. Rita's favorite travel destinations are Italy, India and Kenya.