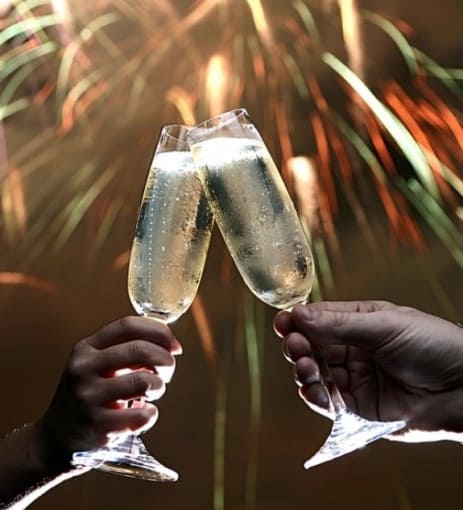 When it comes to party animals, Mickey Mouse isn't the first image that comes to mind.  On the other hand, Brittany Spears was a Mousketeer.  So perhaps spending New Year's Eve at Walt Disney World Resort might be more exciting than you imagined.
Walt Disney World is an extremely popular holiday vacation destination, visited with or without the children.  With the anticipation of large crowds for New Year's Eve, several celebratory events have been planned in and around the theme parks and people are already booking their vacations to celebrate.  Whether you are planning to cheer in 2012 with a group of family members and friends or slip away for a more private celebration for two, here are a few of the festivities that will have you looking forward into a new year.
Fireworks
Awe-inspiring and extravagant, a fireworks presentation at Walt Disney World is always a big hit.   With several displays scheduled throughout the parks, it just might be possible for you to catch more than one.
Magic Kingdom
The Magic Kingdom will host two fireworks showings, a special holiday version of the nightly "Wishes" fireworks spectacular is scheduled for 8:30 p.m. while "Fantasy in the Sky"  is scheduled to begin at 11:51 p.m. The Magic Kingdom offers my favorite displays as the fireworks explode in the sky directly above Cinderella's Castle.
Because of their popularity, it can be very crowded on Main Street in front of the Castle with folks jockeying for the best viewing locations.  If you are as uncomfortable in crowds as I am, I would suggest you slip off a little farther away. I prefer a spot to the right of the castle, but wherever you land, if you can see the spires of the castle, you will be able to see the fireworks.
For an extra special treat, guests can purchase tickets to the Fireworks Dessert Party.  Held before each of the fireworks programs scheduled for New Year's Eve, the dessert party offers ticket holders a secured viewing location for the fireworks show, the lower level of Tomorrowland Terrace dining area, and a dessert buffet. Guests are admitted to the area up to one hour before the scheduled fireworks presentation.  The buffet offers  a wide variety of sweet treats nightly, however, to make the New Year's Eve party a little more festive, it will also include a cheese table and non-alcoholic bubbly. (Adhering to Walt Disney's wishes, alcohol is not served within Magic Kingdom.)
The lower level of Tomorrowland Terrace has long been my secret location for viewing the happenings on Cinderella's Castle steps.  It offers excellent viewing and best of all is tucked away from the crowds.  Combining two of my favorites, dessert and fireworks, it just doesn't get much better than this.  Tickets are required and can be purchased by calling Walt Disney Dining at 407-WDW-DINE.
Another choice viewing location for the Magic Kingdom fireworks exists on the beaches at any of the Disney Resorts surrounding Bay Lake.  The ultimate spot for me would be nestled in one of the hammocks on the beach at the Polynesian Resort.  Several dining spots and bars in the resort areas will make it possible to toast to the new year as well.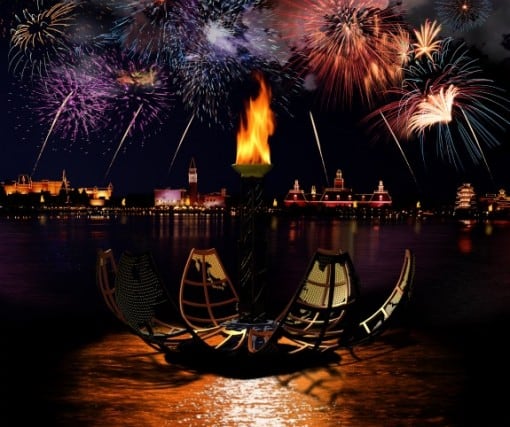 Epcot
"IllumiNations: Reflections of Earth" is a pyrotechnic display featured nightly at Epcot theme park.  A special New Year's version will be shown at 7 and 11:42 p.m.  This show combines music, fire, lasers and fireworks, making it a Disney "must see". Viewing areas ring the lake of the World Showcase.  Here too, guests can enjoy the fireworks while dining, specifically at Rose & Crown at the United Kingdom pavilion and La Hacienda De San Angel in the Mexico pavilion.  My favorite viewing location is at the France Pavilion sharing a glass or two of champagne and a cheese plate with baguette from Boulangerie Patisserie.
Disney's Hollywood Studios
A 6:30 and 8:00 p.m. presentation of "Fantasmic" will be held on December 31st at Hollywood Studios.  Held on select nights, Fantasmic is a musical fireworks and hydrotechnic show featuring Mickey Mouse and other Disney characters.  Guests sit in amphitheater style seating on a first come first served basis.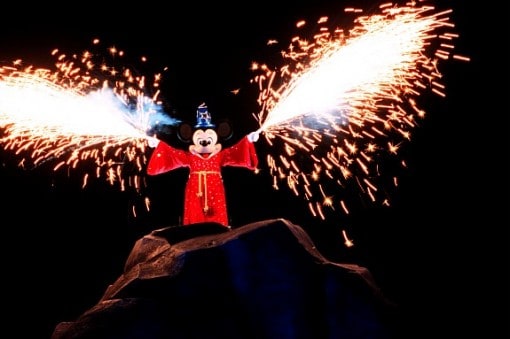 A perfect celebration of the New Year for me would be to attend the early showing of  Fantasmic, followed by a leisurely dinner at The Hollywood Brown Derby, also located within Disney's Hollywood Studios theme park.  An exact replica of its legendary California namesake, The Brown Derby is one of my favorite restaurants where I enjoy dining just like the movie stars and celebrities of a by-gone era.
Indulge in one of the specialty cocktails poured table side or perhaps sample a wine or champagne flight.  Do not miss starting your meal with the famous Cobb Salad created by the owner of the California restaurant, Bob Cobb.  By all means, save room for the signature Grapefruit cake with cream cheese icing. Following dinner you will be able to walk right out the door and have a front row spot for the midnight fireworks presentation of "Lights! Camera! Happy New Year!"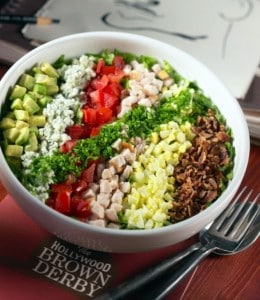 Dinner Celebrations
Several special dining events are planned to usher in the New Year both in and out of the theme parks.
New Year's Eve at Epcot World Showcase Welcome To Fantasia 2011 is a dining event that will include clips from the Fantasia movies. Held at the Events pavilion located near the United Kingdom pavilion, it will feature a buffet of serving stations including cold salads, hot entrees like braised beef, pork and seafood pie, a pasta station, dessert bar and kid's only station with a decorate your own cupcake table and other kid friendly food.  Dinner service will begin at 4:30 p.m. and continue through 10:30 p.m.
Narcoosee's at Disney's Grand Floridian Resort will host two dinner seatings.  A 3-course dinner with dessert will begin at 6:00 p.m. and include a strolling balloon artist and children's menu.  A 9:00 p.m. seating will feature 6-courses as well as DJ entertainment.  Located on the shore of Seven Seas Lagoon, guests at either dinner will have a grand view of the Magic Kingdom fireworks.
Beginning at 8 p.m., guests attending California Grill's New Year's Eve Party will welcome 2012 in a grand way.  Entertainment features Casino games, visits from beloved Disney characters, open bar and a glutton's dream of cuisine; priced at $550.00 per adult.  Known for its outstanding food and service, California Grill will feature hot and chilled appetizer stations, a Sushi station, hot seafood selections, a grill and rotisserie station, wood-fired station, and just in case you still have room, a cheese and dessert station. My best advice is to wear your bedazzled sweat pants as this will truly be a gastronomic extravaganza. Another grand feature of this celebration is the location within the Contemporary Resort and rooftop lounge offering a fabulous view of the Magic Kingdom fireworks.
Prepaid dinner reservations for any of these dining events can be made by calling Disney Dining at (407) WDW-DINE.
Photo Credit:  Courtesy of WDW News
Having been transplanted numerous times, I have learned to explore the sites around our new found hometown, uncovering hidden gems and attractions. When vacation time rolls around, I enjoy traveling with my family and the occasional weekend escape with my husband, coming home to share our travel experiences with others. You can follow me on Twitter @JAIngersoll. My top three destinations are Walt Disney World Resort, the Midwest and any beach I can walk along.