National Park Service concessioner Forever Resorts is helping guests unplug and enjoy the scenery — rather than Instagram it — by offering a Digital Vacation to anyone booking a houseboat trip at Cottonwood Cove Resort and Marina or Callville Bay Resort and Marina in the Lake Mead National Recreation Area.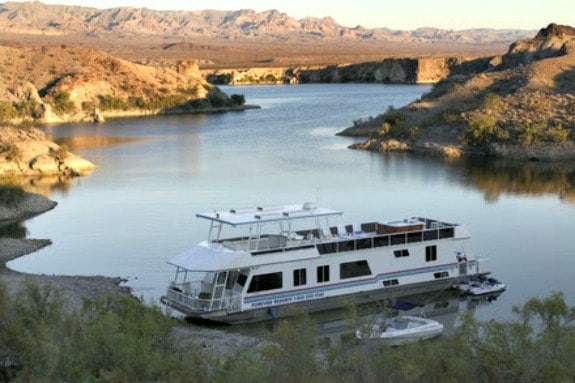 This offer, designed for work-weary travelers seeking to break their digital habits – if only for a few days – will be available throughout 2014. Forever Resorts is hoping to give people the motivation they need to turn off their devices and spend time appreciating nature and each other's company. And a houseboat vacations seems like the perfect time to give that a try.
Houseboats provide a perfect base for family vacations, multi-generational gatherings, reunions and getaways for groups of friends traveling together.  Each houseboat comes equipped with open and spacious living areas featuring, fully equipped kitchens, dining tables and chairs, breakfast counters, wet bars, top-deck sun canopies, private staterooms, swimming platforms, waterslides, outdoor barbecue grills and will sleep 8-12 passengers. Top-deck hot tubs are offered on the largest houseboat models. And, you can also rent ski boats, wakeboards, fishing boats and personal watercraft so you can take full advantage of the recreational opportunities these lakes offer.
Operational training and a personal orientation by skilled marina staff teaches renters how to pilot, dock and beach a houseboat, as well as the boating safety rules of the lake. And, they'll even help you unplug.
How to Prepare to Unplug
When guests book a houseboat trip, they will be asked if they would like to make this reservation a digital vacation at no extra charge. If they do, approximately 10 days before their check-in date, Forever Resorts will email a list of suggested ways to begin the disconnect. Some of these tips include:
Personally reach out to daily professional and personal contacts to let them know the disconnect is coming. Designate one person to be the "in case of emergency" contact and only that person will have the information to call you. (Personal note: That contact person should also be able to distinguish between what is truly an emergency and what can wait.)
Post out-of-office messages on your email at least one week before departing. In the message, gently let users know you truly will be out of the office until the return date and won't be answering email until you return.
Wean yourself off from social media. Post a profile photo declaring a "digital detox" to let friends and followers know that a disconnection is happening. You don't need to delete account, it will be waiting for you when you return.
If you decide to keep your cell phone with you, disable all incoming alerts, emails and texts, and log off from social media sites. Configure all your app settings to help you keep this goal.
Once guests check in for their houseboat, Forever Resorts staff will engage the group in an "unplugging ceremony." Guests will gather around a special lock box where everyone will be asked to turn off all devices at the same time, which becomes a fun audible way to get off the grid and say goodbye. One member of the group will be designated the "key master." The box will remain in the guests' possession throughout the duration of the trip, hopefully removing all temptation to reconnect, while still having device available should an emergency arise. Finally, guests will receive a special gift bag, complete with a bound journals and pen, encouraging guest to jot down their thoughts the old-fashioned way.
And, of course, a houseboat vacation is a fun family travel option even if you don't want a digital detox.
Photo credit:  Courtesy of Forever Resorts
Mary Jo Manzanares is a founder and the editor-in-chief of The Traveler's Way, an online travel magazine proving informational and inspirational travel recommendations for curious Baby Boomer travelers. She has been a speaker at various industry events and has a personal travel blog at Traveling with MJ. When she's not traveling, Mary Jo likes lingering over a cup of coffee, wandering in a museum, sipping wine at a cafe, and sharing it all with friends and readers. Mary Jo's top travel destinations are Italy, Portugal, and the Caribbean.