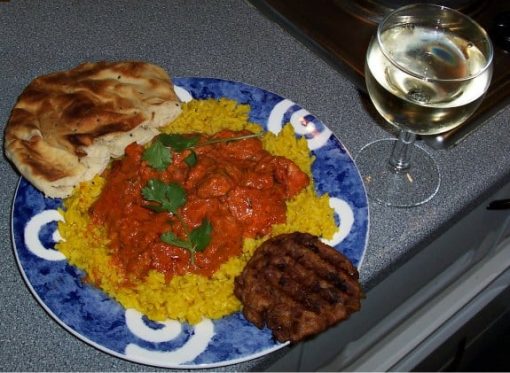 Indian food is so much a part of Britain's heritage that chicken tikka masala – which some surveys say is the nation's most popular dish –– doesn't even exist in India (well, except perhaps as a re-export!).  And even if chicken tikka masala isn't actually the national dish, sub-continental food is certainly part of modern British life. I delineate the food as sub-continental because only a minority of the restaurants are Indian – many of them are actually Bangladeshi or Pakistani, while finding Goan or Keralan food is more tricky.
There's a huge difference between your old-style curry house – where the menu comes in five grades of heat from Korma to Vindaloo and the wallpaper is always red flocked – and the more modern breed of restaurant.
New Tayyab's in Whitechapel is probably London's most authentic sub-continental dining experience.  It's also darn good for carnivores, with excellent seekh kebabs and tandoori lamb chops. The food is plentiful and cheap and that's what you're here for.  Service and ambience are rough and ready, and there's often a massive queue, but it's a great cafe nonetheless. The homemade kulfi for dessert is to die for.
If you're after a more princely ambience, at a suitably more princely price,  then Veeraswamy's in Regent Street is the place to go.  The menu includes spicy roast lamb, part of the Lucknow tradition of aristocratic food, and other specialties.  Although the Lucknawi dishes are probably the best, the menu is fairly eclectic, including Bengali and Keralan dishes as well as Hyderabad court cuisine.
The Cinnamon Club in Great Smith Street, Westminster, has a different approach. Rather than recreate past glories, The Cinnamon Club's chefs create innovative food with an Indian approach.  Spicing tends to be delicate, more nouvelle cuisine than two-baltis-and-a-bhaji full-on flavor. The set menu provides a great taste experience at a wallet-friendly £28 for three courses (as long as you eat before 6:30 pm or after 9:30 pm.  Try the mango menu, which features five courses all containing that ingredient, priced at £50.
My preference would be to do a taste tour of India in London by eating in restaurants that specialize in food from each of India's regions.  For instance, Palms of Goa in Charlotte Street is, as the name suggests, focused on Goan cuisine, which mingles Indian spicing and southern ingredients like coconut milk with Portuguese taste – including vinegar added to several dishes for a little extra edge. Lamb xacutti blends coconut and vinegar in a thick tasty gravy, while chicken cafrael gives you an idea of what happens when you put peri-peri chicken on spicy steroids. Hindi speakers will also appreciate that the set lunch menu is entitled "Jaldi jaldi lunch" – roughly translated as "quick quick lunch".
In Stoke Newington, Rasa Travancore has been one of my favorites for many years. It's not just Keralan cuisine you'll find here, it's also a distinctive branch of Keralan cuisine – Syrian Christian cooking. Dry-fried lamb (erachi olathiyathu), roast duck and crab varuthathu are specialties, and I particularly like the fact you can get appam (spongy rice cake) which is so much better than chapatti for soaking up the thick gravy.
I haven't been to Rani, the pure vegetarian Gujarati restaurant in Finchley or to Kolapata on Whitechapel Road (which serves pure Bangladeshi), but they come highly recommended and I shall certainly get round to visiting them.
Meanwhile, I shall be heading to Ambala Sweets in Drummond Street (next to the Euston mainline station) for my regular dose of wicked halvas and barfis. If your idea of Indian sweets is mass produced mango lassi, stop by here and think again!
Author bio:  Andrea Kirkby is a freelance travel writer based in the UK who has travelled extensively in India and counts Bundi, Rajasthan as one of her all-time favourite destinations. She writes for London Hotels Insight about top restaurants and hotels. 
Photo credit:  David Johnson via wikimedia
The Travelers Way occasionally accepts guest posts from fellow travel bloggers, friends within the travel industry, and as advertorial content.