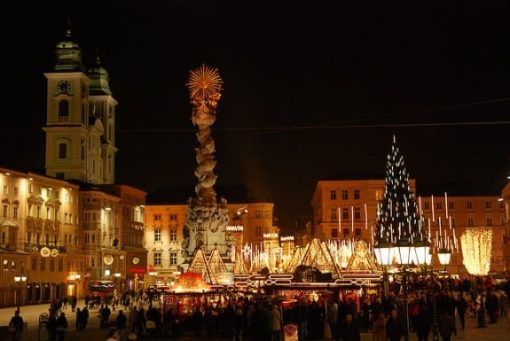 There's something undeniably special about wandering the streets of Vienna under twinkling lights. You can eye the traditional ornaments — straw or painted glass — while warming your hands and your belly on a mug of mulled wine. There are music quartets and stands selling bratwurst and the bite of snow in the air. Bundled up in your winter warmest, you can wander from stall to stall buying gifts or snacks or just basking in the golden glow of deep winter in Austria. And the markets aren't just in Vienna; you'll find them in every major city in the country, and in lots of picture postcard villages, too. Here's some advice on how to make the most out of your time at the Kristkindlmarkt — Christmas Market — anywhere in this beautiful alpine nation.
Pick your market. Spittelberg's narrower streets host an artsier market, influenced by its location in one of Vienna's gallery and bistro districts. Both the palace at Schoenbrunn and Vienna's Rathausplatz (City Hall) have big markets that have a festival feel to them. In Salzburg, you can choose between open plazas and little arcades packed with shiny Christmas goods, wandering between the offerings over the course of an evening. Austria tourism's website has a list of the most popular markets, but don't hesitate to ask around if you're in a small town, there's sure to be a market near you.
Bundle up. Baby, it's cold outside and the best markets are outdoors. It could snow at any moment; you'll want a hat, gloves, long underwear, a serious winter coat, and shoes that are not just warm, but comfortable, too. You're going to be on your feet for a while. Roasted chestnuts, commonly available at the markets, make a great snack, but they also make excellent pocket warmers when the cold starts to bite at your fingertips.
Go just as the sun is setting. Your mileage may vary, and the markets, depending on location, keep varied hours, but it's oh so lovely to watch the sky change to pink, and then black, punctuated by the fairy lights strung out across the plazas. The evening light makes the whole event seem much more festive and the goods seem that much more appealing.
Bring cash. Lots of the stands take credit cards and odds are good there will be a cash machine nearby, but it tends to be easier to pay with cash.  Smaller bills, of course, are more convenient for the vendors to break for change. As always, use common sense if you're carrying a lot of cash. The markets are very safe but you don't want to be the exception to the rule.
Go hungry. Even if you're not there to shop, there are all kinds of great things to eat. Of course there are all kinds of wurstl — sausage stands — but there's also langos, a fried bread rubbed with garlic. Local farmers sell bread and cheese and cold cuts. There's a staggering quantity of pastry and cookies, little coconut kisses, gingerbread, schaumrolle — a meringue stuffed flaky pastry. And you'll never have to look far for an open bar or restaurant if you've decided it's time to recharge with a full meal.
Make it a treasure hunt.  You'll see lots of those aforementioned Christmas ornaments, but there will also be hand made wood toys and felted slippers and hats. There will be scarves, knitted and woven, and schnapps in elegant long necked bottles decorated with silvery script and ribbon. Red cheeked ladies in winter dirndls will show you traditional woolen vests with silver buttons, tattooed urban artists will display jewelry that they've made themselves. There are beeswax tapered candles that smell of honey and soft leather wallets. Find things that speak to you, that call the names of your friends and family back home. It's okay to look for as long as you'd like, no one will rush you.
Enjoy yourself!  Stop at one of the punsch stands and get a mug of sweet wine mulled with spices or tea spiked with schnapps. In some cases, you'll get a paper cup to throw away, but there are also stands that send you away with a mug that you'll return once it's empty. Warmed inside from your hot drink and outside by the feeling of the season, join the wandering crowds of cheerful shoppers. It's shopping. It's a party. It's both of those things and it's all wrapped in red velvet and snow (if you're lucky) and the glow of an Austrian Christmas.
Photo: Main Square Linz/Austria by c_pichler via Flickr (Creative Commons).
Pam Mandel is a freelance writer and photography enthusiast from Seattle, Washington. Pam's top travel destinations are wherever she's heading next, but she loves Hawaii and the Pacific Northwest.
After a recent a trip to Antarctica, she joined the unofficial Seven Continents Club. She's on the web at Nerd's Eye View.