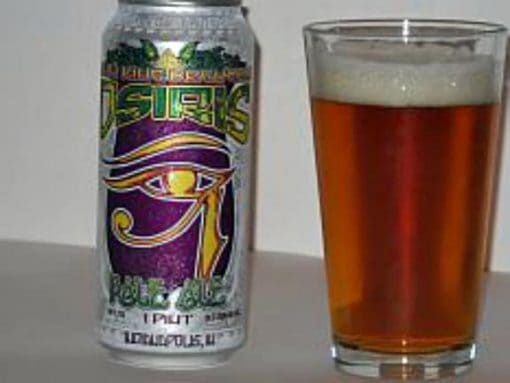 For years, Indianapolis was derisively referred to as Naptown, but that perception has finally have been laid to rest after the city's bang-up job of hosting the Super Bowl in February. Visitors from all over the world were shocked to find what most Hoosiers have known for years, the Circle City is filled with culture, fun and excitement.
Indy's now gaining a new reputation as a beer lover's paradise. Microbreweries are popping up all over town, each offering tastes as unique as the neighborhoods they're located in. Let's take a neighborhood tour.
Sun King Brewing Co., Downtown
Indy's downtown is a lot like the residents themselves: unpretentious, unfailingly polite and eager to please. You can have an extended weekend trip to Indianapolis and never leave downtown, which makes it an ideal drinking destination. Dozens of restaurants, nightclubs and shops are within walking distance of every hotel. But if you want to venture further out, say, to the other craft breweries mentioned later in the article, it would be wise to rent a car (and designate a driver); Indianapolis' public transportation is notoriously unreliable.
Bisecting downtown is a canal that runs underneath the major thoroughfares and connects to a multitude of museums and cafes. In the summer, you can step off the canal near White River State Park and take in a concert or a ballgame. Hailed as the best minor league stadium in the country, Victory Field is the perfect place to enjoy a AAA baseball game. Sightlines in the intimate stadium are nearly perfect wherever you're sitting, and the best seat in the house doesn't cost more than $15.
Not too far away, you'll find the city's most celebrated microbrewery, Sun King. You might have seen late-night host Jimmie Fallon doing a keg stand of Sun King's signature Sunlight Cream Ale during his show Super Bowl week, but you'd probably be better off drinking it from a glass. The crisp, malty blonde ale is easily the most beloved beer in the city at the moment, with nearly every bar, pub and speakeasy offering it either on tap or in a can. But it's hard to get it any fresher than from the brewery itself.
The tap room is open Thursday through Saturday, and offers other brews, including the Wee Mac Scottish brown ale and Osiris Pale Ale, for your tasting pleasure. The brewery is a perfect place to relax after a whirlwind tour of downtown, but don't expect to find a place to sit as the crowds start to funnel in. (That's one of Sun King's offerings in the photo.)
Location:  135 N. College Avenue
Flat 12 Bierworks, Holy Cross
Holy Cross is a mostly residential, up-and-coming neighborhood. Despite its history as one of Indianapolis' oldest neighborhoods, don't expect to see much in the way of tourist-friendly attractions save for the Smoking Goose artisan butcher shop across the street from Flat 12.
That said, Flat 12 is still worth the trip. Named after the powerful Flat 12 engine used in the early days of the Indianapolis 500, Flat 12's offerings will definitely get your motor running. The chocolate-accented Lacto-Matic Milk Stout and malty F12 Amber Ale are popular choices, as is the Pogues Run Porter, named after another close-by neighborhood.  If you're lucky, you may get to try the seasonal Cuttlefish, a blend of the brewery's Walkabout Pale Ale with the added kick of locally grown passionfruit.
The taproom is only open Thursday through Sunday, and it can get crowded pretty quickly for a special event or a tapping, which seemingly happens every week.
Location:  414 N. Dorman Street
Fountain Square Brewery, Fountain Square
Fountain Square is a bit rough around the edges, but that's part of its charm. Hipster families live side by side with the neighborhood's lifelong working class residents. Ethnic restaurants such as Santorini (Greek), Mama Irma (Peruvian), and Siam Square (Thai) share space with the Peppy Grill, which serves both breakfast and old-fashioned hamburgers to all comers 24 hours a day.
Much of the neighborhood seems like you're walking through a time machine – visitors can go duckpin bowling, then go swing dancing at the beautiful Fountain Square Theatre next door.
Fountain Square Brewery, located in a former auto body shop, is one of the newest additions to the neighborhood. There's plenty of space, but limited seating, so you may be sipping your beers standing up. It's worth it. The Hop for Teacher pale ale will make you pine for those days sneaking beers behind the football bleachers. And you don't need to be working in the fields all day to enjoy the light and crisp Tractor Head blonde.
Location:  1301 Barth Avenue
Black Acre Brewing Co., Irvington
Irvington, located five miles east of downtown, is one of Indianapolis' oldest neighborhoods. As new residents flood in, revitalizing the district, it's only fitting that rebirth is echoed in the city's newest microbrewery.
Named for the author Washington Irving, Irvington was once home to notable artists and architects, but also served as a hideout for infamous bank robber John Dillinger and the scene of notorious murders by HH Holmes, America's first known serial killer and former Indiana governor DC Stephenson, respectively. Haunted Irvington tours are among the most popular local attractions during the weeks surrounding Halloween.
Despite its often-macabre past, the district remains one of the most desirable in Indianapolis. As the older residents have aged out of their bungalows and large, stately homes, new families and young professionals have taken their place, drawn to the quiet, tree-lined streets and gorgeous parks. New arty, off-kilter restaurants and shops have begun creeping into the revitalized area, including the latest edition to the Indianapolis craft-brewing scene, Black Acre Brewing Co.
Located in a shopping plaza located off the main drag of East Washington Street, Black Acre is a modern take on an olde English pub.  Reclaimed lumber climbs several walls to the exposed ductwork on the ceiling. The space is a bit on the small side and seating is limited, so get ready to know your neighbor fairly well.
Ironically, the clamor for Black Acre to open meant the microbrewery wouldn't have its own offerings available at first, relying on 14 guest taps from such brewers as California's famed Stone Brewing Co. and nearby Lafayette's People's Brewing Co. Co-owner Jordan Gleason has some unique beers planned, such as a green tea pale ale and a peanut butter porter. The eclectic beer offerings echo the Homespun boutique, which offers unique, handmade merchandise from Hoosier artisans.
Location:  5632 E Washington Street
Triton Brewing Co., Lawrence
Lawrence has a long, proud military history. The site of a former army base, thousands of active personnel still work at the massive Emmett Bean complex at the heart of the city. Retired military personnel and civilian families live side-by-side in the former officers' quarters that flank 56th Street, one of the main drags.
After the base was shuttered in 1996, 1,700 acres was set aside for Fort Harrison State Park, one of the largest urban parks in the country. Hundreds of Indy residents run, bike and skate through the park each day, and more and more of them are heading to Triton Brewing Co. afterward for a brew.
Located just a stone's throw away from the park's main gate, Triton is a clean, laid-back tasting room and microbrewery that prides itself on using as much organic and locally-sourced materials as possible. It's a very family- and pet-friendly establishment. On any given afternoon, you're likely to find families playing board games and sipping the freshly brewed root bear, Triton's second-most popular beverage.
Triton owners have no plans to add a kitchen to the brewery, but with a different food truck nearly every night of the week, there's really no need.
The tasty Deadeye Stout is Triton's signature beer; hopheads rave about the subtle toffee overtones. Keep an eye out for the Sweet Georgia Brown; brewed irregularly, the coffee-infused brew can sell out just days after it's tapped.
Location:  5764 Wheeler Road
Broad Ripple Brewpub, Broad Ripple
Broad Ripple is the Sybil of Indianapolis; during the day, it's an arty enclave of shops and cafes, but as night approaches, hordes of college kids and single young professionals begin to flood the streets and bars.
One of the oldest craft breweries in the city, the Broad Ripple Brew Pub remains one of the most popular, sharing a similar, lived-in quality with the great English pubs overseas. The Brew Pub has about six of its own creations on tap, with an extensive list of bottles from other craft breweries across the world. The Lawnmower Pale Ale is the people's choice; the light, slightly hoppy blonde goes down smooth and is the perfect choice for a lazy summer afternoon of people watching.
Be sure to get there early, especially if you want to sit outside. The place tends to fill up in the warmer months.
If you're still thirsty afterward, take a stroll down to the Upland Brewing Co. Tasting Room, located at 49th Street and College Avenue. The modestly tart Upland Wheat Ale is not only one of the tastiest Hoosier-brewed beers, it's also one of the best selling across the nation.
Location:  842 E. 65th Street
Photo credits:  via wikimedia
After spending nearly a decade as a reporter for The Indianapolis Star, Robert Annis now freelances full time, specializing in outdoor, cycling and travel journalism. Over the years, his byline has appeared in numerous publications, including National Geographic Traveler, AARP Bulletin, Journey, Indianapolis Monthly, NUVO, Antique Week, Dirt Rag, Cyclocross Magazine and Outdoor Indiana. When he's not hunched over a keyboard, you'll likely find him either pedaling the backroads of the Midwest on his bicycle or hopping around the globe with his beautiful wife, Dee.