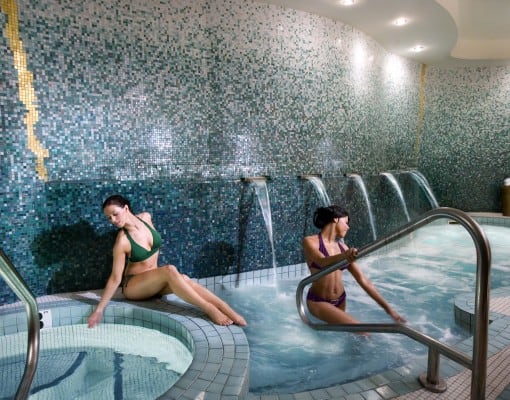 Las Vegas is a town with so much stimuli, it's easy to get lost in the bright lights, rolling dice and dinging slot machines.
 Enter the spas.
Nearly every resort in Las Vegas has a special little enclave of relaxation and decadence for people to check-out of their vacations and into themselves. For a price.
However, for one week a year, many of the posh, opulent spas on The Strip give a gift to those in need of some unwinding in the form of deeply discounted treatments, fitness sessions and more.
Wellness Week, which runs from Monday, March 19 through Sunday, March 25, 2012, is one of the best times to be in Las Vegas for those in need of "me" time. This year, a handful of spas are offering signature services at 50 percent off of the normal price, or for $50. While Wellness Week is celebrated all across Las Vegas, the hotels taking part in this week of specials on The Strip are: Luxor, Mandalay Bay, MGM Grand, The Mirage, The Palazzo, The Venetian, THEhotel, Trump and Vdara.
Depending on what kind of treatment is needed, chances are, during Wellness Week, spa-lovers can find it discounted.
BATHHOUSE at THEhotel: Cross over from Mandalay Bay to THEhotel to enjoy the Scents-of-You Sugar or Salt Scrub. A 50-minute treatment, it exfoliates the skin using raw cane sugar or sea salts, and includes a massage with customized aromatherapy oil for $72.50. BATHHOUSE is also offering the Cinnamon Spice Enzyme Facial, should its sister spa be booked.
Canyon Ranch at The Venetian and The Palazzo: The double-property spa is focusing more on fitness during Wellness Week.  Guests can undergo a Basic Fitness Assessment which puts participants through five tests with an exercise physiologist who, following the analysis, will design an exercise program for each person ($80). It also is offering Single Pilates, one-on-one for $50 a session; an Exercise for Weight Loss and Body Definition consultation for $55; and Personal Training for $50.
Grand Spa at MGM Grand: While the hotel rooms undergo renovations, so can the body. During the special week, guests can receive three different treatments as a part of the Wellness Week package. Sunday through Thursday, the 50-minute aromatherapy massage is available for $70 (Friday and Saturday, the treatment is $75). This massage uses a blend of essential oils customized for each person. Also available is the Hydrating Vitamin-B Facial, which replenishes the skin during a 50-minute treatment ($80 Sunday – Thursday, $85 Friday – Saturday); and the Express Manicure and Pedicure ($55 Sunday – Thursday, $60 Friday – Saturday).
Nurture Spa & Salon at Luxor: The gigantic pyramid's spa has three services that are a part of Wellness Week this year. Complete with a Face Mapping Skin Analysis, the Dermalogica Customized Facial is available for $50 for 50 minutes. Nurture Spa & Salon also has the Nurture Swedish Massage for $50/50 minutes and the Nurture Spa Pedicure for $50/50 minutes.  (That's the Luxor spa in the photo at top.)
Spa Mandalay at Mandalay Bay: A little more exotic than some of the other offerings during Wellness Week, Spa Mandalay has a 50-minute Fijian Sugar Polish for $67.50 and a Cinnamon Spice Enzyme Facial for the same price. For those looking to stick with something more traditional, for $50, there is the Salon Mandalay Cucumber Comfort Pedicure which includes a cucumber extract treatment, soak and scrub.
The Spa at The Mirage: Over at The Mirage, there is a different world the spa is opening up to guests – the Dolphin Habitat. For a different kind of relaxation, The Spa is giving its 60-minute Yoga Among the Dolphins class for $25. This unique class takes participants into the underwater viewing area where they practice yoga, complete with the chatter of dolphins piped in from their habitat. If a more conventional spa treatment is needed, The Spa is also giving the Ginger Snap Body Treatment (50 minutes, $77) and its Foot Therapy service, which uses Chinese Reflexology and Thai massage (50 minutes, $67) as a part of Wellness Week.
The Spa at Trump: Over at Trump, there are two specials for Wellness Week. The first, a 90-minute Gemstone Massage, uses organic oils infused with gemstones (think diamonds, rubies, sapphires, emeralds) to heal while hydrating for $125. Also available is the Ultimate Kate Facial, which is a super-hydrating oxygen treatment that plumps the skin and leaves recipients with a gorgeous glow after the 90-minute treatment, $150 treatment.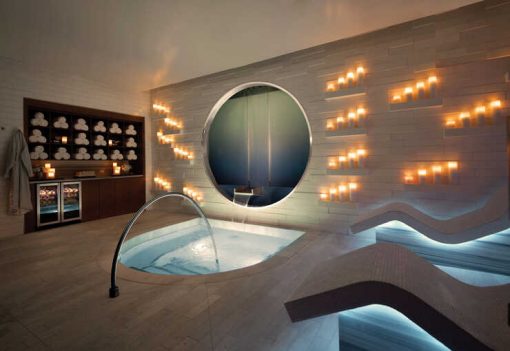 Spa & Salon Vdara: Located in City Center, Spa & Salon Vdara is offering three services as a part of Wellness Week – a 60-minute personal training session ($47.50); an organic pedicure with a side of champagne to sip on ($50); and the 50-minute Juniper and Cypress Detoxifying Herbal Massage, which is ideal for weight loss regimens and overloaded lymphatic systems ($67.50).
 Photo credits:  Courtesy of MGM Resorts International.

Diana Edelman is a world traveler and a travel blogger. In 2009, she started d travels 'round, an award-winning travel blog which documents her colorful solo travel adventures around the world. When she's not writing for her site, she is a regular contributor to Viator, CheapOair, OneTravel and others. Her writing has been published in The Huffington Post, World Nomads, Vegas Seven and others. Follow along with her on Twitter, and Facebook.