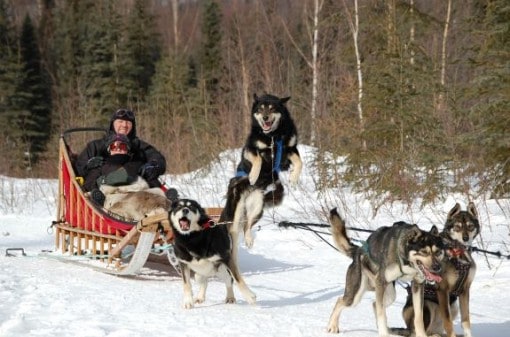 Dog Sledding is one of my three favorites things to do, period!  I have done it many times around the world, but there are several "wow" moments that I still think of every time I get on the sled and have the chance to mush.
Those wow moments start with remembering the first time I ever got on a dog sled.  It was in Montana with a mountain man who lived in a tent with his dogs.  He let me mush a team of 12 dogs and I remember when he told me to put on the brakes (and I did) those dogs just kept running.
By the way, when you put on your brakes while dog sledding it means you step on a lever that drops to drag a metal pole into the ground.  The dogs didn't even feel it.
The second time was above the Arctic Circle in Sweden when I was visiting the Ice Hotel in Kiruna several years ago.  I was whisked away from the airport by a team of dogs and taken to my destination.  One hour later, after trekking over a large frozen lake and meeting several other working dog sled teams on the path, we had arrived.  The journey in between was as magical and timeless as any I have ever experienced.   The only sounds were the dogs moving through the snow as the light of the early Arctic afternoon quickly turned to dusk.
Several years ago in Alaska I also had the chance to visit Chena Hot Springs north of Fairbanks. It was there I enjoyed a brisk run around the resort with a team of 10 dogs pulling me and my companion and hardly wanting to stop to let me take photos.
Are you still wondering about dog sledding and how it all works?
Here's a little dog sledding 101 to get started.
The Dogs
First of all, the dogs are not being mistreated because they love to run.  There is no sound quite as distinct as the yelping of the dogs not picked to work the sled in the snow.  Normally there are anywhere from 8-12 dogs depending on the weight of the load.  Unlike popular belief the dogs are not all huskies either.  In a team of dogs you will have a number of breeds from the Siberian Husky to as many as four other husky breeds, the Eurohound, the Canadian Eskimo dog, the Greenland dog and the chinook, to name a few.
The dogs are mainly chosen for endurance, strength and intelligence and they have been bred over the years for dog sledding work since in many places, even today, this is the only means of transportation.  They have the ability to withstand cold temperatures and their coats are double- layered with the bottom coat serving as insulation against the ice and snow.  Are they cold, no.  Was I cold, you bet!
What is Dog Sledding, Really?
While there are many areas above the Arctic Circle that do still use dog sledding as a means of transportation, unless you are doing the Iditarod or the Yukon Quest dog sled races, more than likely you will be taking a dog sled ride for fun.  A lot of snow and cold temperature are needed so the dogs don't get too hot.  For the most part dog sledding companies take care of their own dogs and have a track they will take you on for your adventure.  The adventure can be anywhere from one hour to half-a-day and you will likely be paired up with some else who knows mushing commands.  If you want, you are also usually allowed to take the helm and try your hand at working the team around the track.
What Do I Need to Wear?
On the dog sled it's cold.  I was freezing my first time and my 20th time.  No matter how you dress your fingers and toes will go numb.  It took me a few tries to realize how to keep from going blind when the snow got kicked up into my eyes while the dogs were running.  Now I wear goggles and they also get snow packed and sometimes fog up, but it's just part of the fun.
Most of the tour outfitters you will work with will provide you with an outer outfit to wear, but underneath that be sure and layer, layer, layer.   The first layer next to your skin is called the wicking layer and it needs to absorb the perspiration in order to keep you warm.  Most of the time this is a thin layer and work your way up from there layering with wool, polar fleece followed by a shell layer, which should be waterproof including a hood, jacket and  gloves.  The fourth layer will be for added insulation like a parka jacket and over-pants.   Also remember extra socks and on extremely cold days use mittens instead of gloves.
Did I say it was cold dog sledding?  It is!  So in order to fully enjoy it you want to stay as warm as possible.
Dog Sled Commands
The dog team drivers are called "mushers" and they use several different words to get the dogs to run and stop on command.  These are words you will need to use as well if you take control of the dog team.  The most common words are "Hike" and that means "go," a kissing sound means to speed up and go faster, "Gee" means to turn right and "Haw" to turn left. To slow down it's a simple "Easy" and to stop is "Whoa." If the musher says "On By" that means he wants the dogs to pass another team or other distraction without stopping.
Dog sledding has been around for thousands of year. Beginning in the arctic region, dog sleds were the ultimate vehicle at a time when a horse couldn't make it through the ice and snow. A dog sled team of only six dogs are able to pull up to 500 pounds so again, no need to worry about your hurting them if you ride the sled.
Even beyond the realization that you are taking part in an incredible experience, you can still see the spirit in the dogs bred for sledding today.  It's a rich piece of history and tradition and as you sled it's also the ultimate outdoor experience as you enjoy nature and the silence of a still, white morning.
Photo credit:  Author's personal collection
Rita Cook is a writer/editor with over 1000 articles. She can be heard on Insider Mag Radio at KPRO 1570 am and she also reviews cars for the Washington Times Communities (Behind the Wheel). Her most recent published books include "A Brief History of Fort Worth" as well as two haunted books on Dallas and Fort Worth to be published in the fall 2011. Rita's favorite travel destinations are Italy, India and Kenya.