Thanks to all the conversations that have made this possible. A revamped Global Culture site gets closer to reality as we get a first draft of our new Creative Brief and start to move content around to give it a purpose.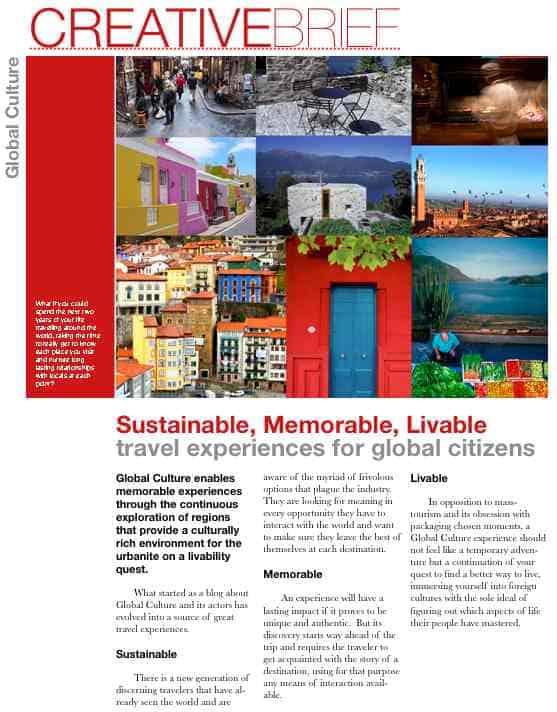 Here is are some relevant fragments from the document:
Global Culture enables memorable experiences through the continuous exploration of regions that provide a culturally rich environment for the urbanite on a livability quest.
What started as a blog about Global Culture and its actors has evolved into a source of great travel experiences.
Sustainable
There is a new generation of discerning travelers that have already seen the world and are aware of the myriad of frivolous options that plague the industry. They are looking for meaning in every opportunity they have to interact with the world and want to make sure they leave the best of themselves at each destination.
Memorable
An experience will have a lasting impact if it proves to be unique and authentic. But its discovery starts way ahead of the trip and requires the traveler to get acquainted with the story of a destination, using for that purpose any means of interaction available.
Livable
In opposition to mass-tourism and its obsession with packaging chosen moments, a Global Culture experience should not feel like a temporary adventure but a continuation of your quest to find a better way to live, immersing yourself into foreign cultures with the sole ideal of figuring out which aspects of life their people have mastered.