The Rainbow Bridge in Tokyo, Japan, crosses Tokyo Bay and connects the city to Odaiba, a waterfront development and entertainment area.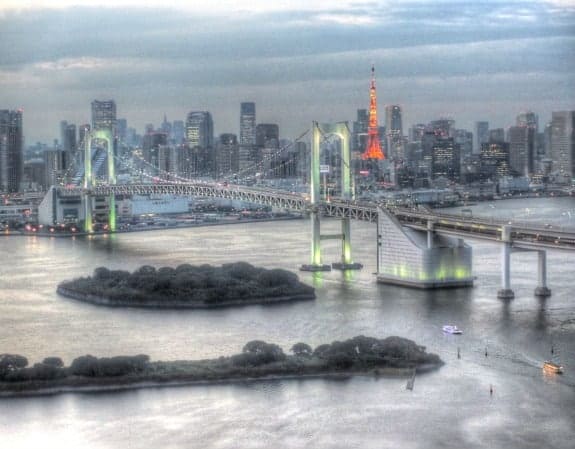 The bridge is officially names the Shuto Expressway No. 11 Daiba Route – Port of Tokyo Connector Bridge, it was given the name Rainbow Bridge by the public as a result of the colored lights that display on it at night. Solar lamps are places on the bridge wires that illuminate red, white, and green onto the supporting towers. Watching from Odaiba, the lights provide a harmonizing illumination to the rest of Tokyo's nighttime look.
There are two traffic decks on the Rainbow Bridge for cars and public transit, and it can also be crossed by foot. Walking across will provide great views and photo opportunities.
Views of the bridge from Odaiba, especially from the Fuji building (where this photo was taken) are spectacular. I'd recommend visiting at dusk, watching as the lights come up on the bridge and the city, and day turns to night.