Seven fun-filled days in the Caribbean. No cooking, no cleaning, not a care in the world — unless you're one of Carnival Conquest's 1,150 crew members who make sure every guest's needs are met.
Dining room staff, stateroom stewards, cooks, maintenance personnel, engineers, officers, entertainers, photographers and store clerks, systematically, efficiently and stealthily care for nearly 3,000 passengers every week, making sure they have a wonderful and memorable vacation.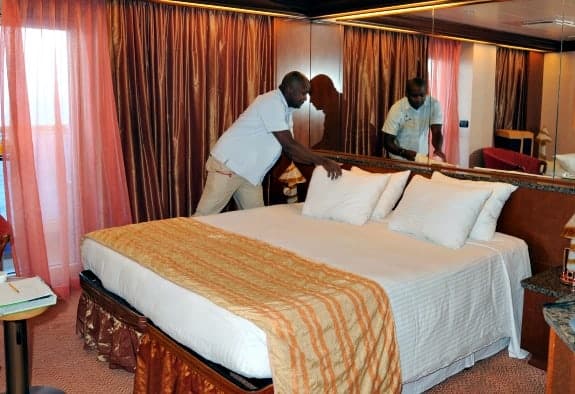 Dave Jordan, a steward for 16 years, says he works nine to ten hours a day during the cruise, and 12 to 14 hours on disembark/embarkation days when the entire stateroom needs to be made ready for new boarding passengers. After working this schedule for six or seven months, he takes a break for eight weeks. Dave is in charge of the ship's 22 suites. Other stewards are assigned to 26 or 27 staterooms each during the week-long cruise.
"Before I leave the ship on a break, I already know what ship I will be assigned to next," Dave says. "Because of the training, I can work on any of Carnival's 24 ships. But, not everyone can do this job," says the Trinidad native. "It's a sacrifice [being away from home]. I miss my family. I have three sons: 13, 7 and 6."
Senior Team Head Waiter Ronnie Lindon, who began his Carnival career in 1992, says the wait staff works 10 hours a day. "Everyone begins with training at CTC — Crew Training Center. Crew members learn English and are taught job consistency so that they're able to easily transition to another ship after their eight week break."
"It's hard to be away from my family," Ronnie, who is from Costa Rica, agrees. "I am married and I have two children. But I have friends on every ship. We work as a family; we always do our best."
"A lot of people don't realize it, but there are three levels below deck zero," Dave says with a smile. "There are three dining rooms, our cabins and a crew bar; it's like a city. Right now there are more than 40 different nationalities working on board." "And we all learn from each other," Ronnie adds.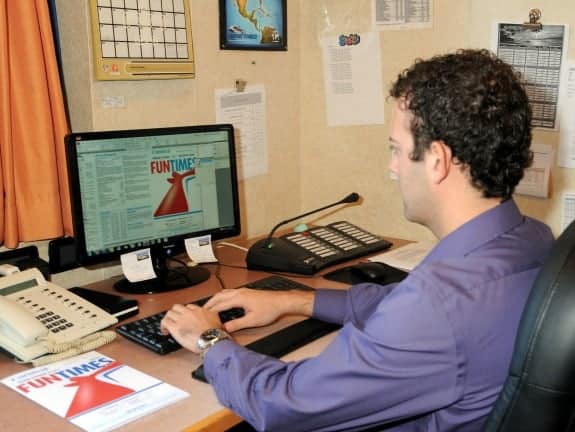 For Cruise Director Gary Brierley, work days can stretch from 6 a.m. to midnight. "Fifty percent of my job is on stage," says the Manchester, England, native. Other duties include scheduling activities, making announcements, doing reports, creating the daily Fun Times newsletter full of lists of shipboard activities, and supervising the onboard entertainers.
Unlike other crew, staff and officers, Gary says by the very nature of his position he is on stage whenever he is working in public areas. "You either love it or you hate it," he says of working on a ship. "And, if you love it, it becomes your life. It's a whole different world.
"I enjoy traveling," Gary adds. "When we're in port, about one-third of the crew stays on board, but the rest can take care of personal business or go into the port."
"We all want you to have fun," concludes Dave. "The best thing a passenger can do is simply ask if they need something. We all have different duties, but we're all here to help."
Photo credits:  Courtesy of the author and Carnival Cruise Line
NOTE:  The author received a reduced media rate for sailing on the Carnival Conquest.
Marilyn Jones has been a journalist and photographer for more than 30 years. Specializing in travel and features, her articles have appeared in major newspapers and magazines, and on several websites. She is the mother of three grown children, lives in East Texas, and, in addition to traveling and writing, enjoys gardening and scrapbooking