It's easy to understand the lure of the open road in west Texas, where the horizon is a long, straight drive in any direction. Drivers need gasoline, so, in the early '70s, Jack Sisemore decided to open a gas station in Amarillo — the Panhandle town right on storied Route 66, which connected Chicago with Los Angeles.
Thinking about ways to expand, he bought a recreational vehicle (a 1974 Winnebago), parked it next to the gas station and put a hand-lettered sign in the windshield saying it was for rent. Fast forward almost four decades, and not only is Jack Sisemore Traveland one of the largest RV dealers, but he's the only one with an RV museum.
It's located in a large building behind the showroom and is open to the public at no charge from 9 a.m. to 5 p.m., Monday through Saturday. There's everything from bare-bones trailers once used by hunters to the fancy Flxible Bus from the 2006 movie "RV" starring Robin Williams. While the film received raspberries from critics, the 1948 Flxible Clipper, has achieved cult status among RV aficionados.

Jack and his company began restoring and collecting unusual vintage RVs more than 25 years ago, not long after putting that first Winnebago up for rent. And, yes, it's been completely restored and occupies pride of place right next to a replica of Jack Sisemore's original Chevron station in the museum.
The museum also has the first Itasca motor home ever built and the oldest Fleetwood in existence (it was manufactured in 1953). The RVs date from the 1930s through the 1970s. Oldest is the 1936 Alma, all original and never restored, this handsome trailer looks much like it did when it emerged from the factory in Michigan (it had been sheltered in a barn from 1955 until Jack found it). A 1962 Bethany recalls the "Mod Squad" with its orange interior. The 1977 Kit Road Ranger is the first type of RV Jack Sisemore sold.
My favorite is the 1962 Airstream — all sleek and silver aluminum (pictured, above).
But, as they say in the television infomercials — that's not all! An unusual quilt with appliquéd pictures of RVs hangs in the museum. And, lined up almost wheel-to-wheel high on a narrow shelf along three walls of the RV museum are examples of Jack Sisemore's second passion: motorcycles.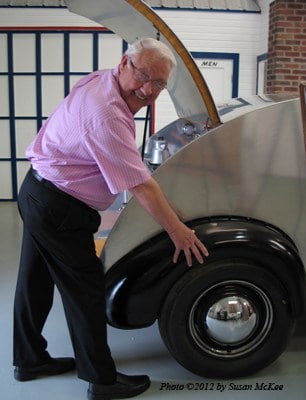 The Jack Sisemore Traveland RV Museum is located at 4341 Canyon Drive, Amarillo, Texas.
There are several more museums to tempt travelers off I-10 in Amarillo. Others I've visited include:
American Quarter Horse Hall of Fame & Museum

: The horses are full-size, but they're bred to run on quarter-mile tracks.

Kwahadi Museum of the American Indian

: Take a look at the people of the Pueblos and Plains through paintings, bronzes, beadwork and other items of material culture.

Panhandle-Plains Historical Museum

: Cowboys, Indians, petroleum engineers and dinosaurs — all are on display at Texas' largest living history museum.
Photo credits: (c)Susan McKee; used with permission
NOTE: The author's most recent trip to the Texas Panhandle was hosted by the Amarillo Convention & Visitor Council; the opinions expressed here are her own.
Susan McKee is an independent scholar and freelance journalist specializing in history, culture and travel.