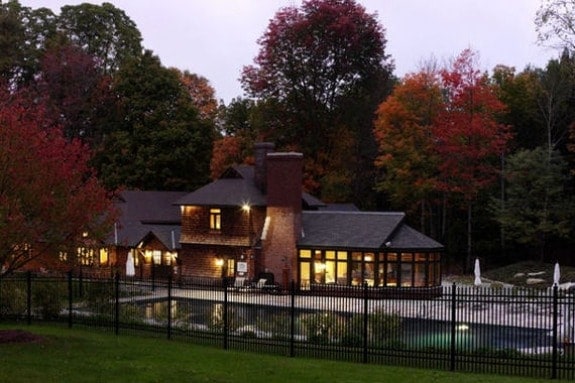 What makes the perfect retreat? For me, a stellar restaurant and plenty of outdoor activities are essential. For some travelers the cherry on top of a peaceful weekend is a serene spa. Specifically one where there's no hard-sell on products, just wonderful treatments that leave you feeling revived and refreshed. Blantyre, a country house in the Berkshires is not only a fabulous culinary retreat, but this Relais and Chateaux hotel is also an incredible spot for a spa visit.
What to Expect
On a recent visit to Blantyre, I arrived in the afternoon and after unwinding in the suite with a glass of wine and some cheese, I put on a big fluffy robe and went for a short walk from the main house down to the Potting Shed Spa. At dusk, it gave off an appealing glow, enveloped by tall trees. We passed the outdoor pool approaching the entrance, perfect for a day of sunbathing and swimming during the summer.
On this fall night I was looking forward to the hot tub, surrounded by windows for taking in the country scenery. After a serious soak I got back into the fluffy robe and took a cozy seat by the roaring fireplace. On the way out the door, I couldn't resist making a couple appointments for treatments on the following day.
The Treatments
After a hearty breakfast in the bright conservatory and a hike around the grounds, I took a stroll down once again to the Potting Shed Spa. The day began with a luxurious pedicure, including a good soak, scrub, polish, and file. When it came time for choosing a color, I chose a bright shade from Chanel. While waiting for the candy finish to dry, there was a pile of magazines to browse, but I chose instead to simply enjoy the view out the window in between appointments.
Next up was a hot stone massage. A private treatment room set the stage with soothing lighting and a plush massage table. This 90-minute treatment soothed sore muscles with warm, smooth stones. Essential oils brought another layer to this treatment, so relaxing that I was almost lulled to sleep. This was my first hot stone experience and it was a perfect match for a chilly autumn day.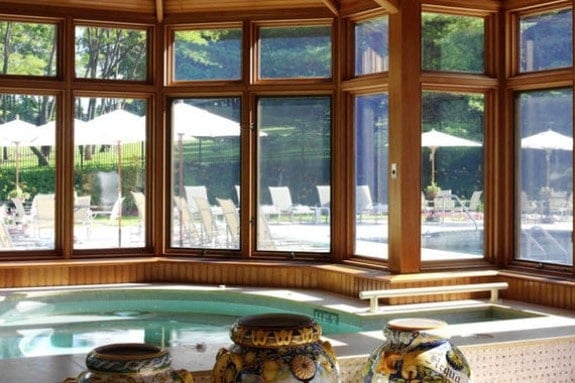 The Potting Shed Spa has a long list of massages to choose from, including a simple 60-minute head, neck, and shoulder massage or a more elaborate 60-minute Relaxation Swedish Massage. Other options on the massage menu include a sports massage, aromatherapy body massage, or reflexology. Some guests might prefer a facial instead of a massage. Choose between an anti-aging facial, a revitalizing facial, a purifying facial, a men's facial, or a customized facial. The spa menu also includes body treatments from a hydrating seaweed treatment to a seasonal organic scrub and wrap to slimming cellulite treatment with seaweed.
Amenities
In addition to the hot tub and roaring fireplace, there are many other amenities to enjoy at the Potting Shed Spa. On a cold day nothing feels quite as good as spending 15 minutes in the sauna or the steam room. If you're looking to maintain your fitness during your visit, there's also a small fitness room here. Men and women will find full-service locker rooms stocked with products and the fluffiest towels.
Spa Packages
One of the best ways to plan a day at the Potting Shed Spa is to take advantage of spa packages. There are two main options to choose between: a half day package and a full day package. The half-day package includes any 90 minute treatment, a manicure, pedicure, and delicious lunch. If you're looking for the ultimate indulgence, check out the full day package that includes two different combinations of treatments, including a delicious lunch. If interested in the full-day package, check out your different choices on the spa menu.
Details
The spa is open from 7 am until whenever guests are finished, and spa treatments can be scheduled between 9 am and anytime in the evening. Guests enjoying a spa treatment are encouraged to arrive at least 15 minutes prior to enjoy the surroundings before getting started. Bathrooms, sandals, towels, and anything else you need will be available in the locker rooms. Refreshments are also available in a small kitchen area.
The Fine Print
Cancellations must be made 24 hours in advance. A 20% gratuity charge is added to the price of the service for guests' convenience. Reservations for spa treatments can be made at time of booking a room in the hotel, any time in advance of your visit to Blantyre, or if you prefer, upon arrival. Prices range from $125 for a 60 minute massage to $200 for a 90 minute hot stone massage to $400 for the half day at the Potting Shed Spa package.
Location: 16 Blantyre Road, Lenox, Massachusetts
Photo Credit: Photos courtesy of Blantyre
Disclosure Notice: The author was the guest of Blantyre for the purpose of a review; all opinions are strictly her own.
Jessica Colley is a freelance travel and food writer based in New York City. She proudly called Dublin home from 2008 – 2010 and writes frequently about the city and Ireland. Three of Jessica's favorite travel destinations are Ireland, Italy, and Berlin. Find her online at www.thegreatamericantraveldream.com and on Twitter @jessicacolley.