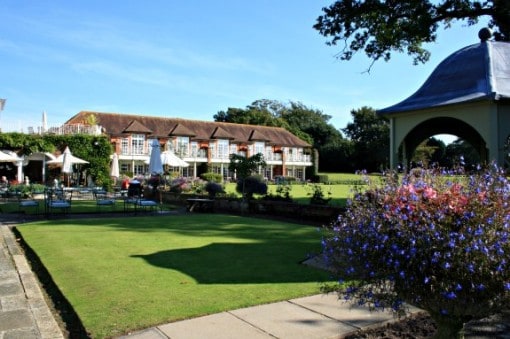 It was an early start for a weekend morning, but as we got into the car, the sun was shining and our spirits were high. We had booked the perfect mother-daughter day out: a trip to the luxury spa at the Chewton Glen Hotel, deep within the English countryside. We drove through little villages and past rolling green meadows before turning down the country track which led to the hotel. As soon as we stepped out of the car, it felt as if we were in a completely secluded world; leafy trees bordered the path to the entrance and all we could hear was the swish of their leaves in the breeze.
This was our summer treat after a hectic time for both of us, so we hoped that it would live up to our expectations; namely that we would have a day of being thoroughly pampered. We had this one precious day together – an escape from everyday life. The early signs were promising.  We walked into the spa entrance and were greeted with warmth and shown to beautiful changing rooms where we enrobed ourselves in fluffy white gowns. The simple, stylish decor and the scent of sandalwood relaxed, us and in our dressing-gowns and slippers we went downstairs for a breakfast of seasonal fresh fruit, cereal, yogurt and English Breakfast tea.
Nobody rushed or disturbed us, and as we drank our tea, my mom and I had a chance to have a proper chat and share all the little things we'd been too busy to tell each other over the last few months. We hadn't yet used any of the facilities, but the spa was already working its magic on us. Finally, when we'd long finished the tea, we roused ourselves and wandered down to the pool which is housed in a beautiful space with white marble tiles and a glass roof. I swam lengths in the crystal-blue water, while mom reclined on one of the loungers and read a magazine.  A few other spa-goers tripped in and out from time to time, but the atmosphere was utterly peaceful and everyone we saw had the same  trance-like expression on their faces.
The rest of the morning passed in a similarly blissful haze; we soaked up the summer sunshine and listened to the sound of birdsong in the open-air jacuzzis and detoxed while inhaling the heady incense of spices in the purifying saunas. We simply drifted from one area to the next, pausing occasionally for herbal tea or fruit juice. Eventually we showered, got fresh gowns and went for lunch, an equally healthy buffet of colorful, fragrant salads and freshly-made soups.
Once lunch was over, it was time for the main event. Out of a selection of treatments, we both opted for an hour-long Hawaiian massage. We were led into separate rooms with dark wood, low lighting and soft music. The masseuse first explained what this style of massage involved and asked me which areas I wanted her to focus on. Then the massage began and I was enveloped in a world of subtle, beautiful scents, music which calmed my soul and deft strokes which relaxed my every muscle. I can't tell you exactly what happened over the next hour, only that it was the most wonderful hour of my life and that it passed far too quickly. I came the closest I have ever been to that true state of relaxation usually achieved through intense meditation, and when the masseuse gently roused me, my body felt incredibly light and free of tension.
After my treatment, I was into a domed, circular room with a black ceiling dotted with tiny white lights. There were several chairs around the edge of the room, ergonomically designed to be as comfortable as possible. My mom was relaxing in one of them, eyes closed and listening to music through the headphones attached to the chair and she looked as Zen-like as I felt. For a good half an hour, we lay back in the chairs, listening to music and looking up at the ceiling designed to appear to be the night sky. It felt like heaven.
We ended the day with another hot, powerful shower and reluctantly exchanged our fluffy spa gowns for our everyday clothes. Unable to leave that magical world just then, we sat in the airy restaurant for a while longer, sipping coffees and flipping through magazines. The spa had surpassed our expectations and given us the perfect day. It had been completely indulgent and unhurried.  We not only had superb spa facilities, but also some real quality time together in a wonderful mother-daughter experience.
As we drove away away from the hotel back to the real world, the sun cast a golden glow over the meadows. We caught each other's eye and just couldn't stop smiling. It felt like we had been on holiday for a week. That, surely, must be the sign of a good spa.
The Chewton Glen is a 5-star Hotel and Spa located in New Milton, Dorset, UK. One-day spa packages start from £138 ($226).
Photo credit:  Ian McWilliams via flickr
Katy is a writer with wanderlust. Originally from the UK, she has lived in France, danced in Argentina and stargazed in Chile. She writes for numerous travel sites and you can always find her at www.starryeyedtravels.com.