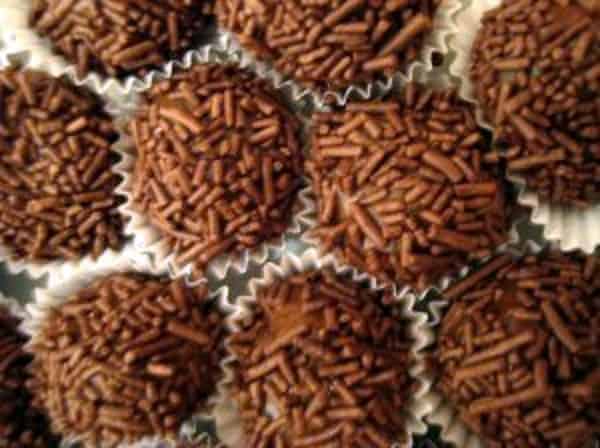 Home of the Stratford Shakespearean Festival Theatre and Justin Bieber, Stratford, Ontario, is also home to the to a burgeoning culinary scene, making it a trifecta for travelers of theater, music, and food.
Whether you come to Stratford for the theater or the music, you'll have plenty of opportunities for your three meals a day, but when your sweet tooth gets the better of you, set out on the Chocolate Trail.  The Chocolate Trail is made up of chocolate shops, restaurants, and other shops that offer a wide ran of delicious cacao-based products – a total of 16 stops in all.  Chocoholics – this is your kind of place!
This is my kind of trail food:
Bradshaws, 129 Ontario Street.  Pairing up with local restaurant Pazzo, Bradshaws offers a Brix Chocolate and Govino Wine Tumbler Tasting.  You get to keep the tumbler after the tasting.
Chocolate Barr's Candies, 136 Ontario Street.  Over 160 candies and chocolates, all made on site, in the handcrafted tradition.
Coffee Culture Cafe & Eatery, 69 Downie Street.  Satisfy your chocolate yen with a Rocky Road Brownie, a combination of decadent chocolate, giant chocolate chunks, creamy caramel, and pecans.  A coffee goes quite nicely with it.
The County Food Co., 38 Erie Street.  Sometimes the simplest things are the best, and that's what The County Food Co. tries to provide with its simply delicious homemade chocolate chip cookie.  They are committed to sourcing the best-available products from the counties surround Stratford.
Distinctly Tea, 18 York Street.  Choose from one of the delicious chocolate tea blends, and sit a spell while it does its magic to revitalize our soother your soul.
Foster's Inn, 111 Downie Street.  Try a chocolate martini (made with vodka, creme de cacao, and a splash of cream) in this historical turn-of-the-century heritage building.  The signature steaks garner rave reviews as well.
Kitchen Connaisseur, 75 Ontario Street.  Try the Chocolate Mocha Sauce, perfect for fondue, drizzled on ice cream, or, let's be honest here, just as good licked off your fingers or a spoon.
Let Them Eat Cake, 23 Albert Street.  The Chocolate Turtles Cake is a customer favorite, and is made from scratch right on site.  Take deep, rich chocolate cake, infuse it with caramel, and top with chocolate icing, pecans, and more caramel.  It's easy to see why it's a favorite.
MacLeods Scottish Shop, 80 Ontario.  Choose from two well known British chocolate treats – the Penguin Bar (milk chocolate covered with biscuit bars filled with chocolate cream) or the Flake Bar (crumbly, flaky, milk chocolate).
Pazzo Ristorante Bar and Pizzeria, 70 Ontario Street.  Reputed to be the pizza in town, here you can enjoy a nice red wine to pair with a chocolate sample in a cozy historic cellar.
P'lovers, 56 Ontario Street.  This is an eco stop offering all thing eco positive, including a fair trade peppermint bath soak.  What could be better than having your chocolate and being earth friendly, too?!
Rheo Thompson Candies, 55 Albert Street.  40 plus years of traditional candy making speaks volumes, and you'll find a delicious assortment of handmade creams and caramels, along with other popular flavors.
Rocky Mountain Chocolate Factory, 10 Downie Street.  A variety of handmade chocolates will tempt you, from caramel nut popcorn to specialized candy and caramels.  I dare you to pick just one.
Simply Lovely Lingerie, 144 Downie Street.  What could be more sensuous than lingerie and chocolate?  Experience this great combination with a stop off here.
Tea Leaves Tea Tasting Bar, 433 Erie Street.  Enjoy a pot of chocolate tea in this relaxing living room area, or if the weather is nice, head outside to enjoy your chocolate respite in the gardens.
Treasures, 151 Ontario Street.  Try the signature chocolate-covered cranberry almond brittle, a decadent treat available only on location.
While there is nothing wrong with eating your way through Stratford, you can save time and money by opting for the Choco-Pass, a $20 pass that entitles you to treats at 8 of the 16 stops along the Chocolate Trail (the delicious treats are valued in excess of $40).  The Choco-Pass is available year round, and is valid for three days from the date of purchase, so you can spread out your chocolate fix, or opt for it all at once.  You can purchase the Choco-Pass online or at the Stratford Tourism Alliance office at 47 Downie Street.
Enjoy your chocolate, and add in a little theater and/or music, a combination sure to make Stratford a great, and easy, get-away weekend.
Photo credit: SXC
Mary Jo Manzanares is a founder and the editor-in-chief of The Traveler's Way, an online travel magazine proving informational and inspirational travel recommendations for curious Baby Boomer travelers. She has been a speaker at various industry events and has a personal travel blog at Traveling with MJ. When she's not traveling, Mary Jo likes lingering over a cup of coffee, wandering in a museum, sipping wine at a cafe, and sharing it all with friends and readers. Mary Jo's top travel destinations are Italy, Portugal, and the Caribbean.