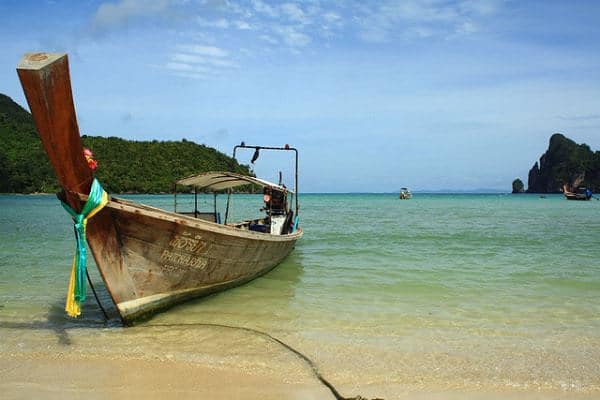 The ferry from Phuket Town to Ko Phi Phi takes approximately 90 minutes.  It is a smooth ride, and soft drinks, beer, pineapple and other food are available at the snack bar. Up on the top deck, a giant throng of sweating passengers swill Chang Beers and chat eagerly about their vacation plans.
About fifteen minutes before the boat hits the dock, the conversation wanes, the beers go down and everyone scavenges for their cameras.  Out on the horizon,  the immense limestone cliffs that make Ko Phi Phi so spellbinding erupt from the crystal-clear green water and stretch into the pink-blue sky.  It looks like a landscape you would see in a Bob Ross painting, and everyone on deck is enraptured;  there is no other choice.
Ko Phi Phi from Past to Present
A hot-spot for tourism over the last decade,  Ko Phi Phi is a group of six islands located in the Andaman Sea off the coast of Phuket Island in Southern Thailand.  The islands, of which only Phi Phi Don is inhabited, were settled by Muslim fisherman in the 1940s.  In 2000, the movie "The Beach," starring Leonardo DiCaprio, was filmed in nearby Maya Bay, launching Ko Phi Phi into the tourist spotlight.
However,  just as it was beginning to boom, Ko Phi Phi was devastated by the 2004 tsunami, which destroyed close to 70% of its buildings and killed an estimated 4,000 people.  In the aftermath,  a joint effort between the Thai government and the Dutch-led organization Help International Phi Phi cleared debris and rebuilt the island's infrastructure.  Today, few signs of the tsunami's carnage still remain.
Sleeping and Eating in Ko Phi Phi
Thailand is notorious for its budget-friendly accommodations, but Ko Phi Phi is an exception.  Although still thrifty by Western standards, expect to pay considerably more than you would in other destinations in Southeast Asia.
The cheapest places on Phi Phi Don go for around 500 Baht a night and are unspeakably disgusting.  Slightly nicer rooms – cramped, lightless and without A.C. – are available for between 700 and 900 Baht.  If you want air conditioning – and you will – you'll need to fork over at least 1,500 Baht, which is what I eventually did.  For $50 per night, my girlfriend and I had cable, a hot shower, ice-cold A.C. and a bed the size of a football field.   Our hotel also provided wireless Internet, which is nice, because web café rates are 120 Baht per hour.
Most of the cheaper accommodations in Phi Phi Don are around the pier, but if you head to Long Beach, at the tip of the island, you'll find a congregation of nicer hotels.  The prices are steep, but the tranquility of the less-frequented beaches is well worth it.  Long Beach is also a great spot to snag some fresh seafood.  Giant prawns and fresh ocean fish are on display in front of a number of restaurants.
Outdoor Recreation
If you get tired of lounging on the beach, there are a number of recreation options in Ko Phi Phi.  If you're a diver, the area has a plentiful selection of reefs.  Dive shops are ubiquitous, and it's easy to get certified if you're a novice.  Snorkeling is another popular choice.  The water surrounding Ko Phi Phi is awash in exotic creatures. In addition to schools of phosphorescent fish, eels are also a common sight.  If you're more adventurous, it's possible to book a tour to swim among reef sharks.
Hitting "The Beach"
If you have an adventurous streak, consider booking a camping trip to Maya Bay, the actual location where "The Beach" was filmed.  Camping trips (1,900 Baht) can be purchased at any of the tourist offices that are sprinkled throughout Phi Phi Don.
The tour begins with snorkeling.  The guides are rather generous with throwing out chum, so be prepared to be surrounded  by fish.  From there, the boat travels on to a cave that leads to the island.  Campers swim and then trek up slippery rocks.  It's highly advisable to wear sandals or, even better, water shoes  The rocks are extremely slick and the coral can be painful on bare feet.  After traversing the cave,  the beach where DiCaprio and crew frolicked is only a five-minute walk away.  The white sand and crystal-clear water are postcard perfect, making  it an ideal spot for swimming.  After a gorgeous sunset, dinner is served, and campers spend the rest of the evening drinking and chatting around a campfire.  The guides are a lively bunch and bring a guitar to strum, encouraging campers to sing along.
There are no dwellings on the beach, so you'll be sleeping on a mat on the sand.  Sleeping bags and pillows are provided, but don't expect to be very comfortable.  Regardless, it's worth it, especially if you wake up at dawn to catch an unforgettable sunrise.
NOTE:  At the time of publication $1 US equaled 30.13 baht.
This is a guest post from freelance writer Dan Lawton.  Dan blogs about the outdoors at Lost in the Woods, the official blog of Camping Gear Outlet. His top three travel spots are:  Accra (Ghana), Copan (Honduras ), and Oaxaca (Mexico).