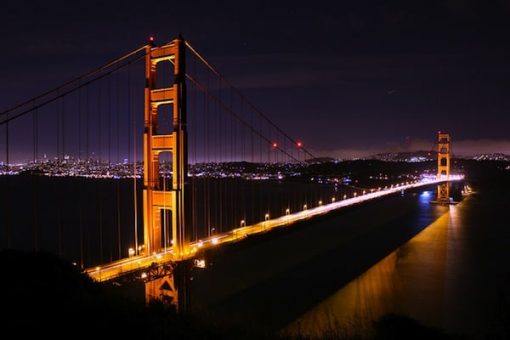 At last the mighty task is done;
Resplendent in the western sun
The Bridge looms mountain high;
Its titan piers grip ocean floor,
Its great steel arms link shore with shore,
Its towers pierce the sky.
Written by Joseph P. Strauss, Chief Engineer, Golden Gate Bridge and Highway District, 1937
With it's orangy red coat and its indelible silhouette, the Golden Gate Bridge has become arguably the most famous symbol of the place where it was built: San Francisco. Opened on May 27, 1937, its inauguration was blessed by 200,000 pairs of feet, the approximate number of people who walked across the bridge on that long awaited day.
Today the bridge has lost none of its grandeur. It might have been dwarfed by the record breaking achievements of more modern engineering projects around the world, but it's beauty and symbolism remain untouched. It is, as it should be, at the top of many visitors' sightseeing to-do lists, and the question for many is, "What's the best way to cross?"
Crossing the Golden Gate Bridge
So what are your options to get from one side of San Francisco Bay to the other if you want to go via the bridge? Well, unless you're an adventure nut who fancies having a go at swinging across on the cables or some other such stunt, there are four ways you can cross the bridge. They are:
Slow down and join the 200,000 that crossed the bridge on opening day with a good old-fashioned walk
Get yourself some pedal power and cycle to the other side
Join a bus tour that includes crossing the Golden Gate Bridge on their itinerary
Drive across in the comfort of your car and park up at one of the lots at either end of the bridge
More on these in just a moment. But first…
What do you need to know before deciding which way to cross?
Start by getting your head around some basic bridge facts so you have an idea of what's in store. After all, only you know how far you're willing to walk. . . and whether or not you have a head for heights!
The length of the bridge from one side of the bay to the other is 1.7 miles, or just short of 3 kilometers. That's the same as around 32 football fields laid back-to-back. Height wise, you're 225 feet above the water which is roughly the same as a 25-story building. And remember that the bridge was designed to move to enable it to cope with the strong winds that can come in off the Pacific Ocean. It can sway up to 27 feet when the weather is bad.
So, now that you know what to expect from the Golden Gate Bridge, it will be much easier to reach a decision about how you'll cross it while you're here.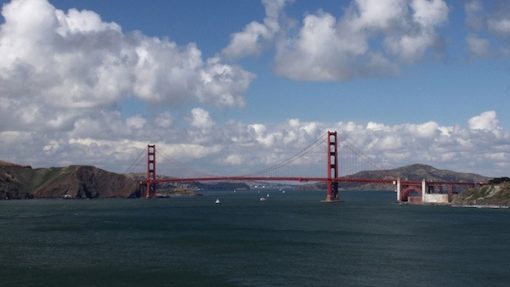 Four ways to cross the Golden Gate Bridge
1. Walking across the bridge
For anyone who likes to be able to pull out their camera and catch that perfect shot when you see it, a stroll across the Golden Gate Bridge means you can do just that. Pedestrians are allowed to use the east sidewalk of the bridge 365 days a year, with the opening hours depending on the time of year. During Daylight Savings Time (March – November) the bridge is open from 5 am to 9 pm, however, during Pacific Standard Time, (November – March) it's only open till 6 pm.
How long does it take to cross the bridge on foot? For the average person it takes around 30−40 minutes one way. Of course, the more you stop to take in the view, the longer it's going to take. Give yourself plenty of time so you can forget about having to look at your watch and just enjoy the experience.
If you decide you like the option of walking there are some things you need to note. No dogs or other animals are allowed unless they are service animals. Walking does mean walking. No roller blades, skateboards, or other wheeled forms of getting around. The two exceptions are bicycles and wheelchairs.
2. Cycling across the bridge
Many cyclists use the bridge as part of their daily commute across the San Francisco Bay, so if this is something you'd like to try, it's easy to organize. Crossing the bridge is toll-free for cyclists, and is open 24 hours a day.
Under normal operation, cyclists are required to use the east or the west side of the bridge depending on the time of day. However, until September 2011, the west side is closed for maintenance, so bicycles must use the east side until this work is finished.
The night hours for cyclists over the bridge are from 9 pm to 5 am during Daylight Savings Time, and from 6 pm to 5 am during Pacific Standard Time. If you want to cycle across the Golden Gate Bridge at night, the entry is on the east side. You'll see a security gate with a buzzer next to it. Press this and then wait for the security staff to open the gate remotely. This may take a few moments as they have to verify where you are on security camera before they can open the gate. Once you're through, you'll go through the same procedure to exit at the other end of the bridge.
If you'd like to try cycling across the bridge as part of your San Francisco vacation, you can rent a bike very easily from a company called Blazing Saddles. They can also provide you with some maps and routes around the area if you want to make a day of it.
3. Busing across the bridge
If you'd prefer to take a bus tour and let someone else do the driving, the best one I know of is the Hop  on – hop off bus. The buses are open top and you can purchase a 24 hour or a 48 hour ticket. The price difference between the 24 and 48 hour ticket is only $4.50 at the time of writing so it's well worth the investment. For more information see this bus tour page.
4. Driving across the bridge
Finally, there's always the option of driving across the bridge. Be aware that there's a toll to pay if you cross heading southbound. There are car parks at either end of the bridge if you want to do a combo car and walk. The northeast side car park is free and you are able to park here for up to four hours which makes it a good choice.
Final thoughts: Weather and safety at the Golden Gate Bridge
San Francisco is famous for its fog and it can roll in off the sea at just about any time of year. And with it comes cold and dampness, so wearing layers when you visit the bridge is a good idea. Conversely, on a sunny day, it's sunscreen you'll need to stop you getting lobster red. If you've got long hair, bring something to tie your hair back in case it's windy, there's nothing more annoying that constantly having to get your hair out of your eyes when you're trying to enjoy the view.
When it comes to safety, if you're walking across the bridge, look out for cyclists. Most are great at sharing the sidewalk, but the odd few do come barreling along with no regard for others. Keep an eye out and be ready to get out of the way just in case.
For more information on all things bridge related, see the official page.   All that's left for me to say is have a great time crossing the bridge. Who knows? Maybe you'll come up with your own poem to celebrate the beauty of this engineering masterpiece.
Photo credits: Picture 1 TimeLapseBlog.com via flickr and Picture 2 TimeLapseBlog.com via flickr
Honor has lived in Japan for 10 years and traveled extensively in Asia, South America and Europe, as well as some areas in the USA. Her favorite reasons for travel are to get a peek inside a culture through visits to local events and festivals, and learning more about the history and people of a place. Then there's always food. Of course! And the journey itself is just as important a part of her adventures. Honor's top three travel destinations are Japan, Uruguay, and Jordan.