Welcome to the light side of San Francisco, now that daylight savings time is here. The San Francisco Travel Association has some bright ideas to fill those extra minutes of sunshine.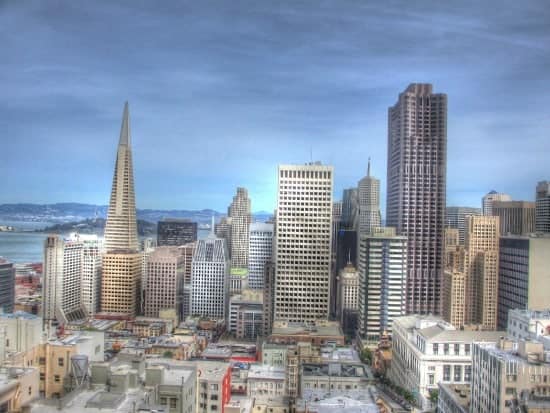 Which one are you going to try?
Stroll in the San Francisco Botanical Garden.
Head for the overlook at Sutro Heights Park.
Walk the labyrinths at Grace Cathedral and Moscone Center.
Visit one of San Francisco's newer park areas: Brannan Street Wharf, Mission Creek Park, and the Fay-Berrigan gardens.
Ferry across the bay to Alameda, Angel Island, Oakland, Sausalito, South San  Francisco, Tiburon and Vallejo.
Many museums in the city have extended hours at least once a week. Many museums are open late on Thursdays:  Asian Art Museum, Contemporary Jewish Museum, Exploratorium, Museum of Craft and Design, California Academy of Sciences which offers special programming until 10 p.m.as part of its NightLife series. On Fridays from March 28-Nov. 29, 2014 the de Young Museum offers a variety of interdisciplinary arts programs, including live music, films, lectures, a poetry series, occasional tango milongas and swing dancing, performance art, and hands on art making for young and old. For sunset watchers the view from the de Young's 144-foot tower is stunning.
The San Francisco Giants' home opener is April 8, 2014. Tours of the stadium, dugout areas and visitors' clubhouse are also offered on a regular basis.
Something's always brewing in San Francisco especially at Anchor Brewing Company. Tours are offered once a week by reservation only. The San Francisco Brewers Guild also sponsors a number of events and has a map of local breweries.
Climb the steepest streets:  Filbert between Leavenworth and Hyde (31.5 percent grade); 22nd Street between Church and Vicksburg (31.5 percent grade); Jones between Union and Filbert (29 percent grade); Duboce Avenue between Alpine and Buena Vista (27.9 percent grade).
Start training now for one of the many athletic events coming up. In April the Rock 'n' Roll Marathon on April 6, the Bay to Breakers on May 18, the San Francisco Marathon in July, and the popular Giant Race in September.
Discover new artists and revisit others on the first Thursday of every month when many local art galleries stay open until 8 p.m. or later as part of First Thursday Art.
Tap into San Francisco's urban winery scene at Bluxome Street Winery, Dogpatch WineWorks, The Press Club, Winery Collective and The Winery SF.
Indulge in a deep tissue massage or a round of reflexology at one of San Francisco's day spas.
San Francisco Recreation and Park Department has six municipal golf courses:  TPC Harding (18 holes), Fleming (9 holes), Lincoln Park (18 holes), Sharp Park (18 holes); Golden Gate Park (9 holes), and Gleneagles (9 holes). The 18-hole Presidio Golf Course also offers twilight and early bird discounts.  Sketchy weather?  Check out Eagle Club Indoor Golf.
Paddle on the bay on a twilight tour with City Kayak. The route includes McCovey Cove, Mission Creek and goes under the Bay Bridge for a spectacular view of The Bay Lights.  Previous kayaking experience recommended.
The walk across the Golden Gate Bridge – pedestrians have access to the east walkway of the bridge from 5 a.m. to 9 p.m. Considered one of the foremost engineering triumphs in the world, the Golden Gate Bridge is the seventh longest suspension bridge in the world.
Experience nature in the big city along the windswept shoreline at Crissy Field. Savor a treat at the Beach Hut Café or the Warming Hut and explore the eight sculptures of Mark di Suvero at Crissy Field on view through May 26, 2014.
Exercise the intellect and the body on one of the free, guided walks offered by San Francisco City Guides. More than 30 tours are offered day-in-and-day-out by the volunteer group. They canvass every corner of the city from the ever-changing Castro District to Victorians of Alamo Square.
Grab the Graham crackers, dark chocolate and marshmallows for an old-fashioned s'mores party at the beach. Small wood bonfires for groups of less than 25 (without permit) are permitted on Ocean Beach between Fulton and Lincoln.
San Francisco at twilight as seen from an airplane or helicopter on a "flightseeing" excursion is an unforgettable experience. Aerial tours include Golden Gate Helicopters, San Francisco Helicopter Tours, Seaplane Adventures, and SF Air Tours.
Photo credit:  Courtesy of author
Mary Jo Manzanares is a founder and the editor-in-chief of The Traveler's Way, an online travel magazine proving informational and inspirational travel recommendations for curious Baby Boomer travelers. She has been a speaker at various industry events and has a personal travel blog at Traveling with MJ. When she's not traveling, Mary Jo likes lingering over a cup of coffee, wandering in a museum, sipping wine at a cafe, and sharing it all with friends and readers. Mary Jo's top travel destinations are Italy, Portugal, and the Caribbean.