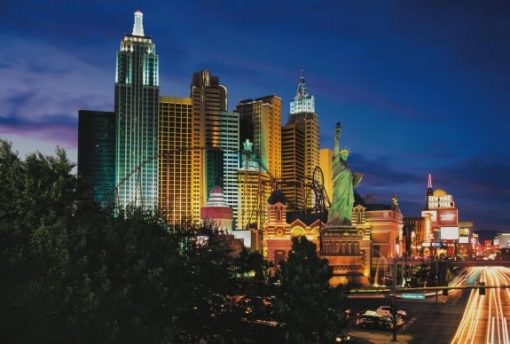 Never had I imagined that a business trip to Las Vegas would inspire me to fall in love with the streets of New York City but that's exactly what happened as I toured New York-New York on Las Vegas Boulevard South during a recent visit.
Externally, New York-New York features an innovative re-creation of the Manhattan skyline, including 12 New York-style skyscrapers which are approximately one-third the size of actual New York City architecture.  The 12 individual resort towers (top height of 529 feet) architecturally mimic some of the most famous New York City skyscrapers including:
The Empire State Building: 45 stories
The Century Building: 41 stories
The Seagram's Building: 30 stories
The 55 Water Tower: 36 stories
The Level House Soap Company: 29 stories
The Municipal Building: 29 stories, plus an 80-foot tower
The AT&T Building: 26 stories
The Chrysler Building: 40 stories
The CBS Building: 29 stories
The New Yorker Hotel: 34 stories
The Liberty Plaza: 31 stories
The Ziggurat Building: 38 stories
The property itself, which has 2,024 guest rooms, also boasts a 300-foot-long, 50-foot-high replica of the Brooklyn Bridge and a 150-foot replica of the Statue of Liberty.
However, I was particularly enthused with what I discovered while inside New York-New York.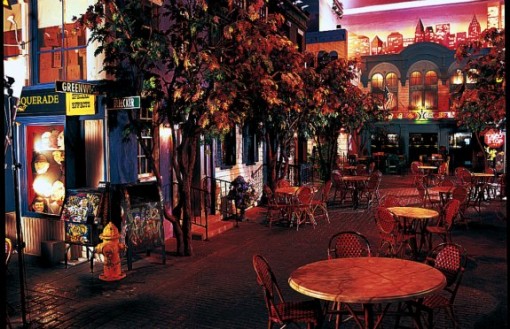 Throughout the resort there are numerous design elements used to reflect the history and culture of well-known New York places like Manhattan's Park Avenue, Broadway and Times Square.  If you enter near the Zumanity Theatre,  you'll find yourself standing at the edge of a "neighborhood" that immediately reminded me of Greenwich Village.
From cobblestone  walkways and street-corner vendors to store fronts partially protected by overhead awnings, I marveled over the east coast-flavored decor that nearly succeeded in making me forget I was within a few hundred yards of the famed Las Vegas Strip.
Street-side dining options are plentiful in this area and guests will undoubtedly notice periodically-placed parking meters, fire hydrants and even pay phones.  Aside from many small shops and eateries that are actually open for business, there are sections of "the village," created for visual appeal only. Along these building fronts, visitors will notice things like second-floor window air-conditioning units, fire escapes and mock apartment building entrances.
While standing at the corner of West and Broadway, I spotted Starbucks, Greenberg's Deli and Gonzalez y Gonzalez, a New York Mexican cafe complete with lanterns, pinatas and even a tequila bar.  Incidentally, the dinner fajitas at Gonzalez y Gonzalez are very good.
A few steps down the block, where Broadway and Greenwich Street meet near the Gonzalez y Gonzalez outdoor dining garden, a dimly-lit New York Jets football helmet lamp is clearly visible through a second-story window.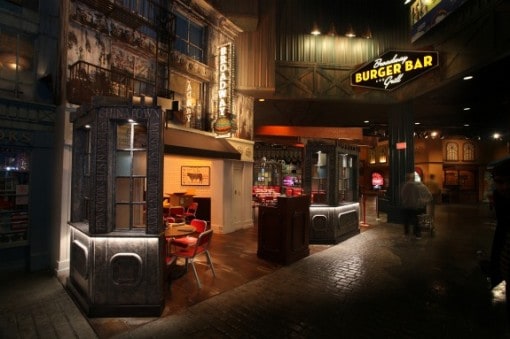 Whether visitors are looking for a burger and fries, a deli sandwich and soup or a slice of New York-style pizza, there's something for just about everyone in the Village Eateries area.  Other dining options inside New York-New York include The Sporting House Bar and Grill, Nine Fine Irishmen, Gallagher's Steakhouse and Chin Chin Cafe.
Beyond the village area, on the resort's second floor, is a 12,000-square-foot entertainment center known as the Coney Island Emporium.  This features midway-style carnival games along with more than 150 coin-operated video games. You'll also queue up here for The Roller Coaster at New York-New York.
The resort also has an 84,000-square-foot casino as well as a variety of nightclubs, lounges and bars .  But if you're looking for nothing more than an east-coast experience while visiting out west, a self-guided walking tour through the streets of New York-New York is certainly worth your time.
New York-New York Hotel and Casino Brooklyn Bridge Fun Facts
It is estimated that more than 15 million people cross the Las Vegas Brooklyn Bridge into the New York-New York Hotel and Casino each year as compared to the approximately 940,000 pedestrians per year that stride Manhattan's trestle.
At 300 feet in length and 50 feet in height, New York-New York's Brooklyn Bridge is one-fifth the size of the original on the East River, which spans 1,595 feet.
The construction of the main link between Manhattan and Brooklyn required more than 600 workers and took nearly 16 years to build while the Las Vegas bridge was completed in just four months.
New York-New York's Brooklyn Bridge was inaugurated 114 years after the completion of its original counterpart in the Big Apple.
While New York's Brooklyn Bridge is considered to be one of the greatest architectural accomplishments of the nineteenth century, the resort's re-creation has the distinction of being the first replica of a U.S. bridge of such magnitude.
The New York-New York Hotel and Casino is located at the intersection of Las Vegas Boulevard & Tropicana.
Photo Credits: Courtesy of MGM Resorts International
Indianapolis-based Greg Seiter is a 22-year freelance veteran who specializes in family travel. While embracing a background in athletics, the travel enthusiast has written for the Associated Press and various NCAA Championships publications in addition to AAA and Resort Condominiums International. Greg's top three travel destinations are Orlando, Fla., Pigeon Forge, Tenn. and Myrtle Beach, S.C.