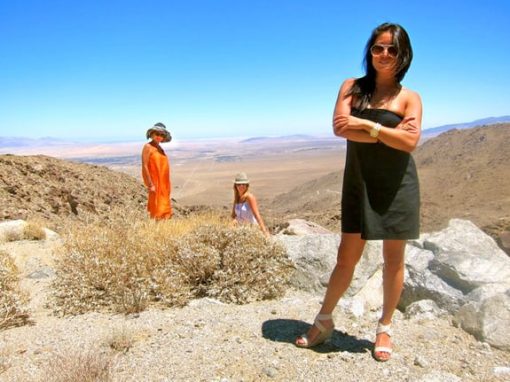 What to hear a hot, nitty-gritty secret? I'll only tell you if you promise not to tell a soul. I want this to remain between you and I to preserve it's sanctity. Three hours southeast of Los Angeles, California's Secret Desert is one of my favorite hidden retreats of badlands, sci-fi land art and surreal stargazing.
Borrego Springs, the tiny town of 2,500 residents, is where our entourage's (which included myself, two friends and my partner) adventure began. With more than 600,000 acres to explore of California's largest state park, Anza Borrego Desert surrounding Borrego Springs, there is much to do for the outdoor enthusiast from hiking, biking, bird watching and off-road jeeping.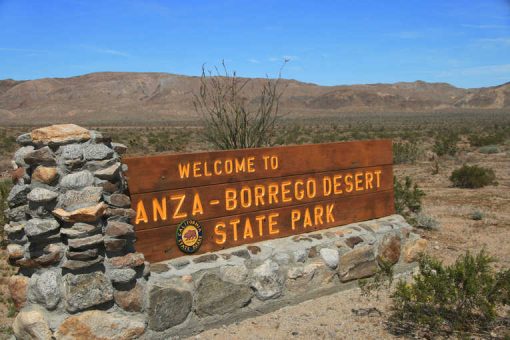 How an area so vast could remain unknown to even Southern California locals is beyond me, but that is part of its beauty. It's a place to escape the noise and crowds of the city life: a locale with monastic-like serenity and balm for the urbanite's soul.
Anza Borrego State Park offers hundreds of trails for both the beginner and avid hiker or mountain biker with views of moon-like black volcanic rocks, red-flowering ocotillo cactus and traces of ancient Native American life.
Taking the ranger's advice at the sophisticated Anza Borrego State Park Visitor Center, my boyfriend and I opted for the 3-mile Borrego Palm Canyon Trail since it was short yet ended with a rewarding climax of native palm trees shooting out of a natural spring offering much need shade. Make sure to grab a self-guided pamphlet before heading out as it points out things to see along the way, including the elusive bighorn sheep if you keep your eyes peeled. The ranger said to look high in the mountains for them, but we saw none during the entire hike, only to have one greet us unexpectedly at the trail entrance near the parking lot!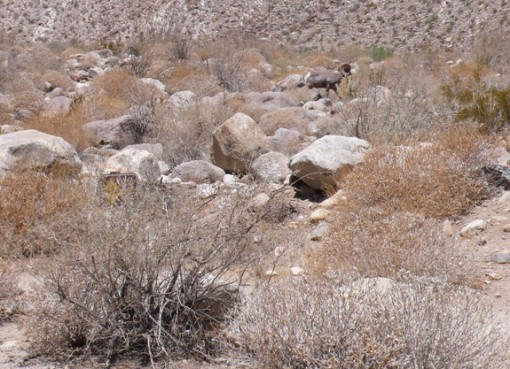 Seeing the bighorn sheep was only the beginning of the incredible animals we encountered in Borrego Springs. Driving a few miles out of town on a lonely road, we were on the hunt for Galleta Meadows Estate that featured metal sculptor Ricardo Breceda's land art. Seeing nothing more than a few houses dot the barren landscape, I began to doubt it even existed. Then suddenly, a rust-colored metal eagle with a 30-foot wingspan appeared on the horizon, followed by a life size tiger pouncing on its prey and galloping horses and on and on.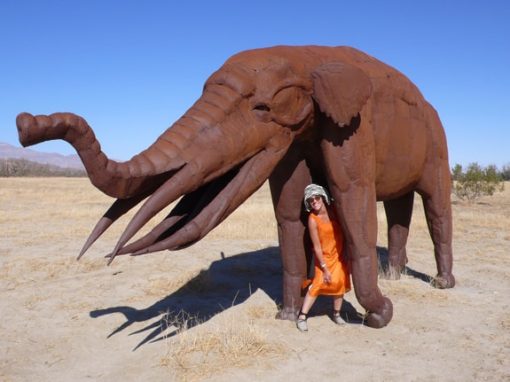 It was like a bizarre African safari frozen in time, complete with giant current, prehistoric, and magical animal metal sculptures. Spanning hundreds of acres in both directions off Borrego Springs Road, Galleta Meadows Estate, owned by Dennis Avery of Avery Labels, is like Burning Man and Marfa, Texas rolled into one fantastical experience. The ultimate of Breceda's meticulous metal work is the 350-foot dragon that spans both sides of the road.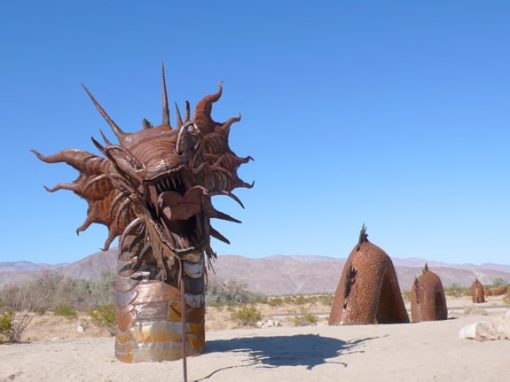 It gave me chills to see the incredible mastery of Brecada's skill exemplified in the dragon's mammoth scaled, undulating body and fire-breathing expression. This is one of those larger-than-life monuments you have to see to believe.
Another must-see sight of the Anza Borrego State Park is Fonts Point. Although I didn't make it because I was in my tiny red convertible sports car instead of a 4×4 jeep, locals say Fonts Point at sunset rivals seeing the Grand Canyon for the first time. Fonts Point is a sprawling vista of Anza Borrego's badlands. When I return, I will reserve a spot on Borrego Spring's 4×4 Jeep touring company, California Overland Desert Excursions, to explore the inner mysteries of the park's back country.
On the ground, Borrego Springs offers much to inspire and surprise. Up above, with the utter darkness of the night sky, Borrego Springs' stargazing is legendary. With only a dozen streetlights in the town, the International Dark Sky Association designated Borrego Springs as the second-ever Dark Sky Community (right behind Flagstaff, Arizona), and was the first award given to a California community. To gaze upon a billion stars that sparkle brilliantly in quiet stillness, the desert's secrets reveal profound inspiration.
But like I said before, let's keep this between you and I.
Borrego Springs Travel Guide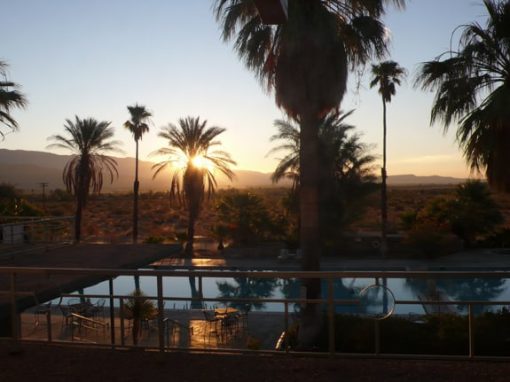 Where to Stay: The Palms at Indian Head was a swinging 1950's hotspot where Hollywood's rich and famous would land their private jets on the hotel's airstrip, including Marilyn Monroe and Clark Gable, to frolic in the desert sun while sipping martinis by the Olympic sized pools. Today, it is a modest stay with great mid-century bones, now if only the walls could talk. Rooms are $119-$219 depending on season.
Where to Eat: Carmelita's has fresh Mexican food with $4 Margaritas, Carlee's Lemon Drop Martinis compares with LA's finest, and Kendall's Cafe serves up stick-to-your-ribs American diner eats for breakfast and lunch.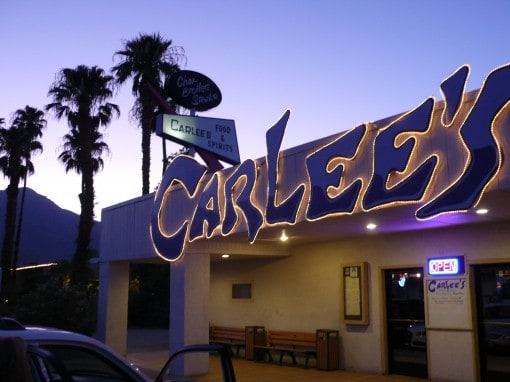 When to Go: Borrego Springs' high season is October-April with balmy temperatures in the 70's, making it an ideal escape for snowbirds. I went during the low season with sizzling heat in the triple digits. Despite dripping in sweat every time I ventured outside, I absolutely adored going then because the town was like an Alfred Hitchcock Twilight Zone episode, where an extraterrestrial has kidnapped all the townspeople. It's nearly deserted, which makes it eerie yet exciting.
If you go in the summer, check out the Borrego Springs Visitor Bureau's Summer Survivor Guide publication that lists which businesses are open; available at the Chamber of Commerce.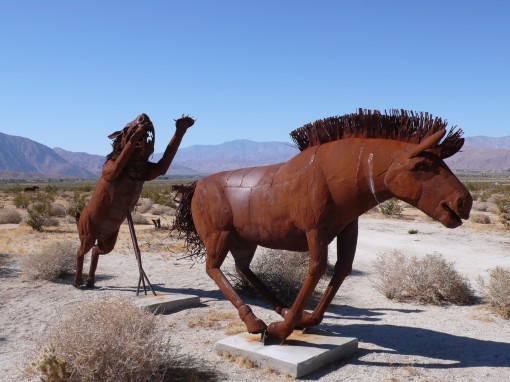 For more on Borrego Springs aka California's Secret Desert:
www.borrego-springs.com
Photo credits:  Top photo by Lindsay Taub, used with permission, the others are from the author.
NOTE:  The hotel stay at Palms of Indian Head was sponsored by the San Diego CVB. The opinions expressed are my own.
Lanee Lee is a Los Angeles based writer who uses her craft to pursue her passions – travel, artisanal food/spirits and maximizing quality of life. Lanee has traveled extensively – always in search of those golden moments of bliss. When she's not gallivanting the globe, she enjoys learning cooking tips from her French boyfriend and emulating Grace Kelly style. You can follow her latest adventures: www.laneelee.com, @wanderlushdiary on twitter.