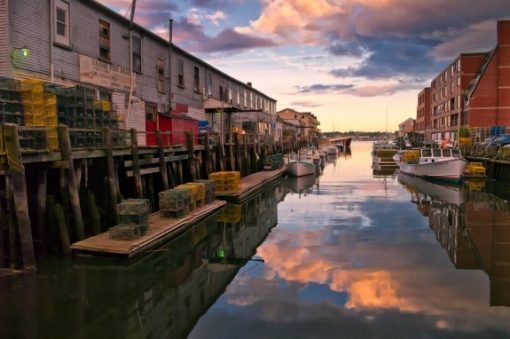 A visit to Maine has been on my wish list of travel destinations since reading Patricia McLachlan's, Sarah, Plain and Tall. When I learned we were relocating to New England, I have to admit one of my first thoughts was 'Maine, here I come!'. Portland is located in the southern portion of the state along the coast of Casco Bay. With driving times from Boston just under two hours and Providence just under three, Portland makes a nice weekend destination from most New England cities.
Inn By the Bay is centrally located in downtown Portland providing easy access to Old Port District and within walking distance of restaurants, shopping, and entertainment. Guests wishing to venture a little farther will be happy that the self-park garage offers in-and-out privileges. Better yet, leave the driving to someone else and use the hotel's free transportation shuttle.  Also known as Holiday Inn by the Bay, The Inn offers unobstructed views of Casco Bay. Being an early riser, or at least earlier than the rest of my traveling companions, I enjoyed sipping my coffee and watching the working harbor come to life. The complimentary lobby coffee and hot chocolate bar was a welcome sight returning on a chilly day. Likewise the restaurant and lounge offering daily and Happy Hour specials. A few laps of the indoor pool definitely helped to discount some extra calories packed on from the many dining options Portland has to offer.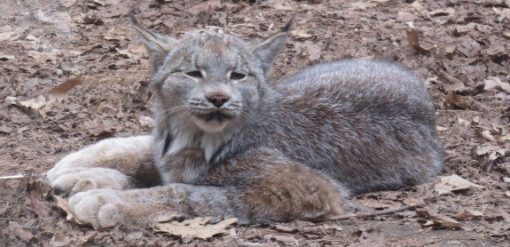 The Maine Wildlife Park located north of Portland in nearby Gray, provides visitors a chance to view some of the state's fish and furry creatures up close. Under the state's Fish and Wildlife Division, The Park is not a zoo, but a wildlife education center and all of the animals have arrived here because of their inability to survive in the wild.  A completely accessible trail leads visitors through a "forest" of labeled native plants and trees before arriving at enclosures of over 30 in-state species including moose, deer, raccoons, bear, fox, a variety of birds and fish hatchery.
Be sure to grab a handful of quarters from your piggy-bank as there are numerous coin operated feed dispensers located around the park.  A particular favorite is the machine located in the bear pavilion. One part food apparatus, one part catapult, food drops through a tube and is flung to the awaiting bears. Who knew a quarter could provide so much enjoyment. Taking time to explore the interpretive displays and observe the animals,  guests should plan to spend several hours within the park.  Picnic tables are available outside the Wildlife Park for those guests who wish to spend a little extra time.
Traveling a little farther north is Freeport, Maine, known to many as the best shopping town in New England. Among the 100's of shops including local finds and famous brand outlet centers, Freeport is home to the L.L.Bean flagship store. Famous for their customer service and product guarantees, this store is open 24 hours a day, 365 days a year. Offering sales and support for every outdoor activity imaginable, the retail outlet sponsors how-to courses, clinics and trips to improve upon your sport of choice.  With one main building housing several floors of merchandise and several smaller shops containing boating equipment and home goods, it is easy to become a little overwhelmed. Luckily there is an on-site café and coffee shop to catch your breath and regroup.
If searching for hidden or unknown animals is within your realm of interest, look no further than Portland's own International Cryptozoology Museum. A culmination of 50 years of field research, gathering representative samples (hair, footprints, etc.) and evidence by cryptozoologist, Loren Coleman, is on display hoping to prove or disprove the existence of cryptids likes of bigfoot, sea serpents and jackalopes. Although these species have yet to be found or verified by science, before dismissing the displayed evidence altogether, keep in mind the okapi, giant panda and mountain gorillas were once listed as cryptids.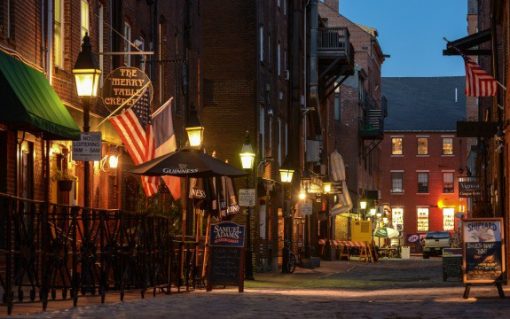 Old Port is a walking district of Portland known for its fishing piers, cobblestone streets and red brick buildings dating back to the 1800's. Old Port houses many boutique shops, restaurants and entertainment spots including Shipyard Brewing Co. This popular craft beer brewery offers scheduled tours and drop-in daily tastings of their "core and seasonal" brews and house made Capt'n Eli's Soda. On the day of our visit, guests were given a free tasting of up to four brews from over ten selections, many of which were not yet available on the market. If you like what you taste, 10 oz pours and growlers can be purchased as well as items from the package store.
A word of warning, it is not uncommon for seasonal activities and restaurants to close or limit their hours during the slower months of November – April. In planning, double check that the attractions you want to experience are indeed available during your visit.
Pin this to your favorite travel and New England Pinterest boards.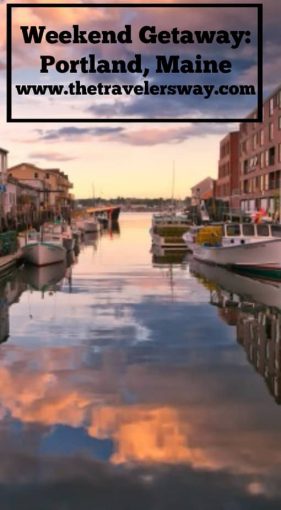 Disclosure: The author was given a discounted rate on accommodations at Inn By the Bay and complimentary admission to the Maine Wildlife Park for the purpose of a review.
Photos Courtesy of GPCVB – Cynthia Farr-Weinfeld, photographer; and J. Ingersoll
Having been transplanted numerous times, I have learned to explore the sites around our new found hometown, uncovering hidden gems and attractions. When vacation time rolls around, I enjoy traveling with my family and the occasional weekend escape with my husband, coming home to share our travel experiences with others. You can follow me on Twitter @JAIngersoll. My top three destinations are Walt Disney World Resort, the Midwest and any beach I can walk along.