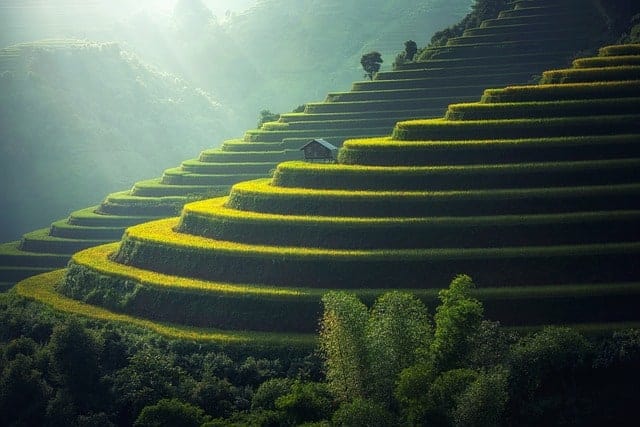 Myanmar's green season falls from May till September and is a perfect time frame within which to visit this mysterious Asian destination.
The main tourist attractions in Myanmar (Bagan, Mandalay, Northern Shan state, Kalaw and Inle Lake) only get rainfall on 25% of the days during the so-called rainy season, and even if it rains on those days, it's usually quite short. The area near Bagan is the dry zone, an area that has an almost desert style climate.
Here are 10 reasons to visit Myanmar from May till September:
50 shades of green – from the rice paddy fields to the forest, the country is rich in every shade of green.
Perfect temperatures – not too hot in the dry zone, not too cold in the mountains – making it much easier to decide what clothes to pack.
Green means sustainability and supporting stable earnings year round. A livable income for Myanmar residents is good for them and for visitors.
The green season has more hours of daylight, which means more time for sightseeing and enjoying the area.
No dust and minimal air pollution. Breathe in all the fresh air.
Stunning landscapes, especially verdant during this time period. Make sure you bring your camera.
Fruits and vegetables are at their tastiest and you can enjoy the best of the local cuisine.
Lines are short as many travelers avoid this time of year.
Fewer tourists mean your preferred hotel, tour, guide, etc., is sure to be available.
There are lots of good promotions offered during the rainy season, which means you get great value for your tourism dollar. A lot of businesses are offering special benefits and promotions for tourist visiting during this time of year, including additional free nights with a minimum stay, free lunch if it rains more than an hour and other creative ideas.
Tourism Myanmar offers a wealth of information about sustainable tourism in the country and can provide additional information about why it's a suitable destination all year round.
When do you want to visit Myanmar?
For Pinterest: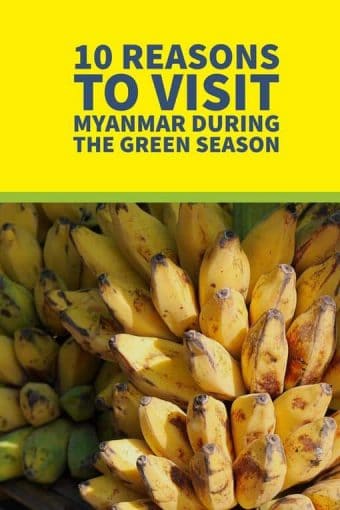 Anthony has found travel provides a healthy balance to his day job as a criminal defense attorney. Living on the periphery of blogging for years, he's now decided to flex his creative muscles with a little writing and photography of his own. Anthony's favorite travel destinations are the Caribbean, Italy, and Ireland.