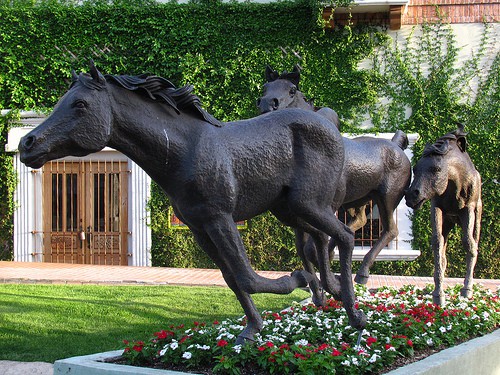 Located adjacent to the greater Phoenix area, Scottsdale, prides itself on being the "The West's most western town" and embracing and preserving its rich Western history. You can experience the Old West in this thoroughly modern New West city with a myriad of western events.
Be a Cowboy
Annual Western Events
The Hashknife Pony Express makes its ride every January traveling 200 miles from Holbrook, Arizona, to downtown Scottsdale to deliver 20,000 first-class letters by horseback. The ride, led by the Navajo County Hashknife Sheriff's Posse to kick off the annual Parada del Sol Rodeo, is the oldest officially sanctioned Pony Express in the world. Riders are sworn in as honorary mail messengers braving weather, terrain and modern-day obstacles to deliver the United States mail.
Celebrating 62 years, the Parada del Sol Parade is the world's longest horse-drawn parade and takes place every February in downtown Scottsdale. Following the procession is the popular Trails End Celebration with Western entertainment, music, and a pancake breakfast. The parade kicks off the Parada del Sol Rodeo, a full week of boot stompin' fun at WestWorld of Scottsdale that includes rodeos, dances, live country music, children's activities and more.
Also in February is the Scottsdale Arabian Horse Show, a 10-day spectacle where the event's namesake breed of horse competes for highly coveted awards against the backdrop of Scottsdale's Sonoran Desert.
At the Bentley Scottsdale Polo Championships: Horses & Horsepower in October, the sport's top contenders compete during two polo matches and attendees get a sneak preview of the aforementioned Scottsdale Arabian Horse Show. While not a true Western event, its connection to horses and the area gets it a mention on this list.
Other must-see events include the Arabian Breeders Final, AZ Fall Championships, Arizona Sun Circuit and Western ArtWalk.
[tweetthis]Have a western experience in Scottsdale @scottsdaleaz[/tweetthis]
Saddle Up and Shop
Western themes dominate much of Scottsdale's art and shopping – particularly the gallery scene in the Main Street Arts & Antiques District and the Western boutiques and souvenir shops in Old Town. The boutiques offer everything from expensive Remington bronzes to the latest in chic cowboy fashion. Along with the growing market for Western memorabilia and historical collectibles, the city's downtown redevelopment has strengthened the Old West shopping districts. In fact, strolling downtown one can find traditional hitching posts for riders, and the streets are still patrolled by Scottsdale's mounted police unit.
Saba's Western Wear has been an Arizona tradition for more than 85 years. It made its home in downtown Scottsdale when coyotes were still roaming freely and the main mode of transportation was by horseback. From hats, boots and clothing for men, women and children, this family-owned and -operated business is the place to find all of your cowboy life staples.
Cave Creek, the town just north of Scottsdale, is home to a unique and colorful history that dates back to the 1870s. The town wasn't incorporated as a municipality until 1986 and much of its history is still reflected in the theme of special events and fun, kitschy retail shops that dot the streets. Shopping in Cave Creek attracts not only the casual browser, but also the serious collector as offerings include everything from spurs to crafts and custom jewelry by local artists.
Horsing Around
The City of Scottsdale has made an investment in public art, making it a dynamic part of the cityscape. The result is a masterpiece of urban aesthetics including several magnificent sculptures that portray the city's passion for the horse.
One of the most notable is Ed Mell's famous bucking bronco sculpture, Jack Knife, found at the intersection of Main Street and Marshall Way. Also in the Fifth Avenue shopping district is the popular Bob Parks horse fountain featuring several bronze horses at attention.
In Old Town, the Yearlings sculpture attracts kids wanting to get their picture taken with the three young foals.
There's also the symbolic Passing the Legacy, a bronze sculpture designed by Herb Mingery depicting the melding of Scottsdale's historic and modern Western appeal with a vintage 1860s rider passing a mail bag back to a modern-day rider.
Water Mark by Laura Haddad and Tom Drugan is a series of five, 14-foot "horse gargoyles" that sits along Indian Bend Wash and pays homage to the history of Arabian horses in nearby McCormick Ranch.
Visitors of all ages can delight in authentic stagecoach rides through downtown Scottsdale. Pulled by North American spotted draft horses, the carriage takes guests on a Western-related ride through the Old Town area, highlighting significant stops and public art along the way. Guests also can enjoy horse-drawn rides through downtown Scottsdale's art district from 7-9 pm on Thursdays during the weekly Scottsdale ArtWalk event, which is celebrating its 40th anniversary in October 2015.
A Taste of the Wild West
Known as Arizona's original family steakhouse, Rawhide Steakhouse celebrates the spirit of its Western roots through traditional cooking and true hungry cowboy portions. An abundance of indigenous ingredients are used from the Gila River Indian Community and Rawhide's own Akimel Basho Farm. The diverse menu features everything from rattlesnake to the favorite lone cowboy T-bone steak.
No trip to Scottsdale would be complete without a visit to Rusty Spur Saloon. This registered historic landmark in downtown was the Farmers Bank of Scottsdale from 1921 to 1933. The bank closed during the Great Depression and reopened years later as a saloon. The old bank vault holds liquor for those hoping to satiate their thirst.
Just a few miles north, Handlebar J also pays homage to the Old West. It's been serving up steaks, drinks and live country music since 1966.
Photo credit: Castles, Capes & Clones
Mary Jo Manzanares is a founder and the editor-in-chief of The Traveler's Way, an online travel magazine proving informational and inspirational travel recommendations for curious Baby Boomer travelers. She has been a speaker at various industry events and has a personal travel blog at Traveling with MJ. When she's not traveling, Mary Jo likes lingering over a cup of coffee, wandering in a museum, sipping wine at a cafe, and sharing it all with friends and readers. Mary Jo's top travel destinations are Italy, Portugal, and the Caribbean.