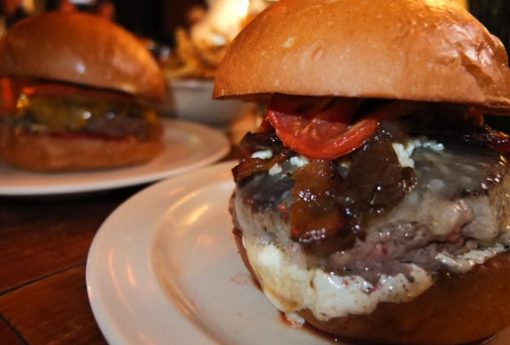 Burgers in Los Angeles are as pizza is in New York: a birthright. Although the American burger was invented in the Midwest, Los Angeles (specifically Pasadena) is the birthplace of the cheeseburger, created in the 1920's.
Since then, burgers have been as much of a Southern California icon as the palm tree.  Some of the most famous burger stands started here – McDonald's, In-N-Out, and Fatburger.
Over the last decade, the haute couture hamburger trend has boomed. With made-to-order ground beef, farmers' market vegetables and exotic accoutrements like Brie or fish flakes, you're more likely to see movie stars rather than soccer moms at these beyond-basic burger joints.
When in LA, do as the Los Angelenos and get your beefy fix fashionably at these prolific patty stands with great people watching to boot.
The Counter – This is like a Build-a-Bear for burgers. Choose from an extensive list of topping, proteins and sauces to create a bespoke burger.  If the pressure is too great to be the Next Top Burger Chef, just go for the Counter Burger with fried onions, provolone cheese, mushrooms, sun-dried tomato vinaigrette. There are over 10 Counter locations throughout the Los Angeles area.
Stout Burgers & Beers – The burgers are as eccentric as the Hollywood actresses that flock here.  With over 30 craft beers on tap, the "beertenders" will gladly let you sample a few in shot glasses, and burgers topped with inventive ingredients, it's a winning combination. Try the Stout Burger with blue cheese, rosemary bacon, roasted tomatoes, caramelized onions, and horseradish mayo.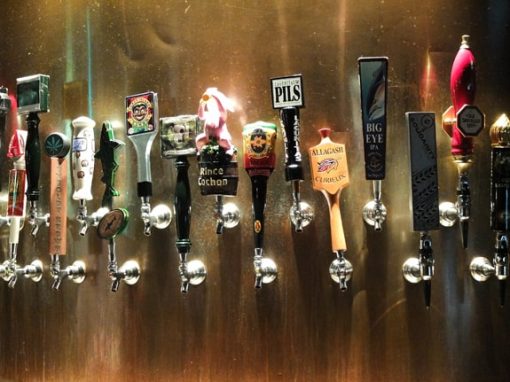 Father's Office – When he opened a tiny pub in the elite Santa Monica neighborhood in 2000, Chef Sang Yoon launched the current gourmand burger trend and his legacy continues with a second location in Culver City over triple the size. Be forewarned: there is absolutely no substitutions or alterations. Like it or leave, is their motto. And forget about asking for ketchup, it's a dirty word in daddy's study. To soothe the ketchup withdrawals, make sure to have a beer float designed by Father's Office "floatoligists" who pair unusual, house-made ice cream flavors (like Maple Syrup) with imported brews (like Trappist Ales). A favorite among locals is the F.O burger of blue cheese, Gruyere, caramelized onions, and arugula on a baguette.
Go Burger – Go Burger is a part of the BLT family spearheaded by Chef Laurent Torondel. Also home to boozy milkshake concoctions, Go Burger is for the ultimate foodie who doesn't mind getting crazy with their beloved burger. Like the Ulti-Melt, a burger between two grilled cheese sandwiches. Or what about the Sunset Stripper of arugula, marinated cherry tomatoes, pickled shallots, olive-cornichon remoulade, and of course, no bun, because strippers don't do carbs in this city. Go Burger is an irreverent take on classic Superbowl Sunday food, and is great kids and vegetarians.
Umami – Umami is as Elvis was to rock n roll:  pretty much the sex symbol of the hipster burger. Growing like the wildfires of Southern California, within a few years, Umami burger reigns supreme with novices and chefs for not only a trendy hang out but also the best burger in Los Angeles. Umami is the nebulous and mysterious fifth element of taste that gives maximum gastronomy pleasure in the mouth. Umami burgers contain elements of umami (secret recipe of soy sauce, fish flakes, and…?), not to mention a smart bun-to-beef ratio, and made to order ground beef.  Founder Adam Fleishman  says, "We only do one thing, so we're going to do it the best we can." Although you can have burgers with lamb, turkey or vegetables, the beef-de-resistance is their classic Umami burger. From downtown to the Valley, there is an Unami Burger near you, each with their own individual design/decor flair.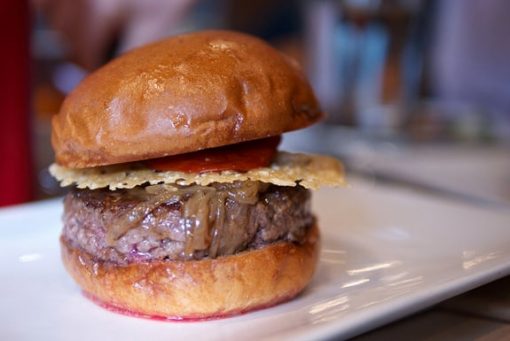 If your hamburger hankering is still not assuaged, Virginia-based Five Guys Burgers and Fries, is causing a feeding frenzy among Los Angelinos as well.  It is a favorite of the Obama family, and has twelve locations throughout Los Angeles.
Classic Burgers
For the burger lover who appreciates a truly Americana experience in every bite minus the exotic ingredients, complicated ordering, and designer price tag, here are the best classic burger joints in Los Angeles:
In-N-Out – No matter if you stop at a freeway location in the middle of nowhere or a prime location, expect a long line for your basic burger and milkshake. Their menu is simple, but if you're in the know, there are endless secret menu items like the Animal Style of a mustard-cooked beef patty with additional pickles, cheese, spread and grilled onions diced up and mixed together on the grill before getting dumped on your burger. If you're visiting from out of state, take a picture of yourself to make all your friends and family green with envy as In-N-Outs are only in Southern California, Nevada, Arizona and Texas.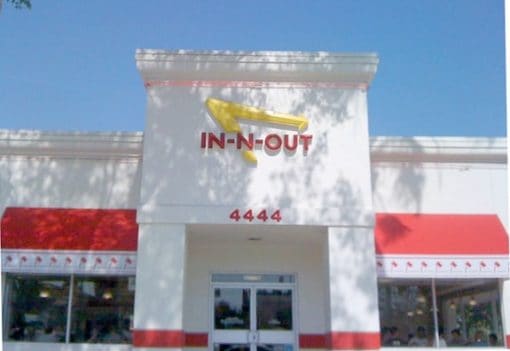 Pie & Burger – A tiny diner in Pasadena that's been around for nearly a half a century with a movie/music industry cult following. It's fast, delicious, and unpretentious. Ask for a slice of their fresh peach pies if you visit in the summer.
Bill & Hiroko's – With a few bar stools outside a little wooden shack in the heart of the industrial part of Van Nuys, Bill has been making mean burgers for decades with no attitude and certainly no decisions between shitake, crimini or chantrelle mushrooms to select. Some say it's the grill that has been accruing seasoning over 80 years that gives the burgers such delicious flavor. Go for the double, it's that good.
Apple Pan – It's a West Los Angeles institution since 1947, famous for it's apple pie and burgers. And it's a great late night stop, open till 1 am, as most West Side restaurants close at 10 pm, even on weekends. Try the Hickory or Steak Burger.
Top photo of Stout Burger/Beer Taps/In n Out by author, Umami Burger photo by Flickr Jun Seita,

Lanee Lee is a Los Angeles based writer who uses her craft to pursue her passions – travel, artisanal food/spirits and maximizing quality of life. Lanee has traveled extensively – always in search of those golden moments of bliss. When she's not gallivanting the globe, she enjoys learning cooking tips from her French boyfriend and emulating Grace Kelly style. You can follow her latest adventures: www.laneelee.com, @wanderlushdiary on twitter.