Wayanad, the quaint little north-eastern district of [easyazon_link identifier="0781813441″ locale="US" tag="thetravelersway-20″]Kerala[/easyazon_link] has a unique topography. Situated at the southern tip of Deccan plateau, this place shares it border with both Karnataka and Tamil Nadu. Archaeological evidence suggests that the region has been inhabited for 3000 years.  The area has versatile geological features – from hills to waterfalls to dams to caves to lakes to tea estates. The cool pleasant climate and the serene ambiance makes it a formidable place to visit. It is one of a kind place in Gods own country, Kerala. Amidst the backwaters and sacred temple area lies this quintessential place.
Due to its vast topographical features, Wayanad offers a gateway of opportunities. It is an endless list of beautiful exotic places in the lap of nature. Here, we are focussing on 5 such places to visit in [easyazon_link identifier="B00P85ZKAW" locale="US" tag="thetravelersway-20″]Wayanad[/easyazon_link].
1. Explore the Edakkal Caves on Boat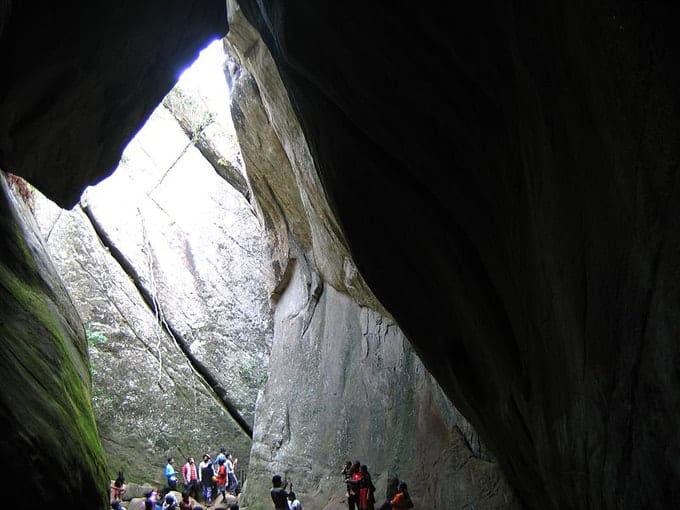 Edakkal Caves, a beautiful Malabar caves curve with enchanting drawings is one of the must visit places. Situated 1200m above the sea level, this prehistoric cave depicts the evolution of the human race and other species. It takes an hour and a half to enter into this 22 ft wide and 96 ft long cave. After another 30 minutes of exploration reaches you to the mouth of the cave. One can opt for pedal boating, kayaking or row boating at nominal prices. The pedal boating costs a handful 50 rupees for 4 people and 30 rupees for 2 people. The Kayaking experience comes at a price of 100 rupees for every 30 minutes.
2. Chembra Peak Trekking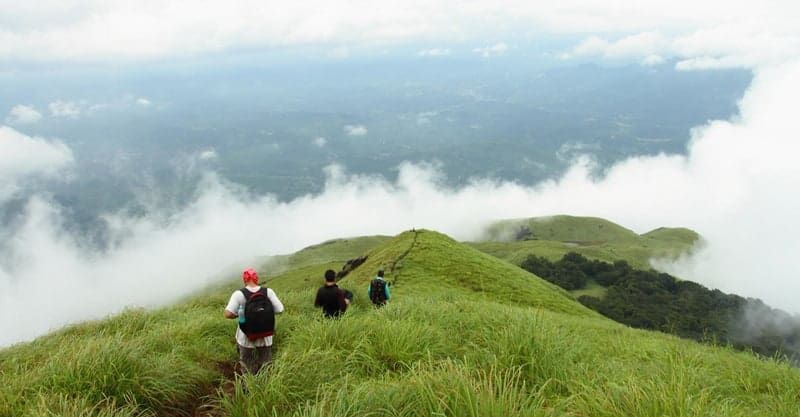 The highest peak of this area, Chembra offers a beautiful trekking experience in Kerala. This 6,900-foot high peak has a landscape of lush green meadows, clear blue sky with floating clouds and the scenic beauty of the Hridya Saras lake (heart-shaped lake). The lake comes on the way to the Chembra peak. It is a 2 km long trail from there to the Summit. The trekking exploration requires a permit from the forest department office, situated at distance of 5 km from Meppadi. On reaching the peak one gets a bird's eye view of the Banasurasagra dam and the Karapuzha dam.
3. Enjoy the Exotic Kuruva Islands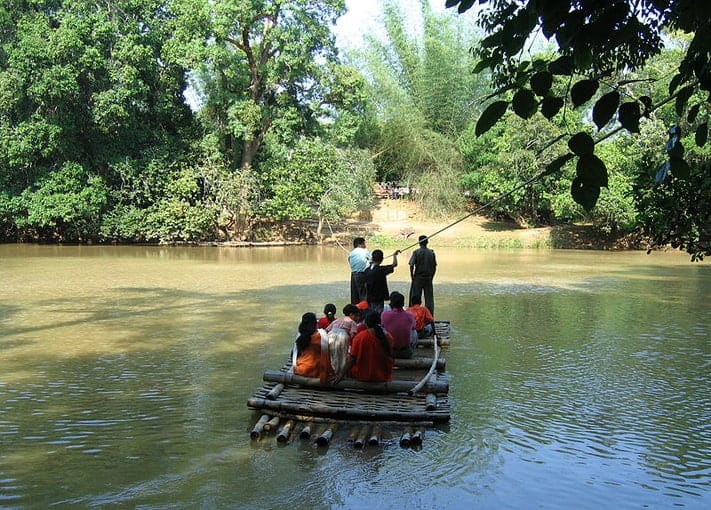 Kuruva is a congregation of three exotic islands, spread over 950 acres of land in the deltaic region of Kabini River. The place is best explored in bamboo rafts, which adds to its intrinsic beauty. Small boats and fiber boats are also available but bamboo rafts are best suited for delving deep into the forest islands. These uninhabited islands have a varied flora and fauna as well as wildlife. It is home to rare birds, animals, exotic herbs, local trees etc. On the way, one will encounter beautiful bamboo bridges that connect regions.
4. A Vacation on The Vythiri Village Tree House Resort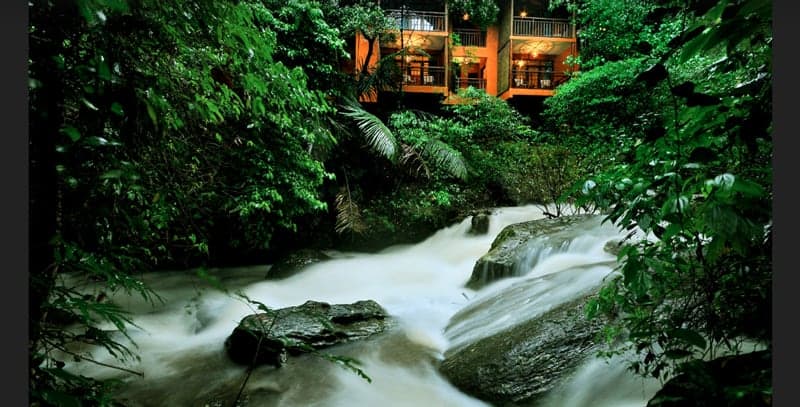 One of the most luxurious and comfortable places in Wayanad is this Vythiri Village tree house resort. Tucked green forest you have this one of a kind luxurious tree house resort. The tree house is situated at height of 70 feet, all decked up with facilities like spa, ayurvedic massages, and Jacuzzi. Jeep Safaris are available for exploring the forest terrain. Apart from the tree house, other types of accommodation with similar facilities are also available at this 5-star resort. This state of art facility resort has a capacity of 200 rooms. One can get a view of the beautiful Chembra Peak and Karanchi stream in here.
5. Visit the Ethereal Soochipara Waterfalls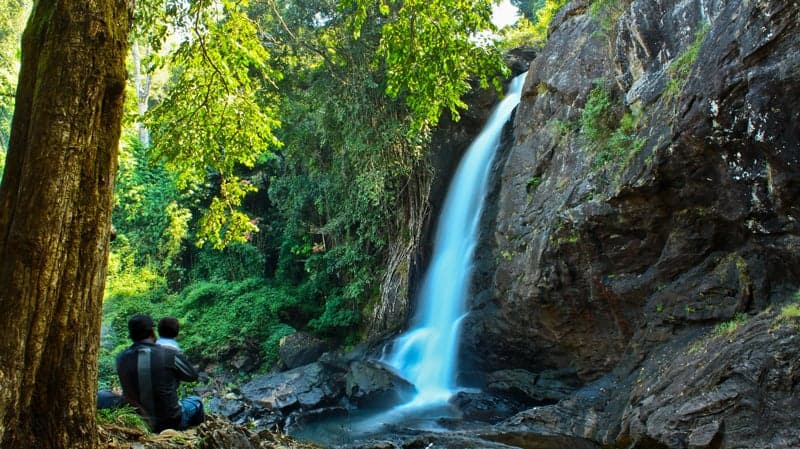 The Soochipara Waterfalls or the sentinel rock falls is an ethereal beauty hidden by evergreen, montane and deciduous trees from all sides.it is a 3 tier rock waterfalls which casts a spell on people. The place is famous amongst rock climbers and picnickers. The 200m high waterfall is named Soochipara because the Chaliyar River falls as needle stream, soochi, through the hard rocks, para. It is a short drive from Mepaddi which offers a picturesque view of the [easyazon_link identifier="B00ZYB8BPG" locale="US" tag="thetravelersway-20″]Malabar tea[/easyazon_link] estates.
The land of Wayanad is speaking to those who are listening. So be that listener and pay heed to the call of nature.
Author's Bio:  A self-confessed adventure junkie, Rohit loves to trek. Exploring the vast topography of India is his passion. To know more about his experiences, visit http://www.transindiatravels.com/
Disclosure:  This post contains affiliate links. Clicking through for additional information or to make a purchase may result in a small commission being paid. By doing so, you help support this site and its authors, and we thank you.
Rohit Agarwal is an explorer who likes to learn about different cultures and traditions. Although he has traveled to several tourist destinations, he believes that every traveler should visit India once in their lifetime. He is a blogger at http://www.transindiatravels.com and has compiled various stories related to tourism.