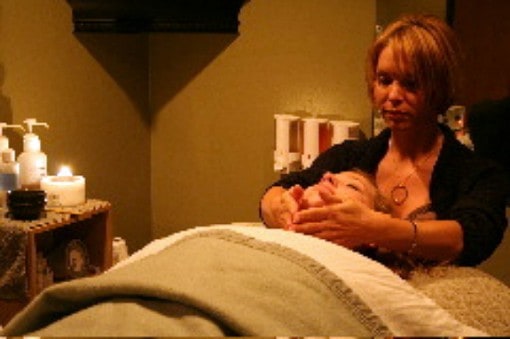 Work-related meetings and deadlines can be stressful but in downtown Indianapolis, there's a place where both men and women can relax and unwind.  Studio 2000 is an art deco-themed salon and day spa that's located on the second floor of the pyramid-topped Circle Tower building on the southeast quadrant of Monument Circle; home of Indiana's Soldiers and Sailors Monument.
"Do men go to spas?" I nervously asked myself before initially visiting the 4,300-square-foot facility.
Upon arrival, I quickly learned the answer to that question…"yes!" In fact, while inspecting Studio 2000's intriguing interior design elements that in many ways reflect the rich history of the Circle Tower,  I was surprised to here that an estimated 25 percent of the facility's guests are men.
The Circle Tower Building
 itself was designed in 1929 and has housed many tenants over the years.  The area that serves as the day spa's Relaxation Room was actually a men's barbershop from 1929 to 1989. Studio 2000 initially operated from that location with just two hairstylists, but when Del Frisco's Restaurant went out of business next door, the owners bought the vacant area, expanded their salon services and added a complete spa.
A Look Inside
While still struggling with my own masculinity in regards to visiting a spa (what would my buddies say?), I must admit that once inside, I was warmly greeted, offered a refreshing beverage and made to feel very comfortable.
To my surprise, there weren't flowers and bottled fragrances everywhere but rather, an impressive collection of artistic decor in a very modernized atmosphere, thanks in part to an open ceiling concept where the duct work and plumbing pipes are exposed. From the original custom flooring to the hammered metal detail on various pieces of furniture, including chairs from the facility's original barber shop that feature pewter trim, the place is a historian's dream come true.  Even some of the mirrors and doorways have pewter borders around them and there's plenty of natural lighting thanks to several windows that provide a clear and up-close view of the bustling Monument Circle area below.
The hair salon and reception area were teeming with activity and conversation on the day of my visit and even though I briefly considered the possibility of combining a hair cut and beard trim with a gentleman's facial (I was curious), I ultimately decided to go with a one hour, full body, relaxation massage in hopes of at least temporarily experiencing relief from an aching lower back.
An elegant combination of soft lighting and subtle Asian-sounding music welcomes guests to the facility's Relaxation Room, where they can lounge comfortably prior to, between or even after scheduled treatment sessions.
As I sat in the peaceful, almost circular room while filling out a brief questionnaire and ensuring that my cell phone was turned off, I periodically glanced up at the black tile walls and spotted images that included "Lucky Lindy" style airplanes flying through storm clouds.  I was even able to spot a Charles Lindburgh plane, barbering tools and images of athletic figures in the former men's barber shop area.
Admittedly, I was a little nervous. After all, I'd only had one professional massage before and that had taken place at a local YMCA, but the area's calming atmosphere was overwhelming and I eventually surrendered most of my inhibitions.
My Experience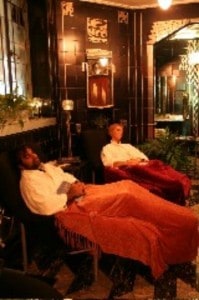 While lying face down on a padded massage table in a small but comfortable treatment room, I initially struggled to relax; not because of anything my technician did or didn't do but because of my lack of familiarity with the process.  My tension slowly eased my therapist methodically concentrated on eliminating muscular knots in the vicinity of my shoulder blades.  The pressure she applied was surprisingly firm, even as she was working on my lower legs, feet, scalp and neck.
My time on the table passed quickly and I was surprised at how much better I felt while slowly making my way back to the reception area.  For me, the overall experience was both enlightening and rewarding; physically and spiritually.
The Menu
The facility offers a seemingly endless number of other treatment options, including relaxation, deep tissue, aromatherapy, hot stone, maternity, d-age antioxidant firming, reflexology and Thai massages, along with a variety of salon services.  My wife samples a customized facial treatment
Packages
From "An Afternoon of Beauty" combo, which includes a women's haircut and single process color, French manicure and pedicure, eyebrow wax, paraffin hand treatment and make-up, to "The Decadent Diva," which combines a full-body exfoliation, soothing mud wrap with shower rinse, one-hour moisturizing massage, customized essence facial, manicure and pedicure, shampoo and style, make-up application and lunch, there are a variety of packages and price ranges to choose from at Studio 2000.
Tips and Tips
The busiest days at Studio 2000 tend to be Thursday through Sunday. Reservations are hardest to come by during lunchtime and after 5 p.m. in a given work week.
Recommended gratuity is 15 to 20 percent, depending on your level of satisfaction.
Details and Hours
Location:  55 Monument Circle, Suite 2000, Indianapolis
Hours: Monday, 10 a.m. to 6 p.m.; Tuesday, Wednesday and Thursday, 9 a.m. to 7 p.m.; Friday and Saturday, 9 a.m. to 6 p.m.; Sunday, noon to 5 p.m.
Reservations:  Required. To schedule an appointment, guests are asked to provide a valid credit card number and expiration date. A 24-hour cancellation notice is required to avoid a cancellation penalty.
Photos credits:  Courtesy of Studio 2000
NOTE:  The author received spa treatments at a discounted rate for the purpose of a review; all opinions are strictly his own…and his wife's.
Indianapolis-based Greg Seiter is a 22-year freelance veteran who specializes in family travel. While embracing a background in athletics, the travel enthusiast has written for the Associated Press and various NCAA Championships publications in addition to AAA and Resort Condominiums International. Greg's top three travel destinations are Orlando, Fla., Pigeon Forge, Tenn. and Myrtle Beach, S.C.