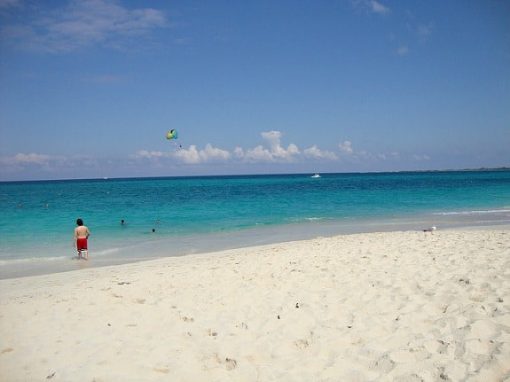 Located a stone's throw off the coast of Florida, the island nation of the Bahamas is one of the richest countries in the Americas.  Officially called the Commonwealth of the Bahamas, it is made up of 29 islands (not all are inhabited), 661 cays, and 2,387 islets, its location and rather affluent economy make it a popular vacation spot for travelers coming from the east coast of the United States.  And since it's an English speaking country, it's an easy choice for travelers who aren't ready to tackle travel where language is a barrier.  Not surprisingly, the islands rely heavily on tourism, offering visitors choices ranging from a busy city experience in the capital city of Nassau on the island of New Providence, to enjoying sailing and national parks on the Abaco islands, to a more laid back experience on the more sparsely populated Cat Island.
I first visited Bahamas in the late 1970s spending a few days in Nassau.  It was a time when the Playboy Club was still operating its upscale casino with proper dress code, Cable Beach was relatively quiet and peaceful, and if you took the small island bus to get around the islanders would greet you every day as you got on.  I loved the British feel of the island, the rather proper way people treated one another, and, of course, the rum drinks found everywhere I turned.  We rented mopeds and zipped around the island, visited a flamingo park, toured the Bacardi rum factory, went parasailing for the first time, and explored the straw market for handicrafts.  I still have some of the artwork which I bought at the straw market.  And the beaches were lovely.
When I returned to Nassau in the 1980s it was different city.  High rise hotels were everywhere, but it was a little less polished, a little rougher around the edges, and my island experience was much different.  A visit to Paradise Island with its glitzy clubs and casinos was a jarring juxtaposition to the tranquility of Cable Beach where we stayed.  And even the quiet Cable Beach area was a bit more crowded and visitors a bit more pushy and annoying.  Even the welcoming residents were a bit more reserved, almost as if they were distancing themselves from our garish behavior and shabby manners.  On this visit, most of my time was spent on the beach.  It was pleasant and relaxing, but I found I thought twice before heading off on my own and was cautioned that petty crime was on the rise.  The straw market had become full of tacky tourist tzotchkes, many of which I wasn't sure were even made in the islands.  And the beaches were still lovely, even if a bit more crowded.
So I forgot about Nassau and the rest of the Bahamas.  Shrugged it off as islands that have changed and that I don't need to go back to, despite being so close and easy to get to for a getaway weekend.  But over the last couple decades, the Bahamas have worked hard on changing both their island realities and their tourism image, and seem to have been successful at it. Add in a couple recent changes, and it may be time to consider the Bahamas a destination to visit once again.
Ferry Service from Fort Lauderdale to Grand Bahama
The first is a new ferry service launched by Bahamas Express that travels from Fort Lauderdale to Grand Bahama island.  Since time and money are prime considerations for travel, let's take a look at both to see how the new ferry service stacks up with flying.
The 76 miles sailing takes approximately two and a half hours, while a non-stop flight takes 55 minutes.  When you factor in the need to arrive at the airport early for an international check in, the long security lines, and the overall frustration of air travel, the transport time may just be a wash.
There is currently only one sailing per day (to Grand Bahama at 10 am and returning to Fort Lauderdale at 7:30 pm), which means some limitation is scheduling – but it also means you can plan a day-trip that gives you 7 hours on Grand Bahama.  The sailing times also seem to fit well for making it a long getaway weekend.  The ship is smoke free, has onboard entertainment (but apparently no wi-fi) and bar service, and duty free shopping.
The second consideration was a look at the cost.  There is special pricing for a one-day trip starting at $99 (plus taxes and fees).  I searched for this pricing, but could only find the rate available on outbound sailings with the low rate unavailable for the return.  Searching for random rates for a long getaway weekend generally yielded prices under $200 round trip, including taxes and fees.  You'll save big if you're traveling with young kids, as children under 6 years old pay only the operation fee (currently $12).  A VIP first class is also available if you need more privacy and exclusivity for those two and a half hours.
So how does the cost of the ferry compare to flying?  I checked random flights for the same days and air fare ran in the mid to upper $200-range.  Even the occasional budget flights ($59 round trip) were closer to $200 when taxes and fees were added.  There will likely be discounted air/hotel packages that would bring the price down lower, and you could watch for the fare wars, but overall I'd give a nod to the ferry for cheaper pricing.
New Straw and Craft Market in Nassau
On my first visit to the straw market in Nassau, I spent an afternoon successfully avoiding the stalls full of tourist crap and wandering well into the interior where I got to meet some of the artists, experience a little local culture, and get some great recommendations on where to go for dinner.  There were still scars from a fire in 1974, but it somehow just felt like the right mix of sales and a craft economy.  Straw work has been a vital part of the Bahamian since the early 18th century.  The style, plaiting technique and materials vary among the island, but at the straw market you could get a nice mix of hats, mats, bags, and decorative items.
On the second visit to the straw market in Nassau, the area felt a little bit rundown.  I saw more panama hats and less artisan wares, and the sales pitches from the vendors were ratcheted up several decibels of persuasiveness.  Although it may not be fare to compare the two experiences, the second time just wasn't fun.
But things may be a-changing with the opening of a new Straw and Craft Market on Bay Street.  This new facility is trying to show off not only its straw vendors, but also other Bahamian specialties like music, dance, food, and fashion.  The modern ground level market has space for over 450 vendors, and although some of the charm of the old market will have vanished, so will some of the seediness.  The new market will feature amenities like ATMs, public washrooms, and many vendors will accept credit cards.
Will it work to bring visitors back?  Nassau is betting $12 million that it will.
What do you think?  Have changes in the islands made the Bahamas a place that you'd like to visit?
Photo credits:  All via flickr.  Jason Cromer (straw market); James Byrum (beach hammock); Michael Gray (beach chairs); Stephanie (beach)
Mary Jo Manzanares is a founder and the editor-in-chief of The Traveler's Way, an online travel magazine proving informational and inspirational travel recommendations for curious Baby Boomer travelers. She has been a speaker at various industry events and has a personal travel blog at Traveling with MJ. When she's not traveling, Mary Jo likes lingering over a cup of coffee, wandering in a museum, sipping wine at a cafe, and sharing it all with friends and readers. Mary Jo's top travel destinations are Italy, Portugal, and the Caribbean.