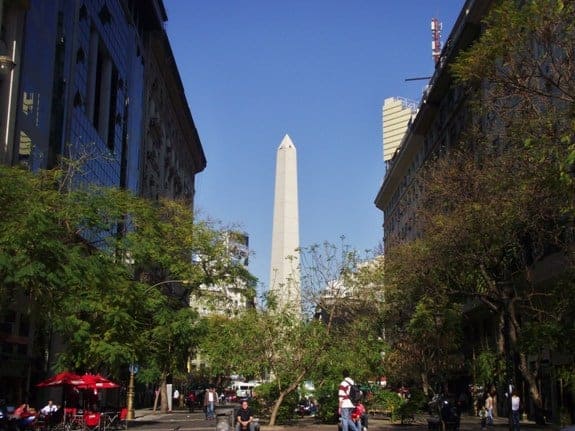 Argentina's effortlessly cool capital combines European-style culture with a distinctly Latin spirit, making it a great destination for a city break with a difference. Better yet, in comparison to Western prices, Buenos Aires is almost ridiculously cheap, meaning that it is the perfect getaway on a budget.
I am a city girl at heart, so for me, Buenos Aires was a case of love at first sight. I gazed out of the cab window at all the beautiful grand buildings, trying to get a sense of the city before we reached the hotel. To my delight, I was staying just off the Avenida Corrientes. It is one of the city's main thoroughfares, filled with theatres and lights, akin to Broadway in New York.
I stayed at Hotel Milan, which was simple but elegant and also surprisingly quiet, given its central location.  At $85 a night for a double room, including a generous buffet breakfast, there wasn't much to complain about.
However, upon arriving, I spent only minutes there before heading out to explore Buenos Aires properly. I had so many choices: should I go north, to the refined and supremely elegant neighborhoods of Recoleta and Palermo, or south to the bohemian, cobbled streets of San Telmo? Undecided, I began instead right on the Avenida Corrientes, deciding to see where it would take me.
It was in those first couple of hours in Buenos Aires that I found one of my favorite free things to do in the city – browsing its wonderful bookstores. There are certainly plenty of them, from tiny second-hand places; treasure-troves of works on gaucho and tango culture, to the jewel in the crown – El Ateneo Grand Splendid. This bookstore is housed in a former theater and still retains all the original features, including a frescoed dome. With all that Buenos Aires has to offer, this place really is worth a visit – you won't believe your eyes.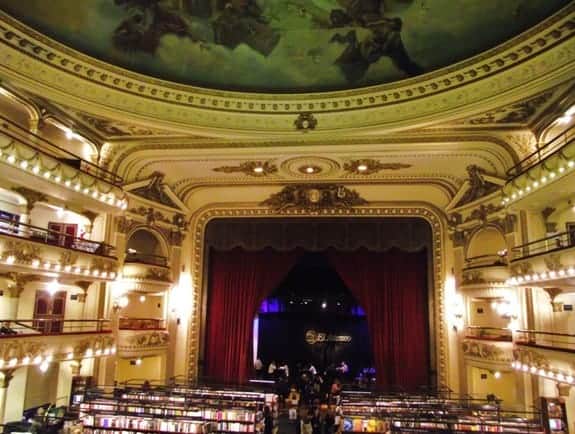 After taking in the sights of the microcentro – downtown – I stopped for a coffee at Cafe Tortoni, one of the oldest coffee houses in Buenos Aires and a former haunt of great writers and artists. A silver-haired doorman ushered me into the grand hall. With its marble-topped tables and long wooden bar, it feels like it has hardly changed since the last days of the 19th century. Sure, at just over $2, a cup of coffee here is a little more expensive than at a regular cafe, but it is more than worth it for the atmosphere.
After finding so much to occupy me in the downtown area, it wasn't until the following day that I finally got to the famous Recoleta cemetery, which contains the tomb of the legendary Evita – the nation's sweetheart. It is a strange place, but certainly something to be experienced, particularly as it's free. It looks less like a cemetery and more like a small city – some of the tombs are as big as houses. Evita's tomb is actually quite small in comparison, but you'll find it by the fresh flowers outside it and the queue of tourists next to it.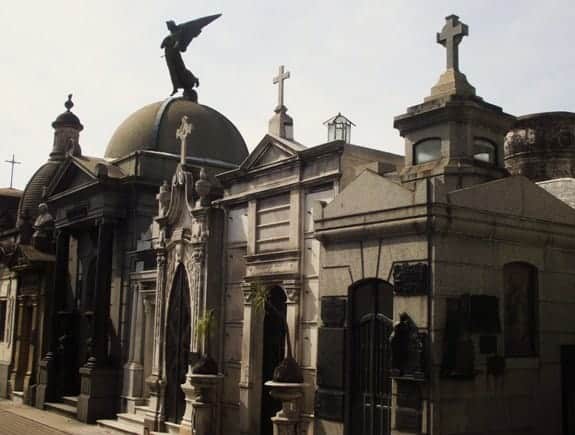 Back in the land of the living, I took the subway across town to San Telmo. It's hard to pick a favorite area of the city, but at a push, San Telmo may just win. It is here that you remember that this is South America, where slightly dilapidated colonial buildings house tango bars and antiques shops.  Seeing a tango show over dinner is the ultimate Buenos Aires experience, but to keep your wallet happy and to get the most authentic experience, avoid the Tango show touts who will try and charge you several hundred pesos. Instead, in San Telmo, there are numerous independent restaurants and bars which provide tango shows in a local environment rather than an overly touristy one. After happily browsing the antiques shops and the central market, I went for lunch at La Puerto Rico, where a delicious meal with wine cost $13 and the tango show was mesmerizing.
For the remainder of the afternoon, I decided to head to the southernmost neighbourhood, La Boca. It is here, past the neglected old buildings and poorly-tended parks, that El Caminito appears, the most colorful street in the whole city. The eye-popping colors make it feel a little like a storybook land – and the crowds of tourists certainly give this street an entirely different atmosphere than you get in the rest of La Boca. Here, there is street entertainment, restaurants putting on all kinds of shows and perhaps some of the best tango in town – La Boca is the birthplace of the dance, after all.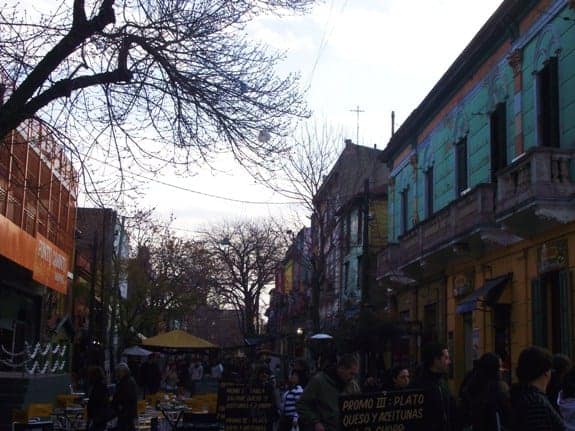 From North to South, Buenos Aires offers a huge variety of experiences, cultures and attractions. It is one of the most classy and charming cities on the planet, easily rivaling Paris on those stakes, but the cost of your trip will be a very pleasant surprise.
Photo Credit: All photos are the author's own.
Disclosure: The author received a complimentary stay at the Hotel Milan for the purposes of a review; the opinions expressed are entirely her own.
Katy is a writer with wanderlust. Originally from the UK, she has lived in France, danced in Argentina and stargazed in Chile. She writes for numerous travel sites and you can always find her at www.starryeyedtravels.com.