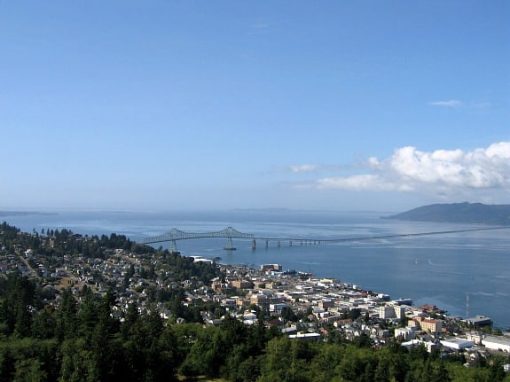 Located near the mouth of the mighty Columbia River, between Washington and Oregon, Astoria is a city of around 10,000.  It's easily accessible from Portland (about a two hour drive northwest) and Seattle (about a three and a half to four hour drive southwest), making it an easy Pacific Northwest weekend getaway and giving you two major airports nearby if you're flying in.  Astoria makes for a great year round destination with many activities available no matter the weather, and it makes for a great stormy winter getaway.
Here are a few things that I'd recommend for a Astoria weekend getaway:
Astoria Column:  A short drive away from the center of town on Coxcomb Hill, the Astoria Column is worth a visit just for the views it affords of the surrounding area.  It's historically significant as the site of the first permanent American settlement west of the Rocky Mountains, and is listed on the National Register of Historic Places.  The column, a 125-foot structure, dates back to 1926, and features 14 pictorial scenes that chronicle the history of the Pacific Northwest, starting with the arrival of European settlers continuing on to the era of western expansion and ending with the development of a continental nation.  Climb the 164 steps up to the observation deck for impressive views.  On a clear day you can see the Columbia River, the Astoria Bridge, Young's Bay, the Washington shoreline, Mount St. Helens, Mount Rainier, Saddle Mountain and the Pacific Ocean (that's the view above on a hazy day).  Even if the day's a little grey or foggy, though, you'll still get a good look around.   Open dawn to dusk, there is a $1 per car donation requested.
Columbia River Maritime Museum:  If it's a rainy day, head inside for a look at the maritime history of the area.  You'll learn just how dangerous it is for boats to cross the Columbia River bar and why it is one of the most dangerous in the world (note:  watch the video – amazing!).  A number of maritime vessels are on display, displays and artifacts about the role fishing and immigration played in the development of the area, and tour the Lightship Columbia, a ship that once served as a guide boat and lighthouse.  It's a National Historic Landmark.  Be sure to take a look at those "staterooms" – I'm not sure I would have been up for a sailing on this vessel.  The museum is open 9:30 am- 5 pm daily.  Admission is $12 for adults, $10 seniors, and $5 students.
Fort Clatsop:  The original fort at the end of the Lewis & Clark trail was destroyed by fire, but this one was re-built in an attempt to recreate the expedition's winter encampment.  It's open year round and you can wander trails that teem with plants discovered by the expedition.  History buffs will enjoy this simple site that is part of the National Parks Systems.  It's a quick stop off to learn a little more about the explorers who played pivotal roles in the founding of the Pacific Northwest.
Go Goonies:  It's been 26 years since the movie The Goonies was released, and it is as popular in Astoria as it ever was, with June 7th having been declared Official Goonies Day.  The plot of the movie is a group of kids living in the "Goon Docks" try to save their homes and neighborhood from being demolished.  You can visit the house from the movie – although it's a private residence, the owner don't mind you taking photos, just be respectful to their private property.  Watch the movie before you visit and you'll recognize a number of other local spots.
Fort Stevens State Park:  Part of the Oregon State Parks system, this was originally an active military fort (from the Civil War through World War II).  In the winter go beach combing, keep an eye out for wildlife, and enjoy seven miles of paved trails.  In the summer fly a kite, try windsurfing or para-sailing, swimming, boating, or nab one of the campsites (note:  campsites are available all year round, but it's cold and wet in the winter).  On site you'll find a historic shipwreck and a Civil War museum.  And any time of the year, it's great to walk down to the south jetty and watch the crashing waves.
Fishing Docks:  Although once an important deep water port, today Astoria's part is merely a handful of boats.  You may still be able to get some fresh seafood, but one of the real highlights of the docks are the sea lions who have taken up residence.  Part annoying pest, part visitor attraction, they have an uneasy coexistence with local fishermen.
Staying:  The Hotel Elliott and the Cannery Pier Hotel both provide views of the Columbia River.  There are also inns and bed and breakfasts to chose from that provide small town charm.
Eating & Drinking:  Start your morning with fresh baked-from-scratch pastries or other breakfast goodies at Astoria Coffee House & Bistro (243 11st Street, downtown).  It's a Euro-styled coffee house by day and a intimate bistro at night offering neo-regional cuisine, but always offering food made from scratch.  The Fort George Brewery & Public House (1483 Duane Street)  has an ever-changing selection of beers and also offers appetizers, soups and salads, and burgers with a variety of trimmings.  Tours are offered on weekends, and live entertainment on Sunday night.  If wine is more your thing, just down the street you'll find Shallon Winery (1598 Duane Street, entrance is on 16th) where you'll be greeted by the owner/winemaker.  Take a tour of the winery, taste some of the most unique wines I've seen (chocolate orange wine), and enjoy a tasting room that overlooks the Columbia River.  The winery is a one-man operation, but is usually open daily 1-6 pm.
Photo credits:  All from the personal collection of the author.  You can see the full Astoria flickr set here.
NOTE:  My visit to Astoria was a stop on a trip sponsored by the Central Oregon Visitors Association, Oregon Coast Visitors Association, Travel Oregon, and Evergreen Escapes.  A special thanks to the Astoria Coffee House & Bistro and the Astoria-Warrenton Chamber of Commerce for their hospitality during the visit.
Mary Jo Manzanares is a founder and the editor-in-chief of The Traveler's Way, an online travel magazine proving informational and inspirational travel recommendations for curious Baby Boomer travelers. She has been a speaker at various industry events and has a personal travel blog at Traveling with MJ. When she's not traveling, Mary Jo likes lingering over a cup of coffee, wandering in a museum, sipping wine at a cafe, and sharing it all with friends and readers. Mary Jo's top travel destinations are Italy, Portugal, and the Caribbean.