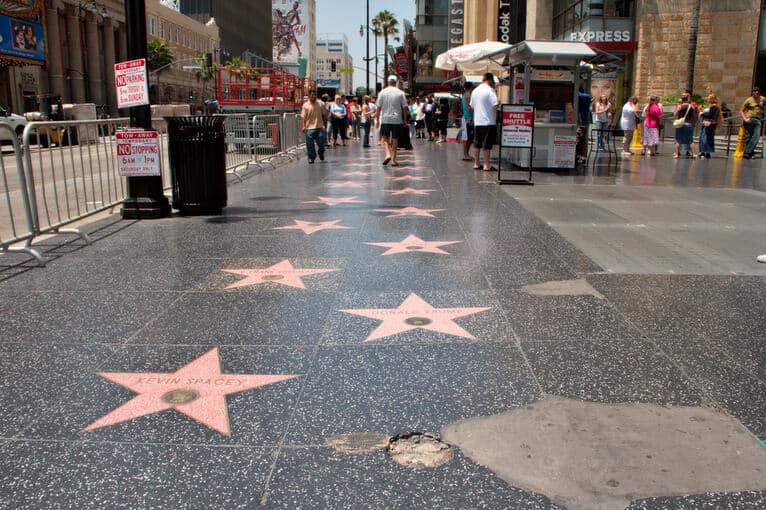 Lights, camera, action!
As the home of Hollywood and Silicon Valley, where movies and TV are made and animated, California is the home of the film industry. So where better to see some of the world's most engaging, cutting-edge films than at the amazing array of California-based film festivals.
From a focus on environmental topics to Hollywood classics and action sports, the Golden State's film festivals are the reel deal. Here's some events to put on your calendar.
Palm Springs International Film Festival (January)
The Palm Springs International Film Festival is typically one of the first stops on the Oscar-campaign circuit, with A-list stars and filmmakers from the year's top films attending the glamorous opening gala. The 10-day festival offers attendees the opportunity to see hundreds of films from around the world in venues throughout greater Palm Springs.
Nevada City Wild and Scenic Film Festival (January)
One of California's great niche film fests, the Wild and Scenic Film Festival is dedicated to showcasing projects that focus on topics like environmental activism, conservation, indigenous cultures and outdoor adventures. The setting in the historic gold-mining town of Nevada City also gets two thumbs up.
Santa Barbara International Film Festival (January-February)
The long-running Santa Barbara International Film Festival is equal parts Hollywood glamour and indie film fest all set in the postcard-perfect environs of Santa Barbara. This is where some of Hollywood's biggest names come to show off new projects and rub A-list elbows while festival-goers enjoy parties, panels and inspiring films with some of the most promising filmmakers from around the world.
TCM Classic Film Festival (March)
If you're a classic film buff and want to see Golden Era faves in the movie palaces that first screened them, you're in luck. The TCM Classic Film Festival takes pride in showcasing decades-old film gems in some of Hollywood's most striking historic theaters to give festival-goers an unforgettable movie-going experience.
San Diego Latino Film Festival (March)
With its close proximity to Mexico, it's only fitting that San Diego would be the perfect host city for this film festival celebrating the world's best cinema featuring themes, actors and filmmakers from Latin America and the rest of the world. Creatively curated, the festival screens films in multiple showcases including Tu Familia (family), Comedy Showcase, US/Latino Cinema and Cine Gay (LGBT).
[tweetthis]Celebrate your love of film at one of these California film festivals.[/tweetthis]
San Francisco International Film Festival (April/May)
For more than 50 years, the San Francisco Film Society has celebrated the art of film with the longest running film fest in the Americas: the San Francisco International Film Festival. Industry types ranging from Hollywood royalty to first-time filmmakers mix with avid film fans to enjoy screenings of independent projects from over 50 countries paired with seminars, panels and special events.
Bay Area ReelAbilities Disabilities Film Festival – San Francisco/Oakland (October)
'Inspiring' is the best word to describe virtually every entry in this remarkable Bay Area film festival which captures the best of the human spirit by focusing on those overcoming various disabilities. The films are global in scope and are either created by or feature individuals with some sort of disability with topics ranging from the ascent of a mountain by a paraplegic man to a sightless woman's quest to become a mother.
Mill Valley Film Festival (October)
A Bay Area favorite for its astutely curated selection that regularly includes films that go on to win in the Best Picture category at the Academy Awards, the MVFF is loved by industry insiders as a "filmmakers' film festival." The festival features multiple categories including World Cinema, US Cinema, Documentaries and a Children's Film Fest.
AFI Film Fest – Hollywood (November)
Hollywood's AFI Film Fest is where you'll see A-list stars like Brad, Angelina and Oprah on the nightly red carpet as well as major premieres of films from around the globe on the big screen. Presented by the American Film Institute, the AFI Film Fest is an official qualifying festival for the Academy Awards short films category and is LA's longest running international film festival.
Ojai Film Festival (November)
A true under-the-radar gem, the Ojai Film Festival manages to combine the feel of a small town celebration with a touch of Hollywood sizzle. Combining screenings, special events and guest appearances, the festival includes a broad range of international films including features, documentaries, animation and films with an environmental focus.
Tahoe Adventure Film Festival (December)
The next best thing to schussing, surfing or any other great adventure is experiencing the Tahoe Adventure Film Festival. Held for one night only in one of the world's top adventure destinations, the evening features 10-minute highlight shorts of 10 finalist action sports films selected from around the world. Parties, DJs and action sports celebs are also part of the mix.
Photo credit: Christian Haugen
Anthony has found travel provides a healthy balance to his day job as a criminal defense attorney. Living on the periphery of blogging for years, he's now decided to flex his creative muscles with a little writing and photography of his own. Anthony's favorite travel destinations are the Caribbean, Italy, and Ireland.