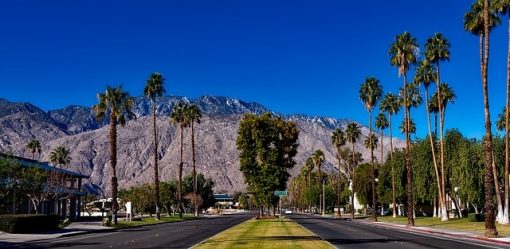 The Greater Palm Springs area is popular with rich and famous celebrities, but it has increasingly become popular with retirees looking for warm weather and uncomplicated living. It's also a top vacation destination for travelers looking for not only warm weather, but golfing, tennis, hiking, and other outdoor and cultural activities.
Here are 10 things to do in the Greater Palm Springs area that will help stretch your vacation budget:
Desert X: The Desert Exhibition of Art – Looking for an instagrammable shot? Why not snap a few unforgettable photos in front of the 16 site-specific art installations, known as Desert X, that range across the nine cities of Greater Palm Springs.  From February 25 – April 30, 2017, the art installations created by international artists will be on display and free to all.
Midcentury Modern Architectural Tour – Greater Palm Springs is home to the largest concentration of midcentury modern architecture in the nation.  Since the 1920s, visionary modernist architects have designed sleek, modern homes and businesses that have embraced the desert environment.  To see the iconic designs by such greats as Donald Wexler, Albert Frey, and E. Stewart Williams, don't miss out on a free self-guided Midcentury Modern Architectural tour.
Sunnylands Center & Gardens – The former Annenberg Estate and "Camp David of the West," takes up 200 manicured acres and is rich with historical significance. Visitors to Sunnylands Center & Gardens can enjoy a variety of free public programs.  Yoga is scheduled every Friday at noon (bring your own yoga mat) and Tai Chi every Saturday at 10 a.m. A guided, one-hour walk through the Gardens takes place on Thursdays at 11 a.m, though birdwatchers may prefer the walk at 9:15 a.m. on Fridays with an experienced birder. In March, Music in the Gardens brings performances to the Great Lawn every Sunday. Be sure to check the events calendar for the lineup of entertainment and times.
Vintage Shopping – Take a stroll down memory lane at Greater Palm Springs' many vintage shops. From home decor to clothing, these shops offer a fun look at the midcentury style. Start your exploration on Palm Canyon Drive in Palm Springs, then head to Perez Road in Cathedral City, and ultimately to El Paseo in Palm Desert. If you buy something, you'll have to take this off the free list, but you can still have a great experience just window shopping.
Coachella Walls Mural Tour – Experience rich history, culture, and art by exploring the beautiful murals throughout the City of Coachella on a walking tour.  In nearby Indio, the Coachella Valley History Museum is lodged in the historic 1909 Indio Schoolhouse and hosts the world's only Date Museum.  Admission is free on the first weekend of the month.
Take a hike – There is no shortage of ways to explore the diverse natural beauty that is Greater Palm Springs. Outdoor exercise enthusiasts share more than 100 miles of scenic paths winding throughout the oasis.  For hiking trail recommendations, visit here.
Shields Date Garden – Opened in 1924, Shields Date Garden remains a top spot to visit. Explore the Garden, a 17-acre landscaped date farm, and have a date shake or lunch on the patio overlooking the gardens. Don't miss the free movie, "The Romance and Sex Life of the Date."
Palm Springs Art Museum – From February 18 – May 29, 2017, check out a new groundbreaking exhibition, Women of Abstract Expressionism, featuring more than 50 major paintings by female artists associated with the Abstract Expressionism movement of the mid-20th century at the Palm Springs Art Museum.  Admission is free every Thursday at Palm Springs Art Museum from 4-9 p.m. and every second Sunday of the month.
Rock out – Dance the night away at Fantasy Springs Resort Casino in Indio at the casino's free Rock Yard concert series featuring tribute bands of all your favorite bands and performers of yesteryear.  The Rock Yard concerts are held every Saturday night (and some Fridays) starting at 7:30 p.m. for five straight hours of music beginning in late April.  The city of Rancho Mirage offers a Music in the Park Concert Series in their outdoor amphitheater. All performances are free and begin at 7 p.m.  Bring a blanket, pack a picnic and enjoy music under the stars.  For music buffs, take a walk through history and become immersed in the music memorabilia that line the walls of the lobby of the Hard Rock Hotel Palm Springs.  The hotel Manager also offers a personalized free memorabilia tour.
Star Parties – The clear skies of Greater Palm Springs are lit up with a dazzling array of stars each night, making stargazing a popular pastime in the oasis. If you forgot your telescope, the Astronomical Society of the Desert has you covered with their ongoing free Star Parties at Sawmill Trail and the Santa Rosa and San Jacinto National Monument Visitors Center in Palm Desert. Every full moon brings an evening celebration to the Ace Hotel & Swim Club in Palm Springs. Celebrate the full moon with dancers, a drum circle, and card readers, an experience not to be missed.
For Pinterest: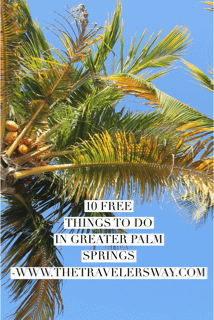 Disclosure:  This post contains affiliate links. If you click through for more information or to make a purchase or book a room, it may result in a small commission being paid. We thank you for your support of The Travelers Way.
Anthony has found travel provides a healthy balance to his day job as a criminal defense attorney. Living on the periphery of blogging for years, he's now decided to flex his creative muscles with a little writing and photography of his own. Anthony's favorite travel destinations are the Caribbean, Italy, and Ireland.