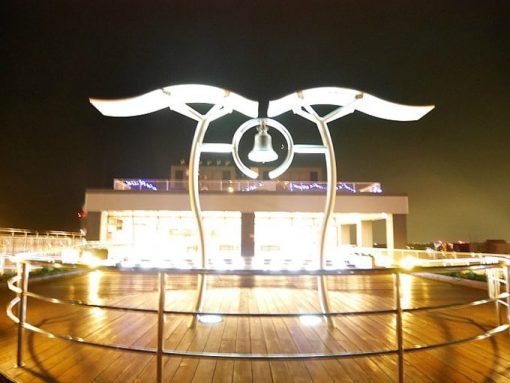 Japan's Kansai International Airpot (KIX) is located on an artificial island in the middle of Osaka Bay. Opened in 1994, it serves as the international hub for ANA and JAL, as well as Peach, Japan's first international low-cost carrier. If you're traveling internationally to the Kansai region (Kyoto, Kobe, Osaka), chances are that you'll arrive at Terminal 1 of this airport.
Whether your flight is delayed (or canceled), you've missed a connection or opted for hours and hours at the airport in order to save on flights prices, we've all come to appreciate some airports over others. If you've got time to spend at Kansai International Airport (KIX), here are some things you can do:
Try a little plane spotting at the Sky View at the Observation Hall. You can watch arriving and departing planes from Sky View's observation deck, as well as grab a quick bite to eat or pick up a souvenir at the gift shop.
Take the Waku Waku Tour of the airport. This bus tour leaves from the Observation Hall (sign up o the first floor and do a little plane spotting while you wait) and visits places not typically open to the public – inflight catering, cargo, hangars, and fueling. The tour lasts about an hour and costs about $4.50. Although the tour is offered only in Japanese, the chance to get this behind-the-scenes look at the airport is still worth the price.
If you're going to be stuck overnight, consider getting a hotel room. The 576 room Hotel Nikko Kansai Airport is a couple minute walk away from Terminal 1 and a shuttle ride (complimentary) away from Terminal 2. Prices are reasonable and sometimes a good night's sleep is worth any price.
Explore the Aeroplaza surrounding the Hotel Nikko. With its soaring atrium that features restaurants, shops, and the Nankai Japan Rail station, it's a pleasant way to spend some time, get a bite to eat, or hit up an ATM.
Pick up anything you forgot to pack at Rinku Outlet stores. Located in Rinku Town across the water from Kansai International Airport, you can catch a shuttle from Terminal 1 as well as the Sky View for about $1.75. From Terminal 1 it will take about 20 minutes in travel time to get to there. The outlet mall is open 364 days a year (it closes the third Thursday in February) from 10 am-8 pm. You'll find a mix of international and local brands, along with restaurants and cafes.
Check out your airline lounge. Most require membership, first or business class travel, or access granted by your credit card. If you need a place for peace and quiet, a bite to eat, or just want to get away from the crowd, the cost of admission is well worth the price. Some lounges have showers and sleeping rooms.
Take advantage of the airport's free wi-fi service and get some work done or catch up with family and friends at home. Complimentary wi-fi is available in both terminals as well as all areas in Aeroplaza, with no tedious application to get access. Simply choose FreeWiFi@KIX to connect and then agree to terms and conditions.
Stop off to re-charge your devices at the Battery Desks located throughout both terminals.
Shop or eat in the terminal. A staple of all airports, the degree to which this satisfies your needs depends on your taste and shopping palate. There's something fun, though, about finding independent shops that don't carry the same old stuff as at home.
Recharge yourself with time in prayer or meditation. The airport has three prayer rooms, separated by gender, that are available for use by all travelers. When the stress of travel takes over, quiet reflection can help restore balance and equanimity.
For Pinterest: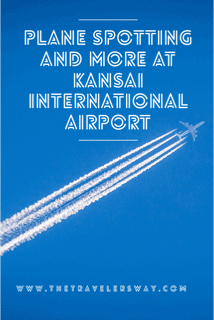 Mary Jo Manzanares is a founder and the editor-in-chief of The Traveler's Way, an online travel magazine proving informational and inspirational travel recommendations for curious Baby Boomer travelers. She has been a speaker at various industry events and has a personal travel blog at Traveling with MJ. When she's not traveling, Mary Jo likes lingering over a cup of coffee, wandering in a museum, sipping wine at a cafe, and sharing it all with friends and readers. Mary Jo's top travel destinations are Italy, Portugal, and the Caribbean.