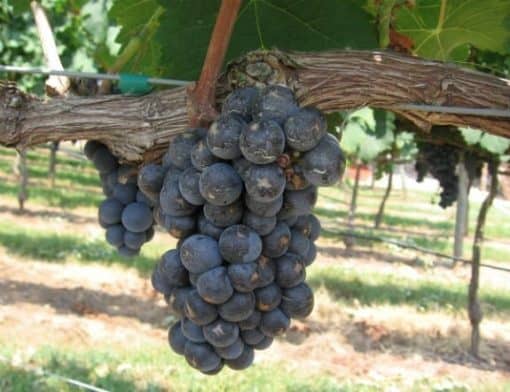 Some wine lovers scoff at the idea of drinking wine from anywhere but France or California, but wine snobs beware – the state of Georgia's wine growing region is sneaking up on the rest of the world.  With a climate that mirrors the south of France, Georgia's northeastern section is now the proud owner of a handful of wineries and vineyards that are taking home a number of wine awards.
In the early part of the 1900s Georgia ranked sixth among grape growing states, but prohibition saw an end to that.  Until now.  Within the last decade more than a dozen wineries have opened in northern Georgia seriously giving states around the country a run for the money.
Currently, there are 10 wineries that are members of the Winegrowers Association of Georgia  and when I visited the area earlier this year I visited three of those ten.  I came home with not only a number of bottles to share with friends, but also an entirely new respect for this wine region.
Yonah Mountain Vineyards
One of northeast Georgia's newest vineyards and wineries, Yonah Mountain Vineyards is named for mountain it is located by.   Both Cabernet Sauvignon and Chardonnay feature prominently here.  Yonah Mountain Vineyards also features the only wine cave in Georgia built for underground barrel storage.  Most of the wine is aged in French Oak barrels, but a few of the varieties are also aging in new barrels for a crisper and lighter taste.
Yonah Mountain Vineyards highlights a tasting room where a full tasting of all the wines is $10 or a pour of four wines is $4.  There are 10 locally produced wines offered on the tasting menu from the vineyards three labels:  Serenity Cellars, Yonah Mountain Vineyards and Bearly Sweet.
The standout wine for me at Yonah Mountain Vineyard was the Serenity Cellars Dolce Bello.  I actually asked for a refill after tasting the flavor notes of dark chocolate along with blackberries and blueberries.  Dolce Bello is a sweet wine, but it has a blend of flavors that I couldn't resist.
For the more refined palate the 2008 Chardonnay is fully of a synergy of tangerine and toasted oak. It's aged for nine months, and if you prefer white wine you'd be hard pressed to go wrong with this one.
The first Friday of each month is a great time to stop in for a tasting at Yonah Mountain Vineyards since during the months of April to October there is live music and appetizers.  The tasting room is open May through December seven days a week.
Location:  2454B Highway 17, Sautee Nacoochee, GA
Sautee Nacoochee Vineyards
Owners at Sautee Nacoochee Vineyards  pride themselves in being the type of winery that mirrors the Europeans boutiques, "small and tended by hand."  Located in the Sautee and Nacoochee Valleys the goal is to create a masterpiece using the old world style.  Cabernet Sauvignon vines were planted in 2009 and all the grapes that are grown for this vineyards' wines are local, with the exception of the Muscadine which is grown in southern Georgia.
The tasting room has eight wines to choose from.  It's a great place for tasting is the summer, as in addition to the tasting room, there is also a large outdoor deck for an evening getaway.
My favorites on the tasting menu included the Voignier 2009, dry with a touch of fruity and clean while the nose hinted at something sweeter.  The Cabernet Sauvignon 2008 has a light to medium body, and a dry feel with a crisp and clean finish.  Don't leave without trying the Red Headed Stepchild. Its name comes from a mixture of the extra Merlot, Cabernet Sauvignon and Chambourcin that are left over each season.
The tasting room is open year round, and a "Swinging in the Vines" music series is popular at the winery from March through October.
Location:  98 Nacoochee Way, Sautee Nacoochee, GA
Habersham Vineyards and Winery
This is one of Georgia's oldest and largest wineries.  Habersham Vineyards and Winery  has been producing since 1983.   There are plenty of wines to choose from on their tasting menu, and there is a large gift shop inside the tasting room so you won't get out empty-handed.  Also at the location is a wine production area as well as a tank and barrel room.
The winery produces three labels:  Creekstone, the premium option, Habersham and Southern Harvest.  Creekstone has a Merlot, a Cabernet Sauvignon and a Sangiovese that are all value priced, and worth every penny, at price points under $20.  The Habersham label is the middle of the road with both vintage and blended wines.  My favorite from that label was the 2008 Habersham Merlot priced to sell at $15.
For Muscadine grape lovers, and this one is not for everyone including me, the Southern Harvest label has a variety of options.  I think it's an acquired taste.
The winery is open seven days a week year round.
Location:  7025 S. Main Street, Helen, GA
Photo credit:  Richard  via flickr.
Note:  The author received a complimentary stay for purposes of a review and had the luck of trying all the vineyards mentioned in the article above. 
Rita Cook is a writer/editor with over 1000 articles. She can be heard on Insider Mag Radio at KPRO 1570 am and she also reviews cars for the Washington Times Communities (Behind the Wheel). Her most recent published books include "A Brief History of Fort Worth" as well as two haunted books on Dallas and Fort Worth to be published in the fall 2011. Rita's favorite travel destinations are Italy, India and Kenya.